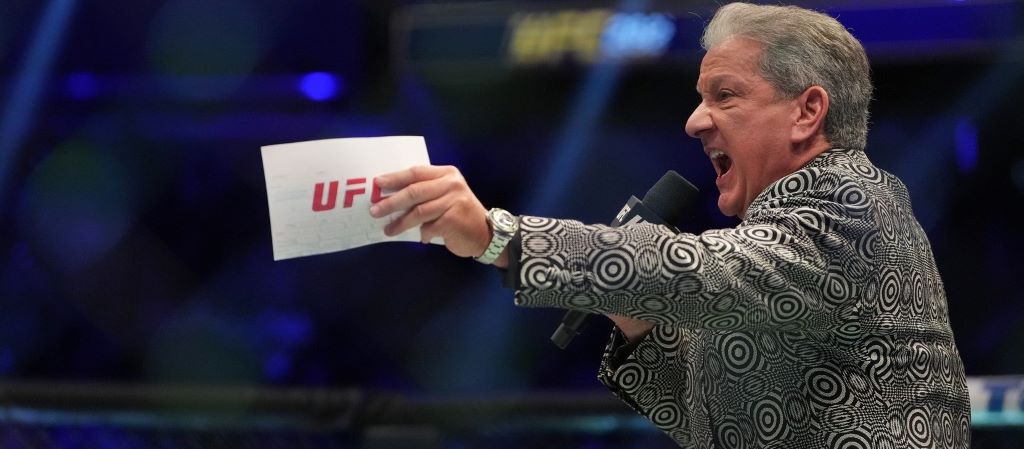 Bettors in Ontario can once again place legal wagers on UFC events.
The Alcohol and Gaming Commission of Ontario announced on Thursday that it has reinstated betting on UFC events in Ontario after the UFC updated its gambling policy.
UFC athletes are now prohibited from placing wagers, either directly or through a third party, on any UFC match. Organization "Insiders" or people with knowledge of participants in UFC matches (managers, coaches, trainers, medical staff) are also now prohibited from placing wagers. Athletes must also now notify the UFC if they become aware of any inside gambling activities. Any athlete that doesn't adhere to these new policies will be subject to the UFC Sanction Process.
"The AGCO is committed to protecting Ontario players and the integrity of its betting market. With the legalization of single event betting last year, the AGCO created strong new rules to protect bettors in Ontario. We are pleased these rules are already working to strengthen the integrity of sports betting in Ontario and, as a result, of UFC competitions around the world," said Tom Mungham, Registrar and CEO of the AGCO, in the release.
The reinstatement of wagering on UFC events in Ontario comes a couple of days ahead of a major UFC event, UFC 283, that will take place in Brazil on Saturday.
Why was wagering on UFC banned?
The AGCO announced on Dec. 1 that all registered casino, lottery, and iGaming operators in Ontario that offer betting markets on UFC needed to stop accepting wagers on events due to concerns about non-compliance with AGCO's betting integrity policies.
"The AGCO has learned of publicized alleged incidents, including possible betting by UFC insiders, as well as reports of suspicious betting patterns in other jurisdictions," the AGCO's release read.
A few weeks prior to the AGCO's ban, ESPN reported on some suspicious betting activity leading up to a UFC bout between Darrick Minner and Shayilan Nuerdanbieke. Minner became a huge betting underdog a few hours before the fight after insiders allegedly leaked that he'd be competing with an injured leg. Minner quickly lost the fight and was, in fact, visibly injured.
Minner's coach, James Krause, a known gambler on the sport, was investigated by the Nevada State Athletic Commission for his role in the betting scandal and then the Commission later revoked his license and suspended him.
On Dec. 2, the UFC announced that any fighters that choose to be trained or coached by Krause would not be permitted to participate in UFC events moving forward.
More reports have recently surfaced that UFC flyweight Jeff Molina, who trained with Krause for many years, was also involved in the betting scandal.
Alberta also banned UFC wagering
Ontario wasn't the only jurisdiction to ban wagering on UFC events.
Alberta Gaming, Liquor and Cannabis quickly followed suit with Ontario's regulator, also banning wagering on UFC events in the province of Alberta.
"Effective December 1, Alberta Gaming, Liquor and Cannabis, stopped offering and accepting wagers on UFC events due to possible risks of wagering integrity. Previously placed UFC wagers on PlayAlberta.ca have been voided and the stake returned to the player," an AGLC spokesperson told Canada Sports Betting. "AGLC will continue to monitor standards implemented by UFC before reinstating betting options on Play Alberta."
Unlike Ontario, the only legal option for sports betting in Alberta is through PlayAlberta, which is the province's only regulated online gambling site.
However, on Dec. 9, the AGLC reversed its decision and reinstated wagering on UFC after the organization announced that Krause and any affiliated fighters were no longer permitted to participate in events pending the investigation by the Nevada State Athletic Commission.
The AGCO wasn't swayed by the Alberta regulator's decision to reverse the ban, though, and continued to work with the UFC to develop new gambling policies that would satisfy its Standards for Gaming.
Canadian gambling industry stakeholders expressed concerns that the respective bans in the two provinces would push bettors to the illegal grey market so that they could continue to wager on UFC events.