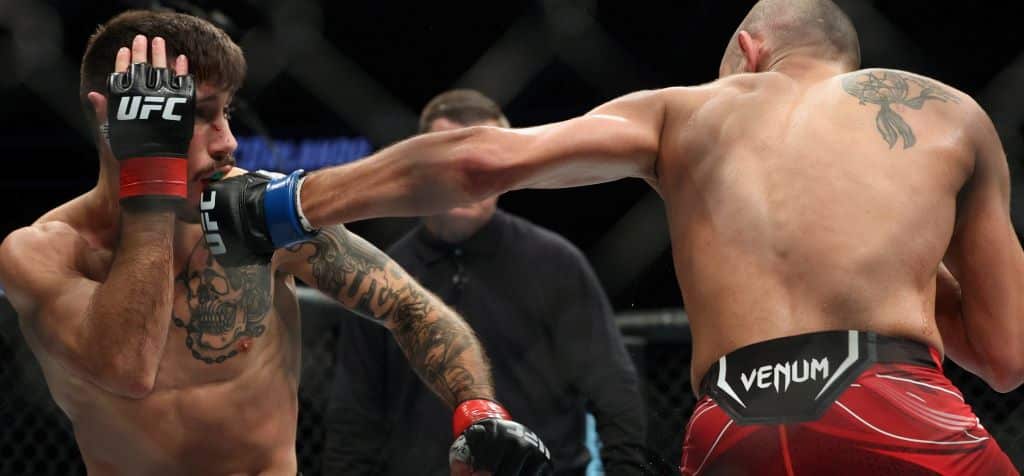 Just one week after retracting its betting markets on UFC events due to integrity concerns, Alberta's iGaming and sports betting regulator announced Friday morning that it has reversed its decision to ban betting on UFC events.
The Alberta Gaming, Liquor and Cannabis Commission released the following statement to Canada Sports Betting:
"With the recent announcement by the UFC that [James] Krause, and his managers and fighters, will not be permitted to participate in UFC events, pending Nevada State Athletic Commission's investigation, Alberta Gaming, Liquor and Cannabis (AGLC) has reinstated UFC betting markets on PlayAlberta.ca. Protecting consumers in Alberta is of the utmost importance to AGLC. We will remain vigilant in monitoring the situation and ensure players continue to have safe and secure gaming opportunities on Play Alberta."
The news comes just one day before a major UFC event, UFC 282: Błachowicz vs. Ankalaev, is scheduled in Paradise, Nev.
The UFC released a statement last Friday that explained fighters who choose to continue to be coached by James Krause or who continue to train in his gym, would not be permitted to participate in UFC events. Gambling regulators are not happy that the UFC does not prohibit all insiders (coaches, managers, handlers, athletic trainers, medical professionals, or other persons with access to non-public information) from betting on UFC events.
Play Alberta, which launched sports betting in Sept. 2021 shortly after Canada decriminalized single-event wagering, is the province's only regulated, legal gambling website. Sports bettors in Alberta that wager with grey market sportsbooks still had the ability to bet on UFC for the past week and were unaffected by the ban.
Ontario standing firm
Ontario's iGaming regulator, the Alcohol and Gaming Commission of Ontario, was the first in Canada to ban wagering on UFC events last week. As of Friday afternoon, the AGCO had not changed its stance on the issue. That means Ontario Lottery and Gaming Corporation's PROLINE games and dozens of private sports betting operators in the province aren't able to offer customers odds and markets on UFC events. However, markets on other mixed martial events, like Bellator, are available on the various platforms.
Other provincial lottery corporations across Canada are monitoring their UFC markets closely for suspicious wagering activity, but decided to continue taking bets on UFC events, at least for the time being.
One Canadian iGaming executive told CSB that he believes the UFC wagering ban in Ontario will be short-lived, and markets will be reinstated, shortly after UFC revises its sport integrity policies.
Ontario is the only province that has allowed private sports betting operators into its respective iGaming market.