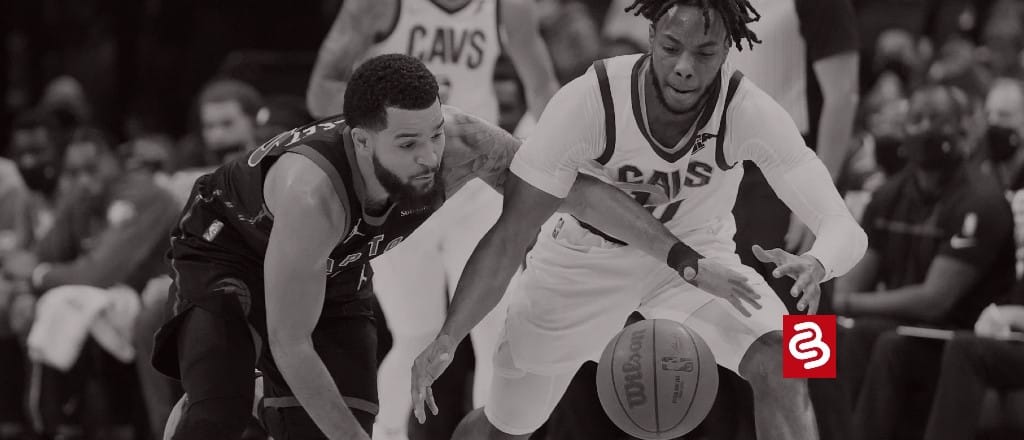 Against The Spread: Cleveland Cavaliers at Toronto Raptors
Here's a matchup that might not get the most betting action at Canada's most-used sportsbooks on Thursday — because neither team comes from big basketball markets — but without question, it's the most crucial game on the NBA schedule this night. That's because there are true playoff implications on the line in this one. As it stands, the Cavs are holding the sixth spot in the Eastern Conference, which avoids the play-in game. Only one game behind them in seventh, though, is the home-team Raptors. Those stakes is likely why the Cleveland-Toronto spread is so close:
Any mention about how to bet the spread needs to begin with the season series because it can't be overlooked. These two teams have met on three different occasions this year and each time the Cavs were victorious. The most recent game was three weeks ago as Cleveland prevailed at home 104-96. Can Cleveland extend that streak to four? We think so and even if they don't, the spread gives them some leeway in case they lose in the last possession.
There's something to be said about beating a team three times in a season. It really feels like the Cavs have the Raptor's number in 2021-22. Helping matters for them is the on-again, off-again health of Fred VanVleet. He's still recovering from a knee injury, and while he'll play Thursday, he's not at 100 percent. Pick Cleveland to cover here!
Over/Under 215 Points: Cleveland Cavaliers at Toronto Raptors
Nope, we're not quite done with this game. You see, there are only five different NBA games to bet on Thursday so the amount of bettings odds available for NBA is small to start with. But even then, this game just has too much betting opportunity to pass up on. Outside of the Cleveland spread, we're also enamored with the over/under points between the Cavs and Raptors.
And given what we said before about the game's playoff implications, we expect both teams to up the defensive intensity. Heck, this game will very much have a playoff-like feel to it. A defensive-heavy game would also be in line with the team's previous meetings this season too. Here's the point total in the three matchups: 203, 243 (this was skewed by a 143-point effort from Cleveland), and 200 points.
So yes, we're taking the under. For bettors that are feeling extra risky on Thursday, consider parlaying the Cavs spread and game under together — it sure would pay a pretty penny if it hits, which we're confident it will. Follow the previous game's trends with both wagers.
Moneyline: Chicago Bulls at New Orleans Pelicans
The spread is only one point in this game so it's essentially a pick 'em. The staus of Chicago's DeMar Derozan and Zach LaVine is weighing on this game. Both star guards have been on the injury report for several days now — DeRozen is officially listed as questionable, while LaVine is probable. Neither have missed game-time yet, which points at them suiting up on Thursday. If so, we're comfortably riding the Bulls moneyline to the bank over the Pelicans, despite being on the road.
Admittedly, Chicago is amid a slump. They're 3-7 in their last ten games and are coming off a 28-point drubbing at the hands of Milwaukee. That's usually worrisome — but not against a below-average Pelicans side. Despite an abysmal 30-42 record, New Orleans is currently eligible for the play-in playoff game as the West's tenth seed. This feels like a "remedy" game for the Bulls that can get back on track with a strong showing, which we're betting happens!
Over/Under 231.5 Points: Phoenix Suns at Denver Nuggets
Can someone check up on the "Suns in 4" guy that went viral last season when these two teams met in the playoffs? Phoenix did end up sweeping the Nuggets in that series, but a lot has changed since then — mostly injuries. That postseason series featured playmakers like Chris Paul and Michael Porter Jr., but both are out this game (and have been for large chunks of the season now) with injuries. How does that affect the scoring total given the Phoenix-Denver line is set at points?
Well, not much because each team's respective star player — Devin Booker and Nikola Jokic — has picked up the slack without those pieces (and Jamal Murray, who's been out for a year now). Each is playing at an MVP level right now and it's because of each's facilitating ability, not scoring. We each player setting up others to score, we expect the over to hit in this one!
How To Bet On NBA Today?
The NBA regular season is winding down. In only a matter of weeks, the postseason begins and before you know it, it'll be NBA Finals time. To get industry-leading betting lines on every single game that's left, you'll want to visit one of the trusted betting sites for NBA below. Between the variety of lines and bonuses available, there's seriously no better place to bet on NBA games than the bookmakers listed underneath. Check 'em out and see for yourself!