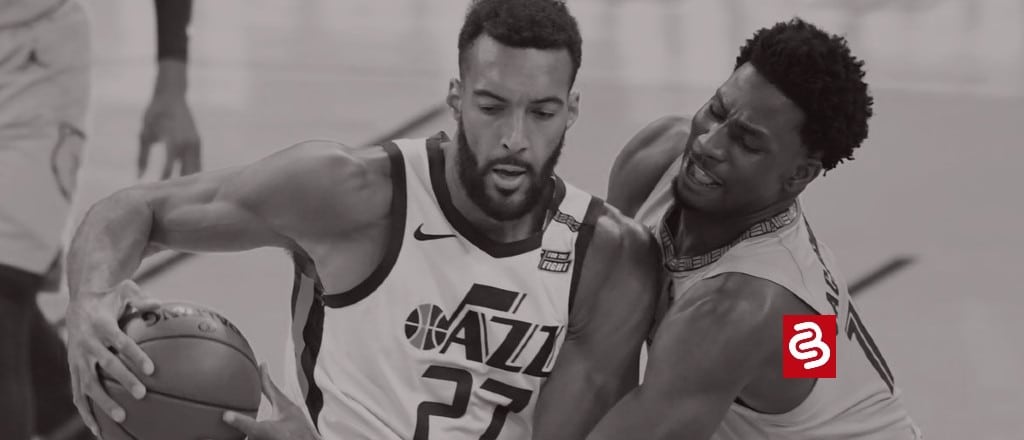 Realistically speaking, there are only four players worth betting on (right now). While anything could happen in the next 20 games, these four players have put themselves in the best position to win the coveted defensive award. Canada's best sportsbooks have pegged each of the four candidates' odds as follows:
2022 NBA DPOY Betting Picks
Up until the last month or so, the Defensive Player of the Year award was Draymond Green's to lose. He's been the odds-on favorite at popular NBA betting sites since early in the season. But Green has very much given up the award — because an injury has kept him sidelined for more than 20 games now (and counting). If you're holding a 2022 NBA DPOY bet with Green, this might be the time to hedge it since he remains out indefinitely. In that scenario, these two players need to get a look from you betting-wise:
Rudy Gobert
Green and Gobert are almost synonymous with one another on the defensive end of the floor. Since 2016, one of the two has won the Defensive Player of the Year each season sans one (Giannis Antetokounmpo was the exception winner in 2020). Though, if you personally ask Green about the comparison, as the folks on NBA on TNT did at the All-Star break, he'll bluntly say, "you keep mentioning me in the same sentence with (Gobert) but we're not alike."
No, they're not alike. One has a freakish 7-foot-9 wingspan and the other does not. Of course, Gobert is the one with the historically-long wingspan, which is actually the sixth-longest all-time in NBA. This year, like every other season since entering the league in 2013, Gobert's used his length to protect the rim better than anyone else. His 2.3 blocks per game lead the league and few teams dare drive inside with his presence nearby (which you can't measure on the box score).
While some players and even media members are quick to discredit Gobert for just being unfairly longer than every other player in the NBA, we feel that's minimizing his greatness. You see, we're of the belief Gobert would've actually been more successful if he played in the NBA pre-2010. With the league's shift to position-less offense heavy on three-pointers and passing, Gobert's feats become even more difficult than just standing near the basket-like traditional big men once did.
Simply put, Gobert is one of the most dominant defensive players to ever play in the NBA. Matter of fact, with one more Defensive Player of the Year win, he would tie Ben Wallace and Dikembe Mutombo for most all-time with four apiece. Think about it, when is it ever a smart idea to bet against all-time greatness like this? Never? We thought so. Gobert might be the "safe" bet here, but he's also the smart bet given his all-timer defensive dominance.
Jaren Jackson Jr.
We're not oblivious to the fact that Gobert seems to be a punching bag for fellow NBA players and certain bettors (especially after the COVID fiasco two years ago). Could that perception — whether it's accurate or not — impact his DPOY voting chances? Well, maybe. It didn't last year when Gobert again won the award, but voter fatigue is a possibility worth weighing. That's we wanted a "backup" bet just in case. Right now, there's no better Plan B bet than Jackson.
Only a month ago, the Memphis big man was barely on the DPOY betting radar. But he's ascended quickly and sharply over the last few weeks (especially after being an All-Star for the first time) and now possesses the fourth-best NBA odds at winning.
Jackson's done this with a do-everything style. For one, he's second to Gobert in blocks per game with 2.2 — and to his credit, his wingspan is a more "modest" 7-foot-5. But Jackson is also a ball-hawk when it comes to steals with 1.0 per game. If Jackson continues at this rate, he'll eclipse both 150 blocks and 75 steals in a single season. For comparison's sake, since the turn of the century, this feat has been done only 35 different times (by future Hall of Famers like Antetokounmpo, Anthony Davis, Dwight Howard, among others). That's quite the company for Jackson.
Part of Jackson's odds ascent is also due to team success. The Grizzlies are one of the NBA's biggest surprises this year. Most expected them to be good — but not this good. At 42-20, they currently hold the third-best record across the league. No doubt about it, Jackson is one of the big reasons for Memphis' success. His versatility on the defensive end of the floor rivals that of Green and since he's actually stayed healthy, he's a worthy secondary bet to Gobert.
How To Bet On 2022 NBA Player Awards?
To bet on 2022 NBA player awards like Defensive Player of the Year or MVP, then you need to check out one of the Canadian bookies below. They have up-to-date odds for all the awards from now until they're announced. To lock in the betting odds we mentioned before, you need to bet right away because they'll change as the season wears on. Click around the table below to get started!