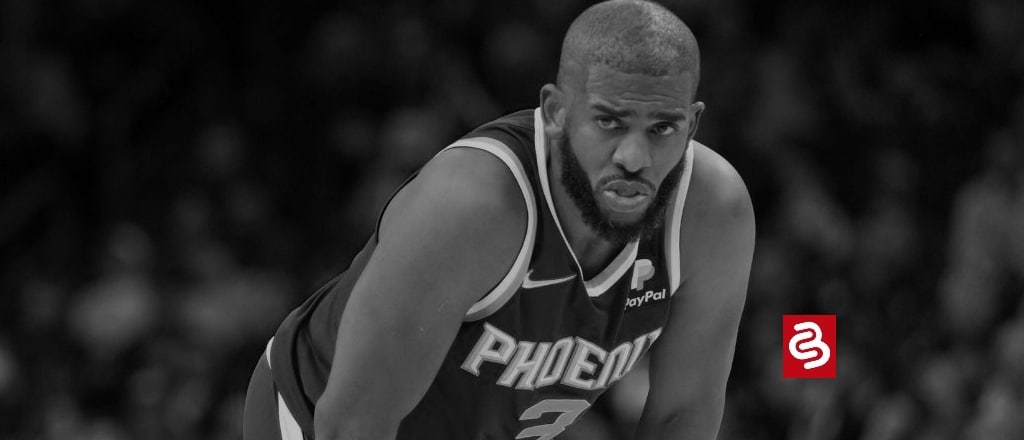 So, there are three NBA games on Tuesday to bet on. Optimally, you should read this because we've done the research and selected the very best Playoff NBA picks for May 10. Yes, they are free!
Okay, let's look at the moneyline table again for Tuesday night's NBA playoff action.
Phoenix Suns Best NBA Playoff Picks – Striking Back
The Phoenix Suns were the top seed in the Western Conference. Now, its NBA betting odds to top the West have shortened too. Honestly, we're expecting Phoenix to come striking back Tuesday night in our Best NBA Playoff Picks. Why? This is because Phoenix not only lost in Game 4 but Chris Paul was legitimately irate to the point of absolute vengeance.
That anger came out after a double-digit Dallas Game 4 win. This game allowed Dallas to tie the series, but it was more what happened off the court as Chris Paul's family was repeatedly harassed throughout the contest in Dallas. When it becomes personal, it is basically a sign to look out! Paul also comes off one of the quietest efforts he had all postseason. Paul had just five points on 2 for 4 shooting, fouled out in just 23 minutes of time, and nothing went right.
So, Phoenix goes back home tied at two, where they scored an average of 125 points per game. They allowed just 111.5 points per contest to Dallas. There was an overall trend in the best Playoff NBA bets with the over in Phoenix. It seemed Phoenix was more in tune with their offence. Phoenix was able to just pick up the tempo and score at will. Game 2 was the crowning example of this, as the Suns went off for 71 points in the second half.
Expect Devin Booker and Chris Paul to be a more congruent tandem. Booker is the one consistent offensive player in this series. Even Deandre Ayton has not always scored consistently. Paul and that mid-range jumper expect to be downright scary as Phoenix goes back to attacking the interior of the Dallas defence. Going at players like Luka Doncic and their forwards is the path to victory. Now, Phoenix will go back to that as Booker plays point-center, and the Suns reap the rewards.
Phoenix Will Spread Things Out As The Over Connects Too
Phoenix finds themselves in kind of a familiar situation heading into Game 5. The Phoenix Suns won 64 games during the NBA season and were favoured to easily defeat the Dallas Mavericks. They rose and scorched Dallas in Games 1, and 2 then fell short in Game 3 and Game 4. But rather than staying away from Phoenix, we are staying firmly hammering the Suns again for another of our best Playoff NBA picks on Tuesday.
Why? Because if one looks at how the pace of play changed in Phoenix, it was dramatic how the Suns controlled the game from Footprint Arena. They have a top-five offensive and defensive rating. Combine the two, and their net change tops the lead at a 7.5 differential. Phoenix was able to close things out against New Orleans by winning two straight games. The feeling is that this may just happen again versus Dallas.
Now, Dallas yielded 129 points and allowed 40 of those in the final quarter in Game 2. Do experts think that will happen in Game 5? Maybe, not quite. However, Dallas will be seeing a hostile crowd as the Phoenix masses will be none too happy. It may take a quarter or even a half but Phoenix will assert its will in this series much as they did against New Orleans. The better teams often rise to the top. Phoenix is no exception here.
The plan is to take that plunge and go for the over since it is set at just 213 points. There is a lot to like as Phoenix should be able to cover the six points. Also, at Canada Sports Betting, the idea is that this series expects to turn. For this contest, we do trust the Phoenix Suns as one of the best Playoff NBA picks for Tuesday.
Philadelphia 76ers To Spring Upset In Miami To Keep Rolling?
One needs to be aware of how Philadelphia played in Games 1 and 2. With how the Miami Heat looked early in this series, the Philadelphia 76ers looked like spectators. Worse, after Joel Embiid went down to injury, things appeared even more grave. Miami was ready to deliver the death blow in Game 3 when it was announced Embiid would return to the lineup. Now, Philadelphia is becoming one of the more intriguing NBA Playoff Betting Odds' choices for a reason. That is because of Embiid's resurgence.
That's why this game likely comes down to defensive intensity. How Embiid and Philadelphia find a way to translate what they pulled off at home to Miami will be fascinating. Is it possible? That answer is yes. When the center fought as he did in Game 3, it got James Harden going. Harden's Game 4 performance was the reason why this series is now tied. What the 76ers have managed is to come back from the "playoff dead." Anything that happens from here on out is where things rise to another level.
So, the risky play is just to take Philadelphia in Game 5 to win this game on the moneyline. The spread is no fun and is just even money. Why? Unfortunately, Philadelphia very well could triumph outright and not just needing that three points. That being said, the over is also enticing if it stays under 210. The Philadelphia 76ers remain one of our best Playoff NBA bets on Tuesday night to go up 3-2 in their series.
The Last Word
At long last, the NBA playoffs have hit the crucial stages again. Here are some NBA online betting sites below.