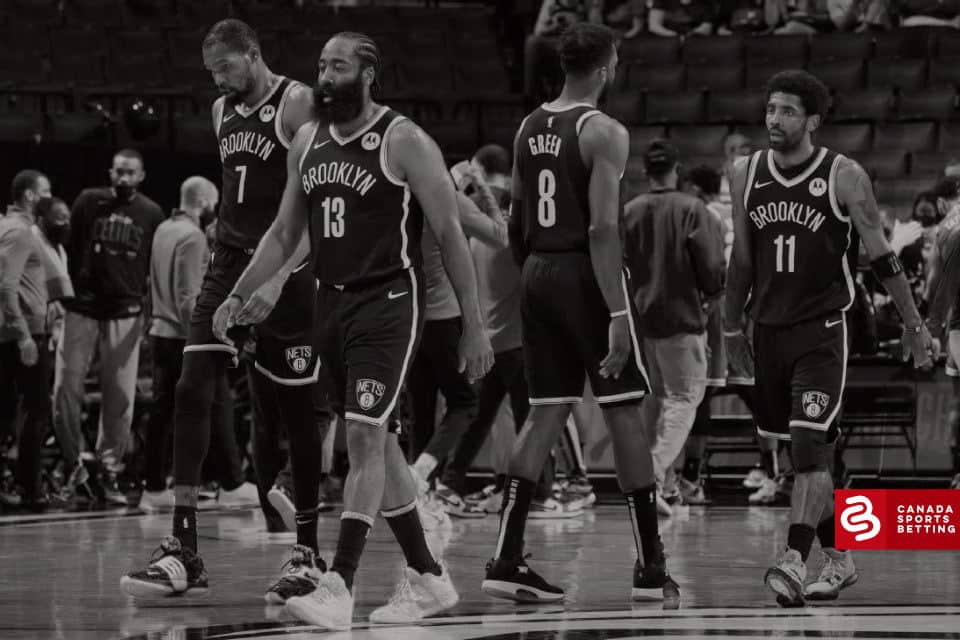 Let's have a look at the 2021/22 NBA season futures picks.
2022 NBA Championship Betting Predictions
The Brooklyn Nets assembled a star-studded lineup to go after an NBA championship during the 2020-21 season. To Kyrie Irving and Kevin Durant, they added James Harden and Blake Griffin, putting four NBA All-Stars among their starting five. However, the best-laid plans didn't pan out. Injuries slowed Harden and Irving and Brooklyn lost a seven-game second-round playoff series to the eventual NBA champion Milwaukee Bucks. The Nets are the 3.00 favourites to win the 2021-22 NBA title.
The Brooklyn Nets are 3.00 favourites to win the 2021-22 NBA title
The reigning champion Milwaukee Bucks are the third betting choice at odds of 10.00
In fourth at 14.00 are the Golden State Warriors, who've played in five of the last seven NBA Finals
The Milwaukee Bucks ended a 50-year title drought. The Bucks beat the Phoenix Suns in six games to win the NBA Finals. It was Milwaukee's first NBA championship since 1970-71.
| Team | | |
| --- | --- | --- |
| Brooklyn Nets | 3.00 | 3.00 |
| Los Angeles Lakers | 6.25 | 6.25 |
| Milwaukee Bucks | 10.00 | 10.00 |
| Golden State Warriors | 14.00 | 14.00 |
| Phoenix Suns | 14.00 | 14.00 |
| Utah Jazz | 15.00 | 15.00 |
| Los Angeles Clippers | 17.00 | 17.00 |
| Philadelphia 76ers | 17.00 | 17.00 |
In the NBA futures market for the 2021-22 season, which was posted moments after the Bucks began popping champagne corks, it's the Brooklyn Nets who are the chalk to capture the 2021-22 NBA crown. Brooklyn was bounced by Milwaukee in a hard-fought seven-game second-round NBA playoff series.
The Nets have never won an NBA title. They did win the final championship in ABA history in 1975-75, shortly before the NBA and ABA merged. Perhaps Brooklyn can take a lesson from the road the Bucks travelled to their title. Milwaukee lost to the Toronto Raptors in the 2018-19 Eastern Conference final. Last season, they were stunned by the Miami Heat in the opening round of the NBA playoffs.
The East hasn't produced successive NBA champions since the Heat won back-to-back titles in 2011-12 and 2012-13.
Let's look at the top contenders and the pretenders, as well as some value bets that are worth considering.
Brooklyn Nets
Had Irving and Harden remained healthy, perhaps it would've been the Nets instead of the Bucks who didn't get stopped en route to a championship. Even with two-thirds of their Big Three ailing, Brooklyn still nearly took out Milwaukee.
With Harden, Irving and Durant healthy, the Nets are always going to be the team to beat. However, keeping all three of them intact has proven to be a challenge.
Los Angeles Lakers
Injuries also scuttled the 2020-21 season of the defending champions. Both LeBron James and Anthony Davis were in an out-of-sick bay all season long.
Was that a one-off, or at 36 years of age, have all those playoffs runs taken a toll on LeBron's body?
Milwaukee Bucks
Winning two in a row is tough in any sport. The Tampa Bay Lightning just did it in the NHL. It happens more frequently in the NBA. Golden State did it in 2017-18. The Lakers actually won three in a row from 2000-02.
As long as they have the Greek Freak, Giannis Antetokounmpo, the Bucks will always in with a chance.
Golden State Warriors
A year after missing the playoffs, the Warriors battled back to postseason play, earning a spot in the play-in games.
Steph Curry is still among the elite players in the NBA but Golden State still seems a long way from being ready to go back to the NBA Finals.
Dallas Mavericks
Guard Luka Doncic is on the cusp of winning an NBA MVP award. Mavericks' owner Mark Cuban isn't afraid o be bold in pursuit of wins.
Speculation is that Dallas will do something big this offseason. They Mavs have been linked to Washington Wizards guard Bradley Beal in trade rumours.
Toronto Raptors
The 2018-19 NBA champs went through a difficult season in 2020-21. COVID-19 forced the Raptors to relocate to play all their home games in Tampa Bay's Amalie Arena. Several players endured a downturn in numbers.
Toronto is well-coached by Nick Nurse. Even if guard Kyle Lowry moves on, they still have plenty of talent at their disposal in Pascal Siakam, Chris Boucher, Fred VanVleet and OG Anunoby. Coming home to Toronto, at this price, the Raptors are definitely worth a look.
Where to Bet On The 2021-22 NBA Season?
There are a number of leading online betting sites that will provide bettors with the chance to place a wager on NBA games, props, futures and awards lines for the 2021 season. The best bet you can make is to shop around in advance and seek out the right deal before joining one of these sportsbooks. Check out Sports Interaction and Bet99 as examples.
The signup bonus offers that are in place at all of these recommended sites will prove advantageous to the bettor. And since you'll get a good deal wherever you go, why not check out several sites and find the ideal fit for your needs?
Do you want a risk-free first bet as a signup bonus? Perhaps you find a no-deposit bonus to be enticing. Or maybe you simply like the feel of cold, hard cash in your account and you want to go for a matching first deposit bonus. Whatever option you choose, you're already a winner.
Remember that new players and returning customers are eligible for better bonuses when they deposit using Bitcoin. As well, take advantage of the betting advice offered at these sites to help newcomers acclimatize to sports betting.
See below the top sportsbooks where you can wager online and choose the right one for you: