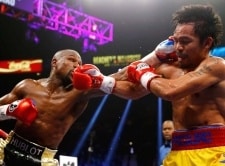 Boxing and MMA collide when megastars Floyd Mayweather Jr. and Conor McGregor square off in the squared circle for what could be the biggest fight of this generation. The build-up lasted over a year as both fighters traded jabs through interviews and social media. While many never expected the bout to materialize, the show will officially take place on August 26 at the T-Mobile Arena in Paradise, Nevada.
Mayweather McGregor Betting
The fight will be a major betting attraction despite the perceived mismatch. Canada has plenty of great online betting options listed below. So either the newest fans or devotees can bet on the winner, how many rounds the fight goes, how the fight ends, and are eligible for lucrative promos and signup bonuses on most of the sportsbooks they'll sign in to.
These are solid betting sites but having a William Hill account is a must for boxing. The website is first to open betting lines for boxing matches and has been in the industry since 1934 with its first online platform in 1998. Their signup bonus of up to $100 CAD is easily accessible as are their 24/7 customer service. William Hill is a premium spot for boxing but they also extend to other sports like hockey, football, and baseball with an ever-improving live website interface and betting platform.
Sports Interaction is one of Canada's leading betting platforms and is recommended for combat sports like boxing and MMA. The site offers a signup bonus of up to $200 CAD and also has friendly customer service always ready to help. In terms of betting odds, they open their lines a bit later waiting for other sites to open theirs but they offer great payouts. Their live betting platform is among some of the best and they offer extensive selections of props.
Mayweather vs McGregor Fight
Conor McGregor has long-teased an interest in fighting Floyd Mayweather Jr. In 2015, McGregor said he would "kill Floyd in 30 seconds or less" if they ever got into the Octagon. Mayweather reportedly then spoke to Freddie Roach to train McGregor for an eventual fight.
By early 2017, both parties had reportedly gone through an "exploratory phase" in negotiating a potential contract in a fight. On March, Mayweather challenged McGregor to sign the papers and on May, McGregor reportedly agreed to Mayweather's terms and signed.
Mayweather is well into his second retirement following a lackluster decision win over Andre Berto to retain the lineal welterweight titles in September 2015. He is coming back in a bid to not only reach 50 wins but fight combat sports' other megastar.
McGregor is making his pro boxing debut after having won the UFC lightweight championship back in November in the UFC's debut event in New York City. McGregor became the first UFC fighter to hold two championships simultaneously and is now gunning to extend his success to boxing.
Mayweather vs McGregor Purse
There has been no official word on how much either fighter is making for this fight although most estimates take Mayweather north of $100 million while McGregor is said to pocket $75 million at least. The purses could go as high as $400 million for Mayweather and $127 million for McGregor if the PPV hits all its monetary metrics.
Should these numbers hold true, this would be the biggest payday for both fighters especially for McGregor whose biggest reported pay in MMA was around $7 million in his last fight.
This will be the biggest boxing event since Mayweather-Pacquiao broke PPV records selling up to 4.6 million with $410 million in gross revenue. This new superfight is estimated to make just as much and up to $1 billion per some reports. The Mayweather-Pacquiao fight drew 4.4 million buys mostly from boxing fans and adding McGregor, who brings a new demographic, will theoretically bring more purchases even if the PPV price is $100. The UFC never charged more than $60 for a PPV but Showtime and Mayweather Promotions are in charge.
Mayweather-Pacquiao broke all kinds of records but it did them despite logistical faults such as the ticketing issue. Tickets weren't distributed until just days before the fight and media didn't know where to be seated until the morning before the bout.
Pacquiao is also not as great a promoter as McGregor, whose sharp tongue and colourful persona helped his stellar rise to fame. With all these issues as a reference, both promoters and boxers can work to give the fight more visibility and break even more records.
Mayweather vs McGregor Stats
This is a lopsided affair in terms of boxing. Mayweather isn't just the biggest star of his era but also the greatest boxer of his generation. With a 49-0 record, Mayweather has rarely come close to losing and is a five-division world champion.
At 5'8″ 154 lbs., Mayweather began as a super featherweight (130) and retired at super welterweight (154) with wins over Zab Judah, Oscar De La Hoya, and Canelo Alvarez. His speed and defensive mastery made him near-untouchable and he'll look to confound McGregor like the rest.
McGregor is making quite the pro debut against the greatest boxer of their era. At 5'9″ 154 lbs., McGregor has fought as high as welterweight (170 lbs) and will be the bigger fighter. He'll also hold a two-inch reach advantage over Mayweather. McGregor rose to prominence with his trash talk but backed it up by knocking out all but two of his UFC opponents.
His hand speed coupled with his impeccable preparation made him a master gamesman and he'll be testing both his fists and mental prowess against the greatest defensive boxer alive.
Sportsbooks have Mayweather as low as -855 after opening him at -850. The comeback on McGregor is as high as+645. With the amount of support McGregor is able to build up, it will be interesting to see if he creeps closer although most boxing fans dismiss this as nothing more than a circus fight. Mayweather will have the speed, experience, and technical advantages but McGregor holds the great equalizer: power. If McGregor can mess with Mayweather's head, he stands a better chance to challenge him but this is otherwise Mayweather's fight.