Adding more choices for Canadians, XBet is fairly new to the online betting landscape. Offering a Sportsbook, Casino and Racebook, XBet impresses with their wide variety of wagering options that are complimented by simple sign up, secure banking, plus a vast array of value added player rewards. Here we review this rising star in the world of sports and entertainment wagering.
Action Packed LIVE Wagering Platform
Offer Extensive Player Reward Package
Sportsbook, Casino and Racebook Betting
Standard Minimum Deposit Is Fairly Steep
Xbet Bonus
BANK A BONUS TODAY! Surf over to XBet, register a private betting account, make a first deposit and then collect a bankroll boosting 100% sign-up player reward.
Deposit To Claim XBet Player Rewards
XBet Canada Sportsbook, Casino & Racebook
Having a vast selection of quality choices, no matter what you are shopping for, is always a good thing. Now Canadian's can add XBet to their stable of sports, casino and horse betting websites. Though younger than some of the veterans we recommend here at Canada Sports Betting, XBet was able to draw from what works, while eliminating what doesn't, prior to launching their new high-tech site. Boasting a "meticulously hand-picked collection of the most experienced, highly skilled online gaming professionals in the industry" helped XBet was able to get the fast track to success.
XBet Bottom Line Recommendation
Days of paper "check box" betting slips, filled in at a crowded gas station, are mercifully coming to an end. Though we can't forecast when, there will come a time when Canucks have access betting kiosks in pubs, casinos and even shopping malls. In the meantime, any electronic device will do as all of them deliver access to top betting sites like XBet. It is always good to have a "stable" of go-to betting sites loaded and ready to access. This is especially true when it comes to shopping for the sharpest lines and the best prices. No bookmaker will always offer the best odds on every option so shop around.
Parlay bettors will find multiple accounts handy for hedging accumulators that already have winning legs or are heading south. We recently had a Gonzaga (-950) Warriors (-800) Islanders +4.5 (-1800) and Sharks +4.5 (-5000) parlay bet. With three legs safe, San Jose was down 4-1 to Nashville and our investment was slipping away. Jumping on the Predators at -4.5 (+800) we ended up covering our loss and banked an additional six-unit return. These bets where made at two books as our first choice wasn't offering the option we needed. Make XBet part of your sportsbook stable – sign up today!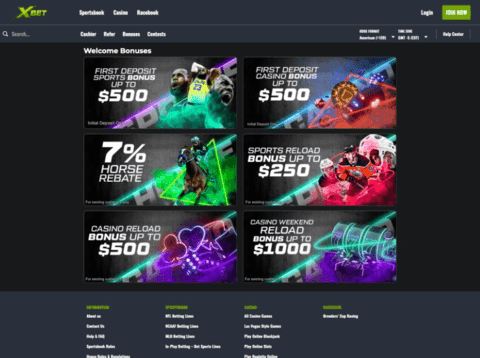 Visit XBet To Check Out The Goods
When you like what you see, we trust you will, take one minute to register an account, load a bankroll and start betting instantly!
Gain Access To XBet Here!
---