Adding more choices for Canadians, XBet is fairly new to the online betting landscape. Offering a Sportsbook, Casino and Racebook, XBet impresses with their wide variety of wagering options that are complimented by simple sign up, secure banking, plus a vast array of value added player rewards. Here we review this rising star in the world of sports and entertainment wagering.
Action Packed LIVE Wagering Platform
Offer Extensive Player Reward Package
Sportsbook, Casino and Racebook Betting
Standard Minimum Deposit Is Fairly Steep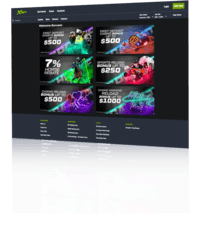 Xbet Bonus
BANK A BONUS TODAY! Surf over to XBet, register a private betting account, make a first deposit and then collect a bankroll boosting 100% sign-up player reward. 
Deposit to Claim XBet Player Rewards
XBet Canada Sportsbook, Casino & Racebook
Having a vast selection of quality choices, no matter what you are shopping for, is always a good thing. Now Canadian's can add XBet to their stable of sports, casino and horse betting websites. Though younger than some of the veterans we recommend here at Canada Sports Betting, XBet was able to draw from what works, while eliminating what doesn't, prior to launching their new high-tech site. Boasting a "meticulously hand-picked collection of the most experienced, highly skilled online gaming professionals in the industry" helped XBet was able to get the fast track to success.
Loaded with a variety of bonus offers; XBet understands that rewarding their customers is an important part of building and retaining their client base. The bonus program at XBet begins with a generous 100% Welcome Reward that pays up to $500 when using promo code XB50.

A minimum $100 deposit is required to get in on this offer and the bonus is awarded as a Free Play for use in the sportsbook. Terms & Conditions apply and bettors are advised to check out the well-defined player reward information posted in the bonus section at the website.

Clients topping up their bankroll are offered a 50% reload reward which pays up to $250 in sportsbook bonus bets. Fans of table game action and slot play can collect a 100% first deposit bonus by using promo code XBC100 in the Casino. Pony punters are also taken care of as many Racebook wagers receive 8% daily rebates on bets placed at top North American horse racing venues. Additional contests and promos, especially during mega events like NCAAB March Madness and NFL Super Bowl, are offered all year at XBet. 

Well presented, the XBet login snaps to size on large home computers, tablets and cell phones. The site look is crisp and navigation is simple across each of the platforms. While we could do without the constantly flipping ad-banners, the sportsbook loads quickly with drop down menus for events being played around the globe. The Racebook features horse betting options from iconic ovals across North America – including Canada's own Woodbine Racetrack. Casino fans are treated to LIVE action that offers a Las Vegas feel and excitement.

During our XBet website review (24/02/18) tons of Soccer and the XXIII Winter Olympics, plus NBA, NHL and MLB exhibition battles, were being featured in the sportsbook LIVE wagering section. Action loads quickly, the prices refresh in a timely fashion, and the intuitive betting platform allows 'Cappers to place their LIVE bets with just a couple of simple clicks on a computer or taps on most mobile devices. The sports world moves fast and a viable in-game betting app is a must have for top sportsbooks - the XBet website doesn't disappoint.

Understanding the new reality, that online bettors are becoming more selective, savvy and demanding of individual client care, XBet delivers quality customer service. Following one of the more positive trends in the online wagering world today, XBet employs LIVE Help operators that are standing by around the clock to assist customers. Our chat was pleasant, informative and our queries were answered quickly with helpful advice. Clients can also connect to XBet help via Toll Free phone support or request call-back with one simple click. 

Stacked to the rafters, though simple to decipher and hone in on, wagering options in the XBet sportsbook are vast. Waiting in lines is never good, especially at the Sac-O-Suds shop while trying to purchase a Sports Select ticket, a long list of betting lines is a great thing. Name the sport and you can most likely wager on it at XBet. Business, entertainment, plus political odds are also offered. Not sure how he survives his first term, with so many scandals, we are surprised to see Donald Trump is still a huge favorite to win the 2020 USA Presidential Election.

Part of our LIVE Help chat included a discussion of the XBet banking system. While bonus bucks can't be moved, they do employ a one-wallet banking system and all deposits can be used to bet on sports, slots, table games or a variety of pony action. Deposit and Payout pages are very clean – with financials as the lone focus. Popular payment methods include Bitcoin, Major Credit Cards, plus a variety of eTransfer options. Wire transfer, eCheck and Bitcoin are the featured cashout methods. Please review and understand the banking section fine print.

Testing the system, with an iMac computer, an iPhone, and an iPad, was like comparing apples to apples. Get it? The XBet app appeared and reacted the same way no matter which device we were using. During a walk to the station, a train ride to the local pub, and once at their favorite watering hole, Canucks can stay connected with the sports world from virtually anywhere with the XBet mobile betting platform. Bettors are reminded that wagering on the fly can be helpful to hedge fledgling parlays or produce a guaranteed winning return. LIVE betting is fantastic!
XBet Bottom Line Recommendation
Days of paper "check box" betting slips, filled in at a crowded gas station, are mercifully coming to an end. Though we can't forecast when, there will come a time when Canucks have access betting kiosks in pubs, casinos and even shopping malls. In the meantime, any electronic device will do as all of them deliver access to top betting sites like XBet. It is always good to have a "stable" of go-to betting sites loaded and ready to access. This is especially true when it comes to shopping for the sharpest lines and the best prices. No bookmaker will always offer the best odds on every option so shop around.
Parlay bettors will find multiple accounts handy for hedging accumulators that already have winning legs or are heading south. We recently had a Gonzaga (-950) Warriors (-800) Islanders +4.5 (-1800) and Sharks +4.5 (-5000) parlay bet. With three legs safe, San Jose was down 4-1 to Nashville and our investment was slipping away. Jumping on the Predators at -4.5 (+800) we ended up covering our loss and banked an additional six-unit return. These bets where made at two books as our first choice wasn't offering the option we needed. Make XBet part of your sportsbook stable - sign up today!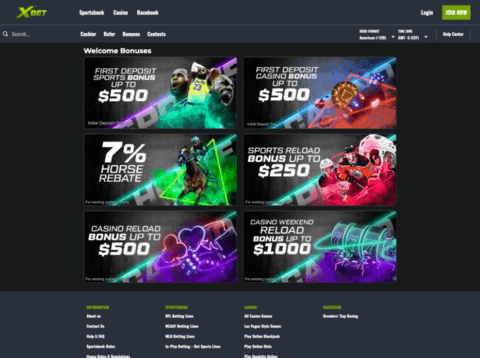 Visit XBet To Check Out The Goods
When you like what you see, we trust you will, take one minute to register an account, load a bankroll and start betting instantly!
Gain Access To XBet Here!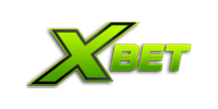 SIGNUP BONUS:

$ 500 Bonus