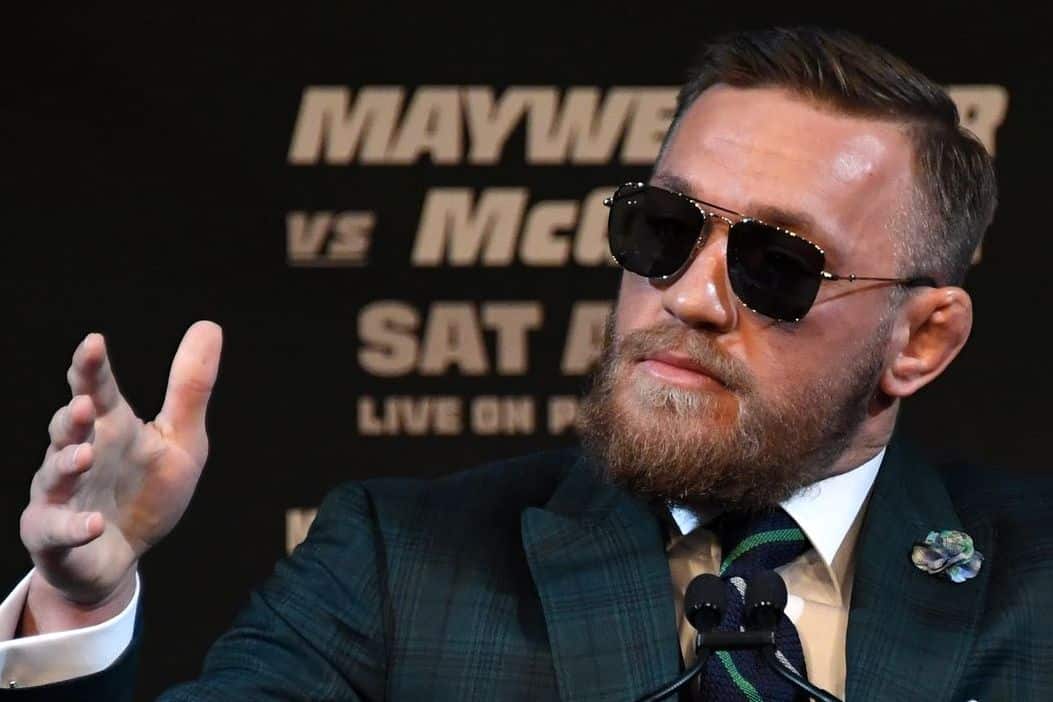 Conor McGregor was able to transcend the UFC and become an international superstar through his ability to self promote.
The fighter combined devastating knockouts in the octagon with a killer social media presence to become one of the most well-known fighters over the past decade. We take a look at ten of his funniest tweets, which include roasts, self-promotion, and even a big losing bet.
Conor McGregor's Funniest Tweets
There's a variety of reasons why a tweet's funny. Sometimes, it's a clever roast, while other times, you look back at an old tweet that is hilarious in retrospect. This list doesn't include the Conor McGregor Andy Ruiz tweet, which is a tribute, or the Conor McGregor Khabib tweet that Conor needed to immediately delete. Instead, the list focuses on the lighter side.
10. No Way Conor Made That Drink
What are the odds that Conor makes his drinks with pine needle garnish? We're betting that it's extremely unlikely. Odds are he prefers more expensive whisky in private, neat.
9. Conor's Number One – Sort Of
Conor tweeted about the UFC goat, stating that Silva was tops. Of course, he also found a way to name himself the greatest of all time too.
8. Canada Stole My Suitcase?
Canada's international reputation as a polite country was exposed when McGregor launched this tweet. Conor revealed that he had a rough 24 hours in his first visit to the Great North, and the budding superstar had a pretty good attitude towards it.
The wisdom tooth issue was one that Conor had to deal with earlier on in his career when he chose to fight instead of having the tooth removed immediately. No one is certain if Canada decided to steal the suitcase while Conor was under the dentist's drill, but suffice to say that he ended up fine without it.
7. American Style Bums?
Part of Conor's mystical Canada tweet referenced the fact that Canadian "bums" sing nice songs to you. When he was in the United States, Conor noticed that the destitute were also a bit different from Canada and Ireland.
Conor mentioned that he would be sure to get a picture and he did. McGregor's early Twitter is much different than his superstar Twitter, showing more of a sense of humour and a whole lot less marketing of random products and services.
6. PUGS NOT DRUGS
Eventually, everyone who tweets long enough will post two messages that are the exact opposite of each other, creating a complete contradiction of the self. In Conor's case, this phenomenon began when he was trash-talking Chael Sonnen. Sonnen, who's known as a bad guy and one of the more controversial figures in the old guard of UFC, was essentially removed from the sport after testing positive multiple times.
Conor was hinting at the use of a testosterone boost through needles, when he tweeted the infamous "PUGS NOT DRUGS" remark. This is partly due to the massive advantage that performance-enhancing drugs create in prizefighting, along with Conor visiting schools as part of an "anti-bullying" campaign with the tweet on a sweater.
5. Tweets Snoop Dog: #WEEDBLAZER
The "PUGS NOT DRUGS" tweet took place in March 2013, only five months after Conor sent a frantic tweet to Snoop Dogg himself. Snoop was promoting a mobile game from Zynga, offering a follow back for anyone who joined his team in the game. Conor saw his opportunity and took his shot.
Amusingly, Conor tweeted at Snoop in all caps in an attempt to capture the OG's attention. Hilariously, he signed off the tweet with #WEEDBLAZER, which is the opposite of PUGS NOT DRUGS. Twitter asked if Snoop followed back, but there was no response. Maybe Conor didn't join Snoop's mobile game squad in less than 30 minutes.
4. Did You See My Mustard Chicken Dish On Facebook?
One of the more unexpected parts of Conor McGregor's Twitter presence involves a ton of food pics, which has become one of the biggest genres of social media photography over the past decade. When becoming a superstar his feed started to fill up with a variety of food and beverages from a bunch of different brands, including the high-end stuff. Before he found success, his food tweets were decidedly less spectacular.
Responding to a mediocre plate and an uninspiring photo from John Gooden, Conor enthusiastically compliments the gruel and reveals excitement about his own AMAZING mustard chicken dish. For many, this is the first time that they've ever heard of mustard chicken.
3. Funny Only In Hindsight
Conor nearly won an €11,000 payoff with a sports betting site, but his parley fell short when Dustin Kimura wasn't able to pull off a victory against Mitch Gagnon in the preliminary card of UFC 165 at Scotiabank Arena in Toronto, Ontario. 
Impressively, Conor got five out of six correct, but his parley fell apart early on in the event. This wasn't the first time McGregor experienced disappointment in Canada, but it was certainly the last. The euros he lost pale in comparison to the revenue he's gained ever since that losing ticket.
2. No Disrespect But I'll Slap Your Head Off
What makes a perfect heel? One of the traits of an excellent heel is a stubborn dedication to aggressively insulting your fans. Conor stepped into his role as a heel outside of Ireland, swaggering around the stage to raise his profile to stardom.
Conor saying "no disrespect" before insisting that he would destroy the entire lineup of the WWE is a classic heel quote. The entire WWE was triggered, beginning a storyline that started with bombastic disrespect and will likely finish with sportsbooks giving odds on whether Conor will join AEW or WWE.
1. Much Respect to Floyd Senior
Anyone who knew anything about boxing knew that Conor would need to be ridiculously lucky to defeat Floyd Mayweather in their much-publicized matchup. Truth is Conor knew he wouldn't win under boxing rules unless he landed a lucky punch. This didn't stop him from launching an all-out war over social media.
Conor landed the best strike on Twitter by bringing Floyd Senior into the mix. The Senior Floyd was an excellent fighter in his own time, no doubt giving Floyd Junior a genetic advantage. The dude in the red shirt who looks like he really doesn't want his picture taken adds an extra awkward edge to Conor's tweet.