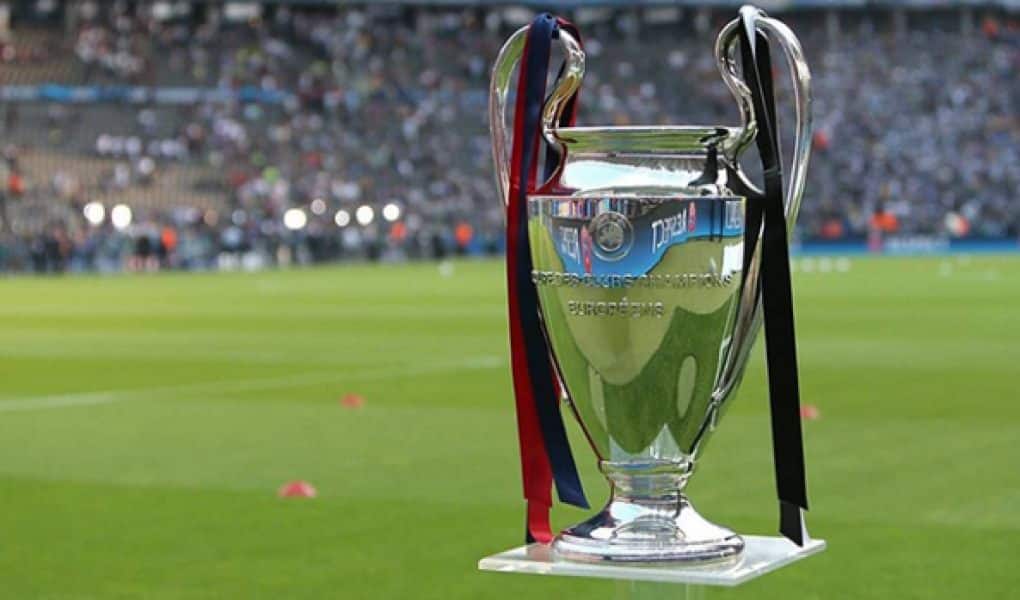 The 2018/19 UEFA Champions League kicks off on Tuesday, September 18. 32 teams including some of the world's best will fight for the coveted European trophy. Who will win it this season?
Who Will Win the 2018/19 Champions League?
Champions League Favourites 2018/19
The 2018/19 UCL group stage draw is complete, and it has seen some big movement in the odds market. Here are the favourites, with odds provided by Sports Interaction.
See below the top sportsbooks where you can wager online and choose the best one for you:
View All Sports Betting Sites
Manchester City (+435)
City's aggregate loss to Liverpool in the 2017/18 season was a small blip in an otherwise dominant season that saw them crack 100 points in the Premier League season. It's no secret though that Pep Guardiola needs to bring Champions League glory to the Etihad in order to really rubber stamp this golden era for the sky blues.
With such an impressive lineup and a refreshed and fit Sergio Aguero at their disposal, City are going to be tough to stop, and are deservedly favourites coming into this competition given their pedigree and below-average group.
Barcelona (+524)
It's unsurprising to see Barca up there with the top chances, and they will continue to be heavily backed as long as Leo Messi is around. With the likes of Luis Suarez and Philippe Coutinho alongside him, the Spanish champions remain a force to be reckoned with.
Their capitulation in Rome last season and failure to reach the final in the last three campaigns is a worry, although if anyone has a point to prove in this tournament it is this squad.
Juventus (+561)
The Italian giants have secured the services of arguably the world's best in Cristiano Ronaldo, and now can be considered a genuine chance of winning this tournament after coming so close in recent years.
Twice finishing as runners-up in the last four campaigns, Juventus are due, and come in at third on the list of odds. We think they will surely make the final four, and it would be an incredible story if Ronaldo can win back-to-back titles at different clubs.
Paris Saint-Germain (+657)
You would expect the French champions to be higher up this list, although a tough group alongside Liverpool and Napoli means they aren't assured a spot in the last sixteen like last time around.
Kylian Mbappe will be the player to watch after his stellar World Cup campaign, and as long as he, Neymar and Edinson Cavani can all get along we should see a decent run at the cup from the French side. Surely they won't bow out early again this season.
Real Madrid (+800)
Last season's champions have dropped to fifth on the list of potential winners, and it's not hard to see why – they've lost two very influential men in star forward Cristiano Ronaldo and manager Zinedine Zidane.
Even so, the Spanish giants have won four of the last five tournaments and have made the semi-finals on eight consecutive occasions. They have a fairly easy group and showed last season that they can more than match it with the biggest clubs in Europe. Bet against them at your own risk.
Bayern Munich (+800)
Bayern's 2018/19 draw is very generous, and are almost unbackable favourites to top Group E. The real question for the German champions is whether they can rise to the occasion in the later stages of the tournament.
They were so close to knocking off Real last season, but will need to address a worrying trend which has seen them convert just one of their seven semi-final appearances into Champions League trophies this decade.
Liverpool FC (+1000)
Runners up in 2017/18, Liverpool are the team to look out for in this year's tournament. They managed to hit the back of the net more than any other team last time around, and should be even stronger with the addition of new goalkeeper Alisson and a much stronger defence.
The Reds have drawn a tough group featuring French champions PSG and Napoli, who almost knocked Juventus off their pedestal last season. Yet they have the depth and the talent to go far once again and are a steal at +1000.
Other Chances
There are a number of teams just outside the top chances to win the tournament, and the best pick has to be Atletico Madrid. Although they bowed out early last season, a much less difficult draw has been handed to the Europa League champions, and they still boast an impressive squad.
Tottenham Hotspur were the only side to finish ahead of Real Madrid after two matches last season, although they will find it tough to progress alongside the likes of Barcelona and Inter Milan. They should progress, although still look a couple of players short of a genuine chance.
AS Roma went close in 2017/18, although it's hard to see them repeating the feat given the losses they have suffered in key positions.
Manchester United look unlikely to challenge this time around, given the lack of resources at the back for Jose Mourinho.
If you're planning to place a bet on the futures market for the UEFA Champions League, you should stick to the teams we've mentioned. Underdogs rarely win this tournament.
It's not an easy choice to make at this early stage, but we are backing Manchester City to lift this season's title. We think Madrid's golden era will come to an end, and Juventus, Liverpool and Barcelona will be the likely semi-finalists.
All the excitement of the UCL gets underway on Tuesday, September 18. Don't miss a single match!