History Awaits Terrific Toronto
The Toronto train keeps on going. Canadian Championship? Check. Supporters' Shield? Check. MLS Cup? Check. The Reds have achieved what no other team in MLS history have done, and now they have their eyes firmly set on a prize that would send them to the FIFA Club World Cup – a tournament that, you guessed it, no team from the MLS has ever competed in. It's the CONCACAF Champions League, and Toronto are so very close to winning it.
Toronto FC will face a strong opponent in Guadalajara Chivas, a side with a rich history and also a team that has performed well in knocking out both the Seattle Sounders and New York Red Bulls on the road to the final. Chivas are also vying for their place in history – despite their domestic success over the years they have yet to win the CONCACAF Champions League in its current format, and last won the continental trophy in 1962.
Toronto FC have already defeated two Mexican clubs on their road to the final, and on both occasions travelled south of the border with a lead in hand. Once again, Toronto has drawn the first match in the two-leg playoff, which will certainly suit them – they only need to repeat their stellar form at home in the competition to give themselves the best chance of lifting the trophy in Mexico the following week.
The Reds will start with more or less the same side that travelled to Mexico City last week. There are injury concerns surrounding Victor Vazquez (back) and Justin Morrow (calf), although Jozy Altidore is expected to play in spite of being withdrawn due to a foot complaint in the semi-final second leg. Chivas have a couple of injuries, and will also be missing Jair Pereira, Rodolfo Cota and Edwin Hernandez due to suspension.
Both teams have several players walking the tightrope in terms of potential suspension. Michael Bradley, Jozy Altidore, Sebastian Giovinco, Jonathan Osorio and Drew Moor will all miss the second leg if they pick up a yellow card in this match, while Guadalajara have four players in the same boat.
Toronto FC vs. Chivas Odds, Prediction
First Leg – Tuesday April 17, 2018 @ 8:15p ET
This will be the first ever meeting between Toronto FC and Guadalajara Chivas. The Mexicans have only played in one prior tournament in the Champions League era, failing to progress from their group in the 2012-13 tournament, while Toronto FC have appeared in four prior competitions, and reached the semi-finals in 2011-12. The first leg will be held at BMO Field, while the return fixture will take place at the Estadio Akron in Mexico on Wednesday, April 25th.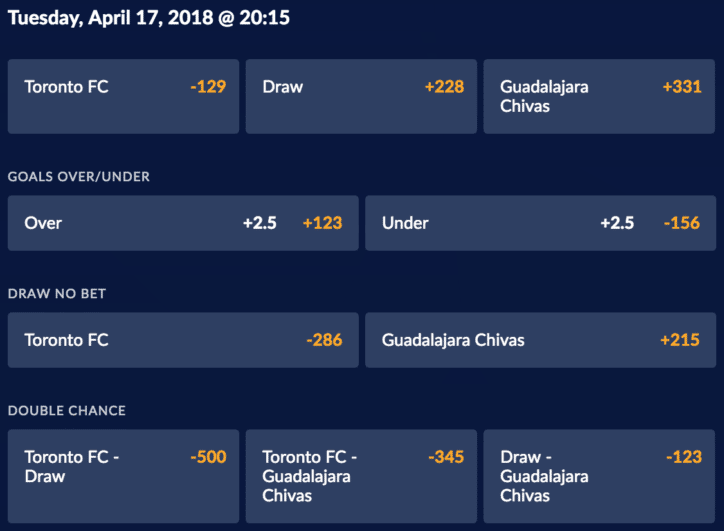 Toronto FC will start as the favourite for the home first leg, which has been the case in each of their four Champions League matches at BMO Field. This is the first time that the Reds have been regarded as the overall favourite against a Mexican opponent, no doubt owing to the fact that they have managed to get the job done twice already, and they were at home in the first leg on both occasions.
Toronto FC won their last two home matches against Mexican opponents.
Both teams scored when Mexican sides have travelled to BMO field this season.
Chivas have not conceded a goal in their last three CCL matches and only conceded once in this year's tournament.
Jonathan Osorio and Sebastian Giovinco are the equal CCL top-scorers this season with three goals each.
Toronto FC scored 70% of their tournament goals in the second-half (7-3).
-129 is also the shortest Toronto have been against any of their three Mexican rivals.
The fact that both teams have scored in each of Toronto's last two ties at BMO field is something that may need to be disregarded in this match. Chivas did not score an away goal in either of their matches against MLS opponents, and are likely to employ the same defensive strategy that frustrated the New York Red Bulls last week. The Red Bulls finished that game with 20 shots to 1.
It is therefore not a surprise to see the "both teams to score" market in favour of the 'no' option. The -147 on offer is a decent bet for this match, as it will also cover a 0-0 draw.
Toronto FC will need an early goal to break down the resilient Mexicans, which is something they were able to do in both legs against Club America. The three goals they scored in this tie were the only 3 first-half strikes of their campaign – their other seven have all come late.
Sebastian Giovinco and Jonathan Osorio have each scored three goals in the tournament, and will have the opportunity to win the golden boot. The most likely is Giovinco, who will take a penalty if one is awarded, and is also irresistible from dead ball situations. A bet on Giovinco in the 'any-time' goal scorer market is a decent pick.