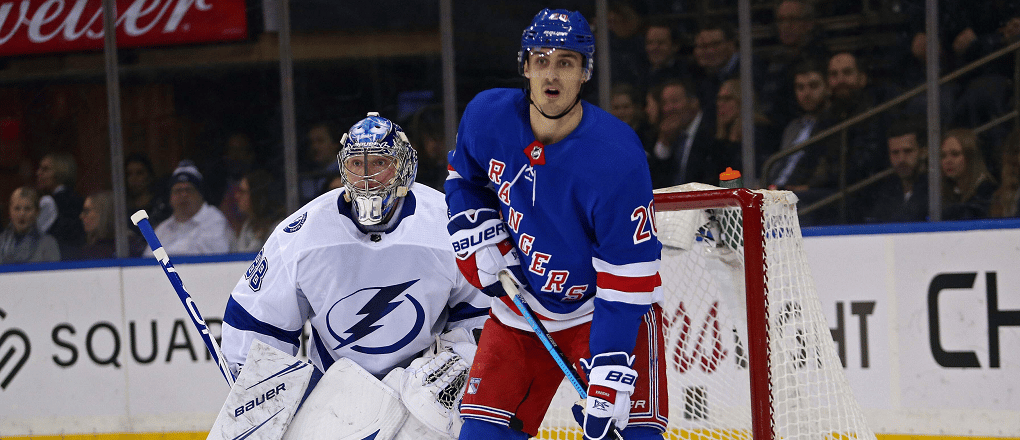 New York City is probably getting a little tired of the Tampa Bay Lightning at this point. The last three times a New York-based team went to the Conference Final, things went as follows: The 2021 New York Islanders lost to the Tampa Bay Lightning, the 2020 New York Islanders lost to the Tampa Bay Lightning, and the 2015 New York Rangers lost to the Tampa Bay Lightning. Needless to say, the Bolts have been the midnight clock to the Big Apples' Cinderella runs in recent years, and in pursuit of a confirmed dynasty, they hope to be the same again over the next few weeks.
While the Islanders have been the more frequent speedbump for Tampa in recent years, there's a lot of overlap between the Rangers and Lightning. Years of trading with each other means players on both sides who have seen each other's dressing rooms, which makes sense when you consider the fine American tradition of bouncing between New York and Florida. But this is about the hockey, so as both teams attempt to get one step closer to the Stanley Cup, let's break this series down, shall we?
Series Updates
This section will be updated as the series progresses. Check back regularly to keep tabs on the trends!
Game 1, 6-2 New York: I know I said a lot of things were possible to go down in favour of the Rangers in this series – Igor Shesterkin outbattling Andrei Vasilevskiy, the Rangers' kid line waking up, their stars having meaningful offensive nights… I can't say I expected them to all come at once though. Madison Square Garden was rocking on Wednesday night and it took just 71 seconds for the powderkeg to get its release, as Chris Kreider was left wide open to bury his ninth goal of the playoffs. Steven Stamkos tied the game up six minutes later, and a similar back and forth came with Frank Vatrano and Ondrej Palat in the second period, but after that, this game was all New York.
Filip Chytil, centre of the aforementioned kid line, picked up two goals in a little more than five minutes, two of which came with assists from Alexis Lafreniere and one with a helper for Kaapo Kakko. Knowing that they'd be in for a tough third period if they didn't immediately assume control, Artemi Panarin widened the gap to 5-2 just thirty seconds into the final frame. Mika Zibanejad became the third Rangrs star to score in this one five and a half minutes later, and from there, it was time to hold the fort. Shesterkin stood tall, a lot of pushing, shoving, and roughing occured in the final few minutes, and the Rangers left their home rink with their heads held high.
BetMGM now has the Rangers as the favourites to win the series (1.83 decimal odds), though Tampa in 6 or 7 remain the two most likely specific outcomes. Tampa winning outright sits at 2.00. Over at bet365, you see the same pattern, though exact-result scenarios for the Rangers are a little bit closer to the two top Tampa ones. The Rangers sit at -120 to take the whole round, with Tampa at +100.
Game 2, 3-2 New York – For the first time since getting swept in the 2019 playoffs, the Tampa Bay Lightning have lost back-to-back games. Yes, they got through both their 2020 and 2021 runs, and half of this playoffs without suffering that fate, but the Rangers took full advantage of home ice on Friday night to go up 2-0 in the Eastern Conference Final.
It was a narrow, but effective victory for New York, who actually fell behind in the opening minutes. Nikita Kucherov potted his fifth of the playoffs on a Tampa powerplay just ten seconds after Ryan Reaves headed to the box for the game's first penalty, but K'Andre Miller was quick to respond with an equalizer, and the Kid Line struck once gain via Kaapo Kakko's second of the postseason late in the period. After a scoreless second, Mika Zibanejad added some insurance 81 seconds into the third period, and while Nick Paul brought the game back within one with two minutes to go, Igor Shesterkin continued to hold the fort in what ended up being a 29-save performance.
Game 3, 3-2 Tampa – It was a Sunday afternoon matinee in Tampa, and while many in the state of Florida were looking forward to heading to the beach, the Lightning clearly don't want to follow them there just yet. While things looked in grave danger in the first half of the game, an inspiring comeback has returned this series to within one. Scoring began seven minutes into the second period, while Corey Perry sat in the box for lashing Igor Shesterkin – Mika Zibanejad made him pay for the act with his 10th goal of the playoffs. Seconds after that, Riley Nash interfered with Shesterkin, who drew his second powerplay of the game, and Chris Kreider made that one count too with his own 10th tally.
Fortunes flipped soon after with another penalty, this time against the Rangers via Jacob Trouba. Nikita Kucherov made the most of it, and while that was the end of the second period's damage, Steven Stamkos tied the game up with another powerplay tally. A stalemate occurred for the next eighteen minutes, but with 42 seconds remaining in the third period, Ondrej Palat converted Tampa's 51st shot of the game to beat Shesterkin and drag this series off of life support.
Now, there's only one game between the two teams, and Tampa has home ice for their next game. Bet365 still likes the Rangers as the favourites to close the series out, putting them at -140 to the Lightning's +120. Looking at the decimal odds over at BetMGM, New York sits at 1.66 to Tampa's 2.25. BetMGM has Rangers in 6 or Tampa in 7 as the most likely results (4.25), with Tampa in 6 being the least (5.00) probable.
Game 4, 4-1 Tampa – We're all tied again in the Eastern Conference Final, all while the Colorado Avalanche wait for their Stanley Cup Final opponent. While some thought that the Lightning were all but done when down 2-0 in the series and down multiple in Game 3, the claw-back on Sunday appeared to be the start of something, especially for a non-star but still quality hero in Ondrej Palat. First though, Patrick Maroon opened the scoring two and a half minutes in with his third of the playoffs, putting in a rebound after a Zach Bogosian pinch that reminded you more of his junior days than his defence-first professional style. The Palat show began in the second, with his first point coming from a stretch pass from centre ice onto the tape of a streaking Nikita Kucherov, who buried a breakaway. Five minutes into the third period, another shot of his was rebounded by Steven Stamkos to widen the gap even further.
Artemi Panarin did break Andrei Vasilevskiy's shutout with three and a half minutes remaining in the game, but that was the only one of New York's 35 shots on goal that was able to beat the Tampa netminder. For good measure, Palat added an empty netter with nine seconds remaining to seal the game once and for all.
Despite the Rangers still having home ice, the push by the Bolts has restored their advantage according to the books. BetMGM has the Lightning at 1.65 decimal odds to the Rangers' 2.30, and they even feel that the most likely outcome (at 2.80) is that the Lightning push all the way through and get this done in six games. Over at bet365, a similar trend is evident – Tampa sits at -170 to the Rangers' +150, and the Lightning blazing through to win in six is the favourite exact outcome at +180. Tampa in seven also has a lower return than either New York based outcome. Can the Rangers prove everyone wrong once again? We'll see this week.
Game 5, 3-1 Tampa – So it looks like the beast has been reawakened, and inevitability might be setting in for the New York Rangers. A tight-knit affair was eked out once again by the back-to-back defending champs, who are now one game away from their third consecutive conference championship. At first, it seemed like this would be the Rangers' game; they outshot Tampa 8-3 in the first period, and Ryan Lindgren scored the game's first goal early in the second. But a point shot from Mikhail Sergachev tied things up with two minutes to go in the middle frame, and from that point, the creep in momentum really began to pick up. With 1:50 remaining in the third period, Sergachev found himself in the same spot, and this time his floater took an indirect path to the net – going off the stick of Game 4's hero, Ondrej Palat. Brandon Hagel added an empty netter with 59 seconds remaining, and that was it for the game. We did get some extra curriculars at the end, most notably including a fight between Steven Stamkos and Alexis Lafreniere, where the veteran definitely held the edge over the sophomore.
So where do the lines stand now? Well, BetMGM has Tampa at 1.20 decimal odds to the Rangers' 4.75, a significant change in gap from two days ago. The Lightning sit at 1.55 to close it out on Saturday, while both seven-game outcomes land in the 4's. Over at Bet365, The Lightning sit at -192 to get it done on Saturday, and -550 to win overall. Bolts in 7 sits at +300, while a full Rangers comeback comes in at +425.
Still to come:
Game 6 Saturday, June 11 @ Tampa Bay (8:00 PM EST)
Game 7, (if necessary) Tuesday, June 14 @ New York (TBD)
The Matchup
Those who have been following our previews during these playoffs, which have focused solely on series involving Canadian teams up until this round, are probably familiar with the doings of the Tampa Bay Lightning. After all, they were the Toronto Maple Leafs' Round 1 opponent, which, like most years, ended in the non-Toronto team moving on. That series was as exciting and as close as any in these playoffs, with two elite teams trading goals, wins, leads, saves, and the like up until the very end of Game 7.
It was also the last we saw of Andrei Vasilevskiy, mortal. The 27-year-old had unusual struggles against Toronto, but with a 0.981 save percentage over four games and 154 shots, held the Presidents Trophy-winning Florida Panthers to just three goals in a sweep. That's terrifying to any opponent they pass through. He was the biggest difference on either side of the ice in that second round, but that's not to say that the Lightning didn't get a ton out of their depth and their top two skaters in Victor Hedman and Nikita Kucherov.
The goaltending helps, though, and no team would agree with that more than the Rangers. A team that seemed in the process of a rebuild at the start of the year now sees itself eight wins from glory, and in some ways, it's kind of despite themselves. After a very controversial meeting with Tom Wilson and the Washington Capitals last year, the front office vowed to get tougher, and paid a premium to bring in physical, but less talented depth. Until the Rangers made more savvy moves at the trade deadline to off-set some of the deficiencies this caused, they were regularly outshot and out played, but at least not pushed around. It also didn't matter much because they had a netminder who should sleepwalk into a Vezina Trophy in a few weeks – Igor Shesterkin was remarkable this year, posting a league-leading 0.935 save percentage over 53 games this year, saving about 45 goals more than the league average for his shot volume, an accomplishment that would shine on even a Hall of Famer's resume.
That streak has continued into the playoffs. Even without a shutout through 14 games, Shesterkin has posted a 0.928 save percentage over the course of back-to-back seven game series, putting up "quality starts", or appearances with above-average results, in 11 of 14 games. Most notable might just be his Game 6 against the Hurricanes on Saturday, where he stopped 37 of 39 shots, and picked up his own padding with a pair of assists. He even threw the body around in the second period, getting himself some penalty minutes! Goalies are usually a team's most valuable player down the stretch, but this has been next level.
That's not to say his skater teammates have been without value, though. Mika Zibanejad has hit new heights with 19 points through two rounds, Adam Fox has produced above his Norris Trophy-level clip, and even deadline acquisition Andrew Copp has picked up 12 points in 14 games. The Rangers work hard, play hard, and when it gets out of control for them, Shesterkin holds the fort. Is it sustainable against the back-to-back champs? I don't know, but hey, it's gotten them this far.
The season series was pretty slanted in favour of the Rangers, surprisingly. New York won all three games, squeaking by in a 4-3 shootout win on New Years Eve, winning more convincingly (4-0) two days later, and added a 2-1 win on March 19th for good measure.
The Star Power
Andrei Vasilievskiy, TB – The 27-year-old netminder has established himself as the best crunch-time goalie in the league over the past few years, most notably with his absolutely insane streak of allowing just one goal in his last seven games where Tampa had a chance to win their series. Toronto, who were the one exception to that rule with their single tally in Game 7, generally seemed to break through him in a way that no team has in a long time, bringing him down to a 0.897 save percentage over the series, by far his lowest of his ten consecutive series wins. Now? Dialled. The Rangers are going to have to seriously throw him off his game to get him back out of it, because if this goes the way it usually does for opponents, this door is pretty much locked.
Igor Shesterkin, NYR – As established above, Shesterkin has been absolutely incredible over the course of the season, and these playoffs. Those Goals Saved Above Average I mentioned above from this year? They'd make for Patrick Roy's third-best season of his career. Top five for Dominik Hasek. Incredibly, that 44.9 number blows away his predecessor Henrik Lundqvist's career high of 30.6. Just an unbelievable season, and that momentum has held in the playoffs. Since Game 5 of the first round series against Pittsburgh, Shesterkin is 7-2-1 with a 0.939 SV%, facing two very good teams in the Penguins and the Hurricanes. If there is anyone who can hold the Lightning back, save for their own netminder switching sides, it might be him. This is his first playoff ruin in the NHL so it's hard to know how he'll handle the pressure this deep in, but the talent is there.
Nikita Kucherov, TB – Playoff Kuch is slowly but surely coming into form. While he only picked up two goals against Toronto, he did still walk away from the opening round with eight points, and he's since followed it up with seven in Tampa's four-game sweep of Florida. His biggest performance came in Game 3, where he set up two of the first four goals and grabbed an empty net goal and assist in the final minutes.
Artemi Panarin, NYR – This playoff run hasn't been Panarin's zenith, but you can see his superstardom still shining in waves. "Breadman", nicknamed due to his surname's resemblance to the Panara chain, picked up points in four of the last five games against the Hurricanes, including a big insurance tally in Game 6, despite playing a lower than usual 17:26 per game. Panarin had an excellent season where he produced 74 assists and 96 points in 75 games, and it feels like just a matter of time before he busts out for a big night. The Lightning will play him hard, and match him harder, and it'll be interesting to see if he can turn this into something. Maybe he won't be the best bet for a goal prop, but if the Rangers have a shot at winning this series, it'll likely involve him having a breakout game.
Victor Hedman, TB – The new wave of ultra-mobile defencemen are quickly taking over the NHL, but Hedman remains one of the best and most reliable. As good of a two-way threat as you'll find, he's both physical and creative, someone who can take you out with his body and set up a key offensive play moments later. So far, he's actually been Tampa's second-highest scorer, producing two goals and ten points in 11 games, while blowing away the team lead in average ice time, hopping over the boards for 25:03 of game play per night.
Adam Fox, NYR – Up until last year, the 24-year-old New York native was best known for blowing off his draft team (Calgary) and his rights-acquiring team (Carolina), opting to keep playing college hockey until he became eligible for free agency, then choosing to sign close to home. The Rangers have proven to be enormous benefactors of this decision, as he's produced at nearly a point-per-game clip from the blue line since the start of his sophomore season. Fox received the Norris Trophy for his efforts in 2020/21, and backed it up with a 74 point in 78 game effort in 2021/22. In these playoffs, He's put up points in all but two games, including a four-assist effort against Pittsburgh in Game 6 and multi-point games in three of the last four against Carolina.
Ross Colton, TB – Colton isn't exactly a "star", but we've covered a lot of Tampa's core via the Toronto series, and he's putting up fringe-star numbers in these playoffs. The hard, heavy forechecker provided good value in his sophomore regular season by producing at about a half-point-per-game clip while throwing about two hits per game, but has built on that in the postseason with eight points in 11 games, already exceeding what he gave to the Lightning in 23 playoff games last year. Colton scored in each of the first two games of the Florida series and has already put up five games with at least four hits thrown. Look for him to go pound-for-pound with New York's heavy forecheck.
Chris Kreider, NYR – Kreider was the surprise member of this year's rocket richard race, for a couple of reasons. For one, he'd never even hit the 30 goal mark in a season before, and secondly, he's not exactly a multi-faceted sniper – he goes to the net, causes commotion, and jams the puck in. That's his game, always has been, and while it's been valuable over the years, it's never been confused for superstardom. This year, he shot at a career high 20.2%, scored a league-leading 26 goals on the powerplay alone, and ended up with 52 in total, nearly doubling his best. Pretty crazy when you consider that he just turned 31 at the start of the postseason. Whether he can continue to run through his expertise against playoff, locked-in Vasilevskiy remains to be seen, but with eight goals already in these playoffs, he doesn't seem interested in slowing down.
Ryan McDonagh, TB – Again, McDonagh isn't the biggest name left on the Tampa list, but he might come with more interest than most given this specific series. McDonaugh spent seven and a half years playing for New York to start his career, eventually even becoming their Captain. He was on the other side when these two teams last faced off in this spot. Since then, he's been moved to Tampa (as has often happened with Rangers vets), played about a third of his career there, and won two Stanley Cups. He's an auxiliary piece now, with his 33rd birthday coming between the potential Games 6 and 7. I'm interested to see if this reverse vantage point ends up being a motivating or hesitating factor for him.
Mika Zibanejad, NYR – Zibanejad has been the most productive player on these two teams in these playoffs, at least as far as skaters go. His 19 points in 14 games are as many as he'd produced in the 31 playoff games he'd played prior to this season, though it goes without saying that his first few runs came with a lower average ice time. Zibanejad has been seen as a potential breakout star for much of his career, but his start with Ottawa was a slow burn and ultimately ended with a trade that sent Derrick Brassard the other way. Hey, the Rangers aren't complaining – they almost immediately saw him enter his prime, got monster regular seasons out of him, and are now getting his best in these playoffs. If they win this, he'll likely be driving a lot of the bus.
Why the New York Rangers could win
It's weird talking about the Rangers as the perceived underdogs given that they finished with a slightly better record than the Lightning this year (identical points, but won the tiebreaker), but it's pretty undeniably true. They're facing the defending back-to-back champs, and don't have the same degree of depth. Their shot metrics prior to the deadline were bad, and in the playoffs they've been even worse.
But they do still have two superstar skaters in Panarin and Fox who can shape games, and a high-end star in Zibanejad who has already been doing so. Their kid line of Alexis Lafrienere, Filip Chytil, and Kaapo Kakko has a ton of unrealised potential on it – not enough to feel guarantees about, but rough to make you think that something special could happen in the right circumstances. Their grinders can be a drag on offence, but guys like Tyler Motte and Barclay Goodrow are relentless and can set the tone of a game to create openings for others – Tampa themselves have experience with the latter, albeit as a bargain contract rather than a substantial free agent add.
The Rangers have also had strong special teams in these playoffs, with their powerplay running at 32.5% (second only to Colorado) and their penalty kill running at a respectable 80.5%. Tampa's specials are similarly great (including the best PK still alive), but it could be a momentum setter.
Most importantly, they've got Shesterkin. If he stays hot, anything is possible. Check back when I make this exact same point on the other side in a few paragraphs.
Why the Tampa Bay Lightning could win
It's the Tampa Bay Lightning. Sounds blunt, but it's reality. This is a team that's now won ten consecutive playoff series, with the vast majority of them being convincing. Yes, some teams, like the Leafs this year and the defensive-minded Islanders in prior years have been able to wear them down, but Tampa can work you just as hard, if not more. In a lot of ways, the Rangers are building to mimic the Lightning. The Lightning are the Lightning.
Their two best skaters are producing and while they're short Brayden Point at the moment due to an injury, this is a team that won the first of these championships while being basically without Steven Stamkos, who is still hanging around and due for a big moment. The auxiliary players on the team – your Alex Killorns, Nick Pauls, Corey Perry's and the like, bring more than New York's in terms of elements in their game – they can still score, control game flow, or something else besides raw grinding.
This is a team that wants to see a dynasty through and almost lost that opportunity at the start of the playoffs. They escaped the grips of death, blew away the conference favourites, and are here against an opponent that's probably the weakest up-and-down since last year's finals opponent in Montreal. They're probably running on low gas after several of these deep playoff runs, but they just got a great recharging period out of the sweep. That could play to their advantage.
Most importantly, they've got Vasilevskiy. If he stays hot, anything is possible. Hey, I warned you!
New York Rangers vs. Tampa Bay Lightning Betting Lines
Just like our Western Conference Final preview, we're going to use BetMGM (Gretzky was a Ranger too!) and bet365 to track this series. If you're interested in learning more about either, you can check out our BetMGM Sportsbook Canada review and our bet365 Sportsbook Ontario review here on CSB.
Over at BetMGM, you would not be surprised to find that the Lightning are heavily favoured, carrying 1.55 decimal odds to the Rangers' 2.50. A sweep is felt to be pretty unlikely, though Tampa in four still carries lower odds than Rangers in five. To BetMGM, the most likely outcomes are all Tampa – in six games (4.25), or five/seven (5.50).
A prop that caught my eye here is the number of shutouts one – zero in a series with these two goalies seems like it shouldn't be the favourite at 1.43, but it might be hard to pinpoint which of one (3.60), two (13.00), three (36.00) or 4+ (81.00) you'd rather take instead.
Over at bet365, they've got the Lightning as -185 favourites to the +165 Rangers to win the series. Their feel for the most likely outcome is Tampa in seven (+375), followed by six and five for the bolts. Six games seems to be their lowest-odds outcome for the Rangers (+550), with a Broadway Sweep offering the best return at +1450.
New York Rangers vs. Tampa Bay Lightning Prediction
This series feels like it might be the toughest to get a feel for in the entire playoffs. On one hand, Tampa is undeniably the better overall team on paper, and they have much more experience with going through these sorts of playoff runs. Rationally, there is no reason to not assume they will be the victors of this series.
At the same time, the biggest odds-tilters in a playoff series are goaltending and impact skaters. Each team has a super-elite goalie, a Norris-winning defenceman, and multiple ice-tilting skaters. It doesn't matter that Tampa Bay should handily win the rest, when the commonalities take up so much leverage. It's impossible to come up with a reason why just one of Shesterkin or Vasilevskiy will be good, why it will be Kucherov or Panarin but not both or neither, so on and so forth.
Look, I think the Lightning are going back to the Stanley Cup Final and it's going to be another Tampa-driven heartbreaker for NYC. But we'd all be fools to call it a lock. There's models, there's research, there's hunches – but most of all, there's chaos, which is what makes the playoffs so fun. I don't think this is going to be the firefight that the West already seems to be (14 goals in Game 1!), but it's going to be plenty entertaining nonetheless.