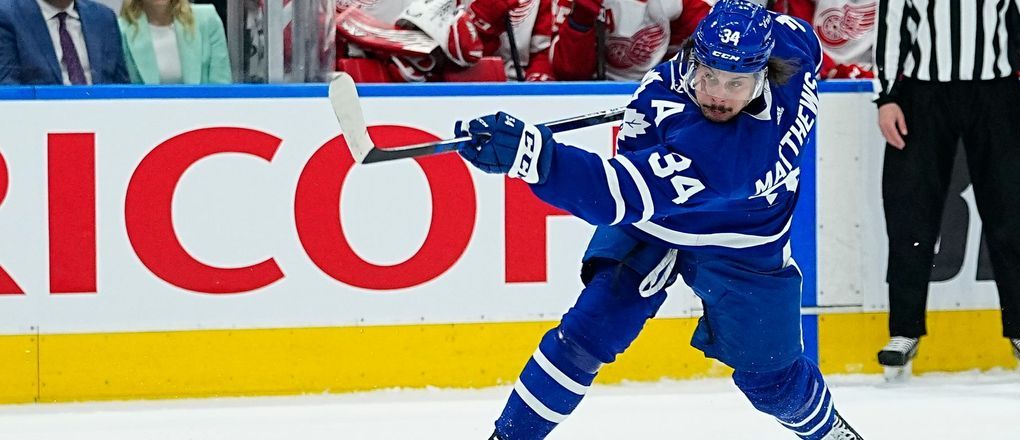 You would think that the mood in Toronto would be more confident. After all, the Maple Leafs finished fourth in the NHL standings this year, they broke franchise records for wins and points, and several of their star players have had career years. They have home ice advantage and life must be good, right?
Not exactly. Thanks to the divisional playoff format, all of the above earned the blue and white another dose of blue and white, a team only five points behind them in the full-season standings and perhaps only weighed down by their consecutive Stanley Cup rings. It's going to be a great series to watch for neutrals, and exhausting for those cheering for either team. Let's take a look at how it breaks down!
Series Updates
This section will be updated as the series progresses. Check back regularly to keep tabs on the trends!
Game 1, 5-0 Toronto: Depending on who you ask, this was either the best Maple Leafs playoff game in over a decade, or the worst Lightning playoff game in their competitive window. The real answer is "somewhere in between, a little bit of both". An over-eager Kyle Clifford could have sunk Toronto's hopes early in the first period with an over-eager hit on Ross Colton, which saw him get ejected (followed by a suspension for Game 2). The Leafs turned lemons in to lemonade, though, using an incredible five-minute penalty kill full of counter-attacks to set the tone for the rest of the game. Jake Muzzin scored the first goal of the playoffs late in the first period, and it was flood gates from there – Auston Matthews had a pair, David Kampf scored on a shorthanded breakaway, and Mitch Marner picked up his first playoff goal since 2019, turning around a heavily-criticized run of postseason form. Jack Campbell put up a 24-save shutout. The Lightning tried to reverse the tone through physical intimidation, including a second-period line brawl which saw Corey Perry, Patrick Maroon, and Toronto's Wayne Simmonds get fines from the Department of Player Safety for "unsportsmanlike conduct". Coolbet has now moved the Leafs to -204 to win the series, to the Bolts' +170.
Game 2, 5-3 Tampa: Maple Leafs coach Sheldon Keefe talked about expecting the "real" Lightning to show up for this one and to the surprise of no one, they did, particularly their core stars. Andrei Vasilevskiy was brilliant, Victor Hedman was in Norris trophy form, and Nikita Kucherov's stick was hot. When you've got those three pieces rolling, you're in great shape. It did take some time for this game to unfold, though, as the first goal came in the dying seconds of the first period. With Alex Kerfoot in the box, an opportunistic bounce gave Hedman all the time in the world in the slot to beat Jack Campbell at 19:57 of the first period. Discipline continued to be a problem for the Leafs throughout the game, as after drawing the first two powerplays of the game, they proceeded to take seven of the next eight penalties, which the Lightning used to keep pulling away the score. By the six-minute mark of the third period, the Bolts had stretched the lead to 5-1. Toronto made a late push, with Michael Bunting's second-period goal augmented by tallies from Kerfoot and Mitch Marner, but their lack of discipline put the game just too far out of reach. For those watching the market, we did see another significant move after this, with Coolbet now posting the Leafs at -111 and the Lightning at -105. For current series result bets, they seem the most confident in either Toronto in 7 (+365), or Tampa in 6 (+385).
Game 3, 5-2 Toronto: After the Lightning stole home ice away from the Maple Leafs in Game 2, Toronto wasted no time in taking it right back from them once they got to Tampa. Literally taking an unorthodox road to their opponent (bussing to Buffalo and then flying into Florida), the buds came out flying with two goals in the first ten minutes of the game, via Morgan Rielly and Colin Blackwell. David Kampf scored what would eventually be the game clincher off a second-period breakaway, but it wasn't an easy coast. The Lightning weren't going to go away without a fight, and Ross Colton and Ondrej Palat pulled this game within one in time for a very tense final fifteen minutes.
Thankfully for Toronto, while they bent, they did not break. In the final minute and a half, the third line clamped the game down, with Pierre Engvall setting Ilya Mikheyev up for an empty netter not once, but twice, giving the Leafs the series lead.
Game 4, 7-3 Tampa: It's hard to describe how this game started – in a way, it was similar to Game 1. You could describe it as the Lightning coming out hard and ready to make up for their Friday night loss, or as Toronto coming out completely, utterly flat. However you want to describe it, the game was pretty much put to bed before the first half of the opening period. A shift of Tampa dominance and Toronto mistakes led to a Steven Stamkos goal just 60 seconds in, and energy forwards Pierre-Edouard Bellemare and Patrick Maroon added to the pile-on shortly thereafter.
Toronto appeared to get some energy back late in the period, only to get it ripped away again by early-second tallies from Ross Colton and Corey Perry. Toronto's night was perhaps best encapsulated by a poor backcheck late in the period by William Nylander, which he seemed to understand the disappointment of afterwards, as he'd open the third period with not one, but two goals. The Leafs aggressively pulled their goalie with about six minutes remaining to try to spark a comeback, and did get a goal from Jake Muzzin along the way, but two empty netters from Ondrej Palat and Colton sealed the game. Jack Campbell was pulled shortly after the 5-0 tally, and Erik Kallgren was perfect in what were admittedly garbage time relief minutes.
Game 5, 4-3 Toronto: This game ended as an instant classic, though you wouldn't know it from it's beginnings. Once again, Toronto had a sleepy start, and with seven penalties called in the first period, it was hard for them to reverse and pick up any flow. Tampa opened up the scoring in a very similar fashion to the previous game via captain Steven Stamkos, who ripped a bouncing puck past Jack Campbell. Toronto took their first of four first-period penalties thirty seconds later, and twenty seconds after that, Victor Hedman scored Tampa's second goal in under a minute. The Leafs were outshot 14-4 in that opening frame, and it would've been very easy to write off not just the game, but the whole season from there.
But come the second, a whole new team showed up on the ice. They'd later go on to say that Jason Spezza inspired them in the dressing room, but in any event, the Leafs came out buzzing, and every player who needed to have a big game delivered. On a Toronto powerplay, captain John Tavares redirected William Nylander's shot past Andrei Vasilevskiy for his first of the series, and while his team couldn't get an equalizer in the period, the foundation was set to keep coming out in waves. At that point, the levee broke. It was the the Nylander-Tavares duo again setting up a play at the three minute mark, followed by a wicked Nylander wrister to put Toronto up. A Mitch Marner turnover gave the Lightning life with twelve minutes to go, but he'd redeem himself with an incredible intentional rebound pass to Auston Matthews, who picked up the game winner.
Can the buds close it out on Thursday? Coolbet has them at +165 to Tampa's +128 for the return game in the Sunshine State. They'll have to pull together in a way that looks more like the back 40 minutes than the opening 20 to get over an 18-year hump – let's see where the game takes them.
Game 6, 4-3 Tampa (OT): Groundhog day is upon us after yet another failed Toronto playoff close-out, but this one wasn't for a lack of effort. If anything, Toronto had every reason to feel like they could've won this result, that came down to a single shot and was built in large part by small moments. Tampa Bay opened the scoring with two minutes remaining in the first period after an attempted reset by Alex Kerfoot ended up getting dropped to no one in particular, giving Ondrej Palat plenty of room to jump up and fire home a wrist shot past Jack Campbell. Another innocuous turnover led to an unbelievable counter-attack from Anthony Cirelli at the midway point of the second, and the Leafs were officially in hot water. Where this Toronto differed from Toronto's past was that they didn't fold in this moment – Auston Matthews responded a minute later, and in the final minute of the frame, Captain John Tavares scored not once, but twice, including a wrist shot with eight seconds remaining in the frame.
Controversy would get the Lightning back into the game in the third period. David Kampf was called for a high stick on Cal Foote, despite the replay showing that his stick clipped Foote's shoulder pad rather than his face. On that penalty kill, Kerfoot took a second high sticking penalty in a puck battle to put Toronto down two men, and Nikita Kucherov scored in the following shift – though as the Leafs players noted, Brayden Point participated in the play despite an unstrapped helmet, which is typically a penalty. Needless to say, a sequence that didn't make the Leafs happy. In overtime, Toronto dominated the course of the play, but on a sequence that also had several questionably allowed infractions, Brayden Point forced Game 7 with a rebound in front. It's hard to pin this game entirely on officiating, as these sorts of issues are common in the playoffs and the players need to play through them, but it does leave a bitter taste for the Buds.
So here we are again, then. Another Game 7 for Toronto, their fifth consecutive do-or-die game. Over at Coolbet, the lines seem more interested in hockey than history, as they still have the Leafs coming out on top as the more likely outcome, pegging them at -118 to Tampa's +101. On one hand, it feels unaware of a cursed team, but you know what? In this 18-year playoff round drought, there's been no elimination games played in front of a packed home crowd, and the team hasn't looked this resilient coming into the deciding game at any point in this era. Maybe it's time for a dragon slaying after all?
Game 7, 2-1 Tampa – Pain. Pain, pain, pain. That's what the scene was in the Leafs locker room, outside Maple Leaf Square, and in homes across Toronto after yet another grueling Round 1, do-or-die defeat. The worst part of it all? This wasn't a meltdown, a choke job, or an embarrassment. Sure, there was some controversy attached, but in the long view, it was a narrow game decided by the thinnest of margins. The scoring in this one was opened on a counter-attack. Mark Giordano and Ilya Mikheyev went one way, and with David Kampf pinned down along the boards, Tampa went back the other. Nick Paul picked up a gaping rebound after Ross Colton's first shot, and just like that, the Lightning were up. Eight and a half minutes into the second period, a dominant team shift ended in what appeared to be a John Tavares goal, but the goal was disallowed due to what the officials felt to be a penalty to Justin Holl at the same time as the shot. Toronto did get their equalizer a few minutes later, courtesy of Morgan Rielly, but Paul would put the Lightning ahead once again in short order. An unbelievable effort by the deadline acquisition helped him beat Jack Campbell, along with TJ Brodie and Jake Muzzin along the way, though those still miffed about the Tavares non-goal would point out that Muzzin's stick was yanked out of his hands before he could get it out to disrupt the play.
Ultimately though, as much as one could dwell on calls, they're out of the players' control. Tampa would clamp down in the third period and keep Toronto from getting the tally they needed to get back in the game, and went on to win their ninth series in a row. On Toronto's end, they've lost their sixth in a row, including their fifth lost in a do-or-die game, and their second lost despite outscoring the opponent in the series. This is the most excusable of the bunch, given the toughness of their opponent and the noticeably better, more consistent effort that Toronto got from their core players, but that doesn't mean that the league's biggest fanbase is by any means satisfied. It's the same pain and frustration, but with a different flavour. We'll see what that leads to this summer.
—–
The Matchup
As divisional rivals, the two teams faced off four times during the regular season. In those games, you get a bit of a toss-up with the two teams splitting wins both at home and on the road. Toronto opened the series with a 2-1 overtime win on November 4th, only to lose four and a half weeks later by two goals. In April, the two sides reconvened for the Tampa leg of the series, and both games produced wildly different results – a 6-2 Toronto win on April 4th instilled confidence in Leafs Nation, while an 8-1 blowout in favour of Tampa three weeks later pulled the rug on any ego opportunities.
Looking under the hood at some of the 5-on-5 process numbers and you see a similarly back-and-forth story. Tampa ultimately won the battle of goal share by a total of 10 to 7; of the 15 teams that faced the Lightning at least three times this season, only Buffalo and Philadelphia had a lower shooting percentage at evens. Toronto did still control the pace of play though, having a slight edge on scoring chances and unblocked attempts, to go with a steep edge on shots on goal, high danger scoring chances, and expected goals. Overall, Toronto took 52.1% of the shot attempts over the four games.
Over the course of a full season, the numbers generally favour the Leafs. Toronto ranks 6th in the NHL in shot attempt share to Tampa Bay's 12th. In expected goal share, that gap becomes 3rd (55.2%) vs 9th (52.7%). Where the Bolts have an advantage that might decide the series is between the pipes; their 0.922 save percentage at 5v5 ranks 10th in the league to Toronto's 27th place 0.909. That gap is even more staunch since New Years, with Tampa at 0.919 and the Leafs at a putrid 0.895.
On the injury front, the Lightning are currently completely healthy, so get in your "$18 million over the cap" LTIR jokes now before they're gone. Toronto is in much tougher shape in this regard. Ondrej Kase draws back into the lineup, but star kinda-sorta-rookie Michael Bunting remains out to start the series, while young depth defenceman Rasmus Sandin and backup goaltender Petr Mrazek remain on IR for the foreseeable future.
The Star Power
Auston Matthews, TOR – Is this the year that we see the 24-year old superstar break through with a monster playoff run? His regular season was nothing short of spectacular, arguably an MVP performance that has locked him as a Top-2 player on the planet. Matthews picked up his second consecutive Rocket Richard Trophy with a 60-goal season, even despite missing nine games to injuries and suspensions. He's played well in Toronto's previous playoff defeats in the past, but the pucks haven't gone in for him at the same clip, producing at a 33-goal, 62-point full season pace in his prior five rounds. Three goals on 62 shots against Columbus (2020) and Montreal (2021) is way out of character for his career, so look for him to try to turn the tide.
Steven Stamkos, TBL – In a way, it's fitting that Stamkos is on the other side of this series, as he was the last great young goal scoring phenom before Matthews – and the last player to pot 60 in a season back in 2011/12. Leg injuries over the years have slowed the Markham native down, but he's since repurposed his game away from being a raw finisher. In fact, this season was the most productive of his career, setting highs in assists (64) and points (106) while still scoring 42 goals. As long as he's on the ice, he is an offensive threat in one way or another, though his defensive game isn't great. Expect his line to get the shutdown matchups when Toronto has the ability to deploy them.
Mitch Marner, TOR – If there is anyone who needs to have a big series on either team, it's Toronto's homegrown superstar winger. There has been no top player in this league who has seen a bigger gap in his regular season and playoff results, at least for the worse. Marner has been one of the most productive forwards in the NHL since 2018/19, but since the midway point of those playoffs, has been a large liability in the postseason. From this vantage point, it feels like a between-the-ears issue, where the player feels a need to carry his team, forcing plays that aren't there and disrupting momentum as a result.
With that said, I do feel that Marner has learned from the last two failures in particular and is more aware that he can find success naturally through the process if he helps the team. Sitting out Game 82 to rest for Game 1 rather than chase the 100-point milestone was a gesture that spoke volumes to me, and gives me cautious confidence that he'll have a big series. Potentially a guy to look to for point props.
Nikita Kucherov, TBL – Last year's most controversial player in the playoffs, and almost definitely its best skater. Kucherov missed all of the 2020/21 regular season with an injury, famously allowing the Lightning to exceed the salary cap by a significant margin via Long Term Injured Reserve. Kucherov returned at a little less than 100% to start the playoffs, but you wouldn't know it from how dominant he was – rested legs beat out a battered hip and the 28-year old Russian exploded for 32 points in 23 games, nearly matching a similarly dominant performance in the prior cup-winning run for Tampa despite a 20% drop in ice time to maintain his health.
Kucherov, like Stamkos, has found a way to be an offensive threat both through his incredible release and through savvy passing, and also has a bit of edge to his game, willing to dive into grey areas of physicality to help his team win.
John Tavares, TOR – If we haven't figured it out yet, most of the theme for Toronto is "having something to prove", and Tavares is no exception. He's got a couple of things going here. For one, he hopes this will be his first true playoffs as captain of his hometown Maple Leafs, with his original first crack coming via the Bubble Play-in back in 2020. His second year brings the second issue, and that's missing last year's series after suffering a severe concussion and knee injury just minutes into Game 1 against Montreal. Do Toronto's fortunes change significantly with him in the lineup? It's hard to think they wouldn't. But that's in the past – he can only change the present, and that present includes another quiet, near point-a-game season to build momentum off of. Tavares has historically been a quality playoff performer and given his adversity and the team's urgency to show some success, I could see him being a big-game finisher.
Brayden Point, TBL – In terms of regular-season productivity, this was a somewhat weaker year for point. Despite getting his highest average ice time in four years, Point didn't reach the point-per game mark, something that many would be surprised to hear he hasn't achieved since 2018/19. One of the reasons it feels so surprising, though, is his playoff excellence – he's been the postseason's leading goal scorer in consecutive years, potting 28 in 46 games to go with 56 points. Point has electric speed and defensive acumen, and I wouldn't be surprised to see his line with Anthony Cirelli and Brandon Hagel take on the Matthews line for Toronto.
William Nylander, TOR – Nylander doesn't get the attention of some of the other Maple Leafs stars, and that has perhaps helped him avoid both the pressure and the toughest matchups in the playoffs. As such, he was easily Toronto's best player against Montreal last season, scoring 5 goals and 8 points in the series. Having Tavares with him this time around will surely help, and with career highs set in goals and points during the regular season as well, you know he has to be riding high with confidence.
Victor Hedman, TBL – Picked one spot after Tavares in the 2009 NHL Draft, Hedman adds another layer to the story here. Surely headed to the Hall of Fame when all is said and done, Hedman has established himself as one of the best defencemen of his generation, if not all time. A Norris Trophy finalist in every year since 2016/17, Hedman set career highs in goals (20) assists (65), and points (85) this year while averaging 25:05 a night, missing no games in the process. Hedman is capable of skating the puck, dropping the hammer on the powerplay, and shutting down top opponents – as versatile a threat as can be.
Morgan Rielly, TOR – Toronto's blue line is deep, but doesn't quite have a high-end talent like Hedman. Rielly might be the closest to that, coming off of another strong season among his most productive. The longest-tenured Leaf put up 68 points in a full 82 game season, the first time he's been fully healthy since 2018/19, a year where he finished Top-5 in Norris voting. How Toronto uses him often depends on his partner – but the team has by and large learned to play him in tandem with more defensive responsible players so he can be activated into four-man rushes and aggressive pinches. He'll get his share of powerplay touches and play the most important minutes for the team and will look to build on relatively unproductive rounds in 2020 and 2021.
Andrei Vasilevskiy, TBL – It's crazy to think that this series has so much star power among its skaters – I could've still added more names beyond the nine above – and yet the biggest X factor comes between the pipes. Yes, that applies to the inconsistency in Toronto's net, but the most dominant and game-changing player on either roster is Tampa's starter. The 27-year-old won the 2021 Conn Smythe Trophy for good reason – his 0.937 save percentage, 13 goals saved above league average, and 70% Quality Start ratio over 23 games gave the Bolts everything they needed to win almost every night. On nights where the Lightning had a chance to clinch, he put up a shutout all four times. The Leafs will be hoping that this is his peak and not his pattern. If the results look like his first four playoff runs, where he was good but not show-stopping, it'll tilt the odds closer to their favour. If he's the Vasilevskiy of the last two years? Who knows if anyone can end Tampa's wild ride.
Why the Toronto Maple Leafs could win
It's got to happen for them at some point, right? Most of these supposedly cursed teams break through in due time – the last four Stanley Cups have gone to teams that perennially underachieved in the spring prior to their big moment (Washington, St. Louis, Tampa twice).
As well, this is undeniably the best Leafs team assembled in at least a generation – arguably the best since the Original Six era. Auston Matthews is the best player they've ever had, and rarely has Toronto had this many star players surrounding their top talent. Their blue line is as deep as it's maybe ever been, and if Jack Campbell can get back to his early season or 2021 playoff form, it gives them a shot at success.
Of course, they've had a lot of this before and still underachieved in the end. The team has played up to top opponents throughout this season, though, and seems to have more trouble with underdogs historically. Maybe opening up with facing goliath is a good thing? That's especially true when goliath has a lot of mileage on their tires – Tampa has played 36 more games in the past 21 months with a generally older core than Toronto. Their underlying numbers have even slipped a bit down the stretch, and the team has gone through a couple extended ruts since the start of March. If they sputter again, especially after not playing against a top opponent since Florida over a week and a half ago, that could be something to take advantage of.
Why the Tampa Bay Lightning could win
There are two obvious points to be made here before looking at the technicals. The first one is that this team has proven itself incredibly capable of not just winning a series, but several in a row. After all, they are the back-to-back defending Stanley Cup Champions, and deservedly so, having shredded most of their competition to pieces along the way with fast, hard, physical, and yet still skilled hockey along the way.
The second, of course, is the opponent. Yes, the Toronto Maple Leafs are very good on paper, and have had another great regular season, but they're also the Toronto Maple Leafs. At this point, their entire city, if not the whole country has concluded that the current group are somewhere in between deeply flawed and utterly cursed due to their 0-5 record in playoff series since 2017, a degree of failure that's left many in town wondering if it was even worth being a playoff team again in the first place if the failure would just end up being even more embarrassing. Toronto will be playing with a ton of pressure to succeed, despite being the team with a better record.
Lastly, I mentioned the sputtering of the Bolts above. The good but not great underlyings, the bursts of losing streaks, the works. But after the last two seasons, it would surprise no one if that was a mirage, and the team was just playing on cruise control until the main dance knowing that they'd have to conserve themselves for when it counts. Barring that, again, Andrei Vasilievskiy exists and many feel he'll define the outcome here.
Toronto Maple Leafs vs. Tampa Bay Lightning Betting Lines
Since we're talking about the Leafs, let's see what some of the best sportsbooks in Ontario have to say about the matchup shall we?
Firstly, you can see Coolbet Canada offering Game 1 as their Match of the Day, with a Boring Match Guarantee (find out what this means in our Coolbet Sportsbook Ontario review). They've got Toronto as the -130 favourites to Tampa's +112 on Monday. They've got Toronto as -118 favourites to win the series to Tampa's +100, along with a whole menu of props for series spread, total games, and the specific result of the series (Leafs in 7 is most likely at +425, and a Lightning Sweep draws the biggest haul at +1400). They also have props for individual player goals and points.
Beyond Coolbet, you'll find all of the iGaming Ontario vendors offering game-by-game odds, along with some series futures and plenty of props.
Toronto Maple Leafs vs. Tampa Bay Lightning Prediction
There's a lot of paragraphs and words here to reach a conclusion of "I honestly don't know", but I'm going to throw my arms up and shrug anyway.
If you want to be completely rational and performance-based, the edge here goes to the Maple Leafs. They were the better team this season, their best players have all had career best seasons or close to it, they've got a deeper lineup than they've had since the NHL was a six-team league, and their underlying results in the season series favour them. Their biggest question mark is in goal, but if Jack Campbell is locked in and comes even close to narrowing that part of the equation, it would be hard to bet against them.
On the other hand, the Lightning are the definition of "knowing how to win" right now, and not just in the lazy trope way used to justify old, bad teams. They're incredibly talented, can wear opponents down, and have a lot of learned experience in their back pockets. They have one of the league's best wingers, best defencemen, and best goalies available to them and that barely scratches the surface. They're not as deep as they were in the last two runs, but they're very much in the window of teams that could go up against anyone.
This is very likely going to be another 6 or 7 game series, and you could easily convince yourself or even me that either team will come out on top. Objectively, this feels like the moment where Toronto can play up to an opponent, get the monkey off their back, and go on a deep run with that momentum, but the same could be said the other way en route to a cemented dynasty.