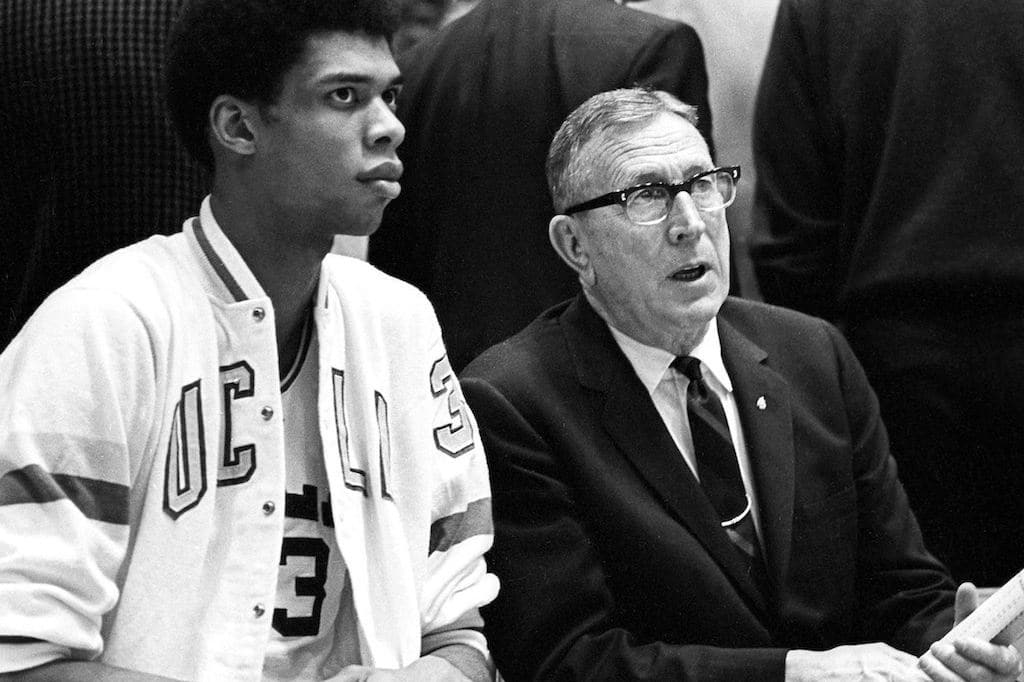 As players only last up to four years in college, basketball coaches have a more significant college legacy, making for the top 10 best NCAA Men's Basketball coaches from all different decades and conferences.
Top 10 Best College Basketball Coaches
There are over a hundred years of college basketball coaches to consider for this list. We shall start with a few honourable mentions before revealing our top ten list.
Honourable Mentions
Harold Olsen – Lead efforts to create an NCAA postseason, which we now know as March Madness.
Phog Allen – Coached for over 50 years, coached two coaches in the top 10.
Jay Wright – If he continues his success at Villanova (two titles in the last five years), he will move into the top-10.
Herb Magee – The second most wins of any coach with 1123.
Career wins, tournament success, legacy, and records. The four factors that helped us decide on our top-ten college coaches of all-time.
10. Eddie Sutton
Starting our list is a long time Oklahoma Sooners coach Eddie Sutton. Sutton coached for 37 years, winning 806 games. He helped Oklahoma reach the Final Four twice, and Arkansas made it in 1978.
Sutton is not as decorated as other coaches on this list. However, his impact and legacy – especially at traditional football schools – make it hard not to consider him one of the best NCAA coaches of basketball.
9. John Calipari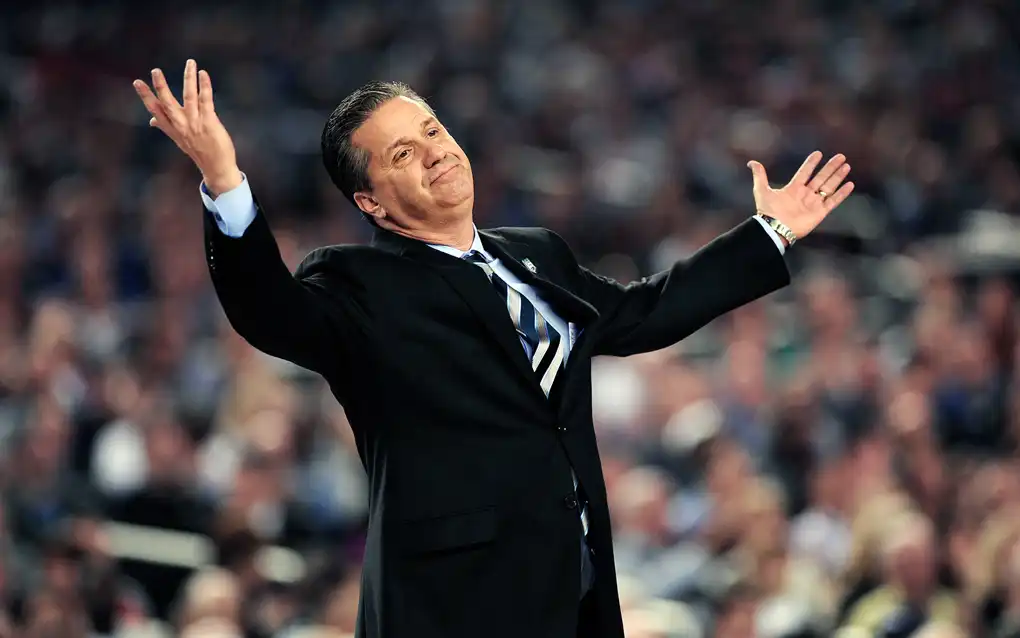 Next on our list for best NCAA basketball coaches is current Kentucky head coach John Calipari. Calipari won his first championship in 2012 and has kept Kentucky in consistent contention over his decade long tenure with the team.
Calipari coached Memphis and UMass before joining the Wildcats. He helped Memphis reach the Finals in 2008, after posting a 38-2 record (since vacated by the NCAA). He also has won the Naismith Coach of the Year Award three times – once with each college program
Calipari is regarded for his ability to recruit top talent and get them ready for the NBA Draft. Four players he coached – Derek Rose, John Wall, Anthony Davis, and Karl-Anthony Towns – went first overall in the draft.
8. Roy Williams
With three Championships with North Carolina and plenty of success with Kansas, Roy Williams is widely considered one of the best NCAA basketball coaches of all time. Williams ranks 12th all-time – as of 2020 – in wins with 885.
The crazy part for Williams is his 885 wins have come in only 32 years, putting him on pace to cross the 1000-win threshold faster than any other coach in NCAA history.
7. Dean Smith
Eleven regional Final Four appearances, eight ACC Coach of the Year awards, two Championships, and a 96.6% graduation rate are only a few of the accomplishments of Dean Smith. Smith only was a head coach at North Carolina – from 1961 to 1997.
During that time, Smith collected 879 wins and coached arguably the great basketball player of all-time – Michael Jordan. Smith even hired Roy Williams as an assistant, helping Williams become one of the best college basketball coaches of all time.
6. Jim Boeheim
Over three-and-a-half decades at Syracuse has resulted in nearly 1000 wins, ten Big East regular-season titles, 2010 Coach of the Year, and a 2003 NCAA Championship. Boeheim has helped the eastern New York school consistently field a talented roster with good odds to win the NCAA tournament.
Boeheim, born in 1944, is likely nearing the end of his coaching career. However, if he can last two more successful seasons at Syracuse – averaging 18 wins per season – he will become only the fifth college coach with 1000 wins.
5. Jim Calhoun
When your first head coaching job came all the way back in 1972, and you are still coaching, there is a good chance you are an all-time great. That is Jim Calhoun for you. Calhoun started coaching at Northeastern but found his greatest seasons when he joined UConn in 1986.
As the UConn head coach, Calhoun led the team to three National Titles wins and a fourth appearance in the Final Four. He stepped away from the game from 2012 to 2018 but has since returned. In his most recent campaign, he passed the 900-win mark for his career.
4. Adolph Rupp
Few programs or teams in any sport were as dominant as the Adolph Rupp coached Kentucky team. Rupp coached all 41 years with the Wildcats, retiring with a winning percentage of .822 – the best mark of any coach with at least 600 wins.
Rupp won four NCAA titles, five Coach of the Year awards, and dominated the SEC – winning the regular title 27 times and the SEC tournament 14. He is clearly one of the best NCAA men's basketball coaches.
3. Bobby Knight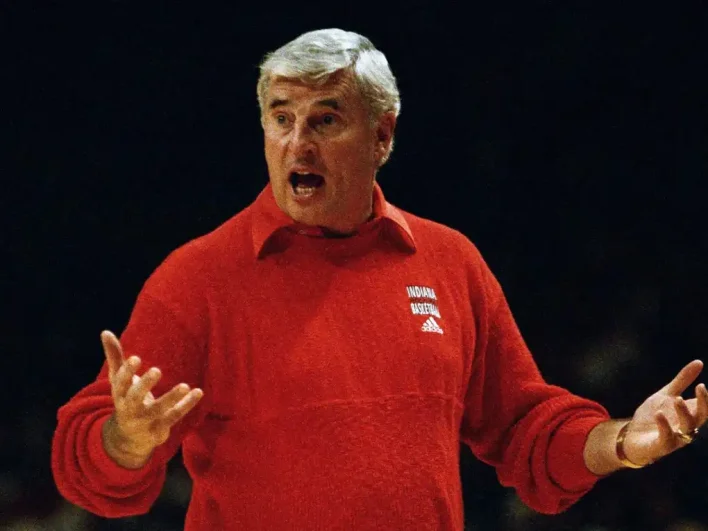 Even if his antics and personality rubbed you the wrong way, there is no denying the success of Bobby Knight over his coaching college. Knight spent the good part of his career coaching the Indiana Hoosiers.
As the Hoosiers head coach, Knight lead to three NCAA Division I Tournament wins and five Final Four appearances. Knight's most remarkable accomplishment came in the 1975-76 season when he coached Indiana to a perfect 32-0 record and a championship.
2. John Wooden
The number of records and accomplishments for John Wooden in only 29 years of coaching college basketball is genuinely remarkable. Wooden owes a record 10 NCAA Men's Championships, including seven straight from 1967 to 1973. During their seven-year run of utter dominance, Wooden's UCLA Bruins at one point won 75 streak games.
Wooden also owes a winning percentage of .804, third-best of any coach with at least 600 wins. If Wooden continued to coach longer, he would likely top our list of the best NCAA basketball coaches of all time.
1. Mike Krzyzewski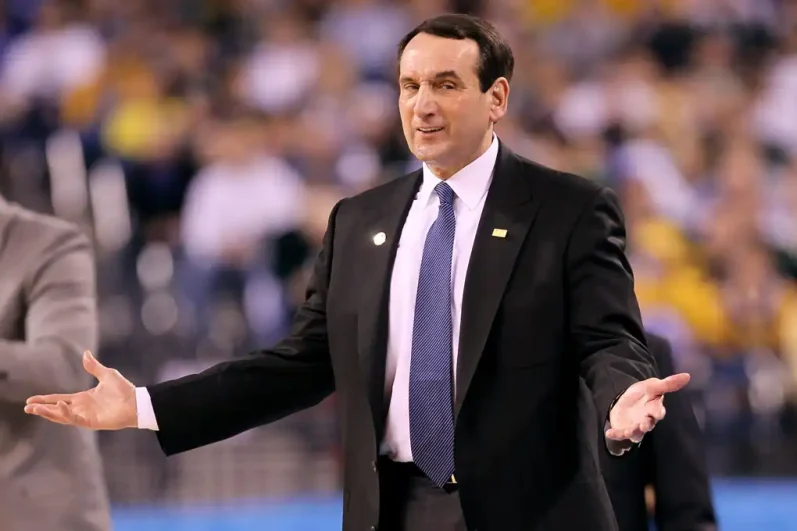 While he does not have as many National Championships as Wooden, his prolonged excellence as Duke's head coach makes us pick him as the best college coach ever. Mike Krzyzewski – often going by Coach K – has won five National titles – between 1991 and 2015 – a time of much more competitive basketball than the 60s and 70s.
He also leads all coaches with 1157 career wins with a career winning percentage of .768. As a head coach, he has made Duke into the most hated college basketball program.
Coach K is still going strong and may add even more to legacy before he retires (or is somehow lured to the NBA). Even if he did retire today, you could still make the argument he is the greatest NCAA basketball coach.
If you think there is a great coach in command in any of the 2020-21 college basketball teams, maybe it is the time to place a bet and win some money with college basketball. We have a list of reliable sportsbooks operating in Canada. Check it out, sign-up and have some fun.
Remember that you are eligible for better bonuses if you deposit using Bitcoin.