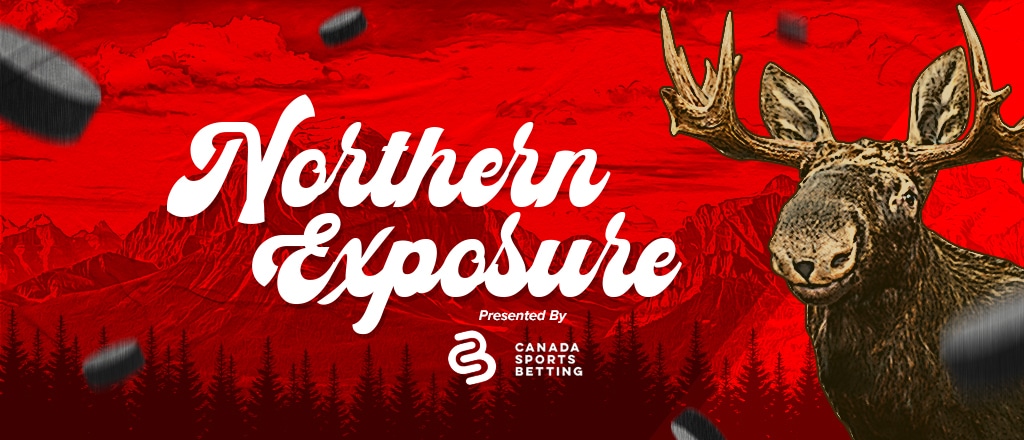 Each week, Canada Sports Betting recaps all the top sports betting and iGaming news in Canada, highlights the event of the week, and takes a look ahead at some of the most intriguing games to bet on over the weekend.
Our top sports stories this week
Event of the week
March Madness – Sweet 16 and Elite 8 rounds
The first two rounds of the NCAA Tournament were packed full of upsets and incredible moments, and after a break for a few days, the college hoops action gets back underway on Thursday night with the Sweet 16 round. Four games will be played on Thursday and then another four games will take place on Friday. And if that's not enough college basketball for you, the Elite 8 round will be played over the weekend and the Final Four teams will be revealed by Sunday evening.
Here's a look at the outright March Madness winner odds courtesy of bet365 for the 16 teams remaining:
MCK v iGaming Ontario legal proceedings update
Last December, Canada Sports Betting reported on the next steps in the Mohawk Council of Kahnawà:ke's lawsuit against iGaming Ontario that is challenging the legality and structure of the new regulated online gambling market in the province that launched last April.
Canada Sports Betting has learned that a hearing date has now been set for February 2024 with the Ontario Superior Court of Justice, which means a resolution likely won't be reached anytime soon.
MCK is being represented by Olthuis Kleer Townshend LLP and the law firm filed a Notice of Application on behalf of its client on Nov. 28 to kickstart the legal process.
At the hearing of the Application, a presiding judge can grant the relief sought, or dismiss/adjourn the application in whole or in part (Rule 38.10(1)(a); or (b) order the application proceed to trial (Rule 38.10(1)(b)).
The definition of "conduct and manage" as described in section 207(1)(a) of the Criminal Code of Canada is being called into question by MCK, and the court's interpretation of "conduct and manage" will ultimately decide the fate of the case.
MCK claims that iGO, which was formed in July 2021 as a subsidiary of the Alcohol and Gaming Commission of Ontario (AGCO), is not "conducting or managing" the online gambling sites of private operators, and allowing operators to "conduct and manage themselves," subject to the payment of a portion of their revenues (roughly 20%) to the Ontario government.
The Council says it has "facilitated, conducted, and safely regulated gaming activities on behalf of the Mohawks of Kahnawà:ke for decades, and this new regime ignores their expertise in the gaming sector, and will result in the loss of significant revenue to the community of Kahnawà:ke."
Alberta's sports betting conundrum
Will the province of Alberta ever embrace private sports betting operators?
The Alberta Gaming, Liquor and Cannabis Commission announced in December 2021 that it was planning to allow two private operators to run sports betting, with possible mobile extensions, at major professional sports venues across the province — but there has yet to be an announcement on which operators will be granted operating licenses.
"Nothing new to report yet," a spokesperson for AGLC told Canada Sports Betting earlier this week.
Alberta's industry regulator was hoping to have physical sportsbooks up and running in the province by the end of 2022, but that timeline has come and gone without an explanation.
The Request For Proposals process was set to close on Jan. 31 of last year, but the deadline was extended until Feb. 14 to allow operators more time to submit their bids.
Unlike Ontario, Alberta's regulator has made the interesting decision to limit the market in the future to only two private sportsbook operators, at least initially. They said in December, 2021, that a major advantage of having such a small market was that they could get private sports betting services up and running quickly in the province. However, sports bettors in the province are still waiting for some good news nearly a year and a half later.
"There's a lot of interest, but there are a lot of challenges with the RFP," an industry source previously told Sports Handle. "The stakeholders that could be allowed to participate in the retail sportsbook or mobile extension, they had asked the government for something different. They had asked to form their own partnerships and then let the government regulate so there would be more competition in the marketplace. There's some concern around the approach."
AGLC's PlayAlberta website is currently the only legal online sportsbook in the province. SPORT SELECT, which is run by the Western Canada Lottery Corporation, is also an option for local retail sports bettors.
Rivalry launches interactive casino platform in Ontario
Toronto-based Rivalry launched its online casino product in Ontario this week with a total of eight games, including several that are exclusive to users in the province, the company announced Wednesday in a press release.
Rivalry soft launched its online casino in July and has elected to build its own small library of games instead of relying on a third-party provider to launch hundreds of games on its platform.
"Launching our casino experience with a proven product that we've validated in our other markets is an exciting next step as we continue to grow our reach and offering in Ontario," said Rivalry Co-founder and CEO Steven Salz. "Casino.exe has been a catalyst for our business and a meaningful addition for our users, delivering a premium, interactive, and proprietary experience that differentiates our brand in a competitive market.
"We've taken a strategic approach to casino that prioritizes design, user experience, and the selective curation of games geared for a targeted audience of next generation users. Rivalry continues to find business-defining strength through product innovation, investing in a unique user experience and engineering entertainment into our platform."
Rivalry, known for its comprehensive esports markets, was one of the first operators to launch in Ontario last April. The operator also offers sports betting markets in addition to the new iCasino and plans to launch a mobile app in Ontario shortly.
Sportradar's match-fixing report
Sportradar Integrity Services released its annual match-fixing report for 2022 earlier this week.
Here are a few highlights from the report:
In 2022, Sportradar Integrity Services detected a record number of suspicious matches, with the 1,000-matches mark breached for the first time. In total, 1,212 suspicious matches were detected across 12 sports, representing a 34% increase on the year prior. The issue was truly global, with suspicious matches detected in 92 countries across five continents. The data continues to show that the majority of sporting events are free from match fixing (over 99.5%), and this applies to different sports across the spectrum, with no single sport having a suspicious match ratio greater than 1%.
Soccer continued to have the highest number of suspicious matches (775), but one of the key trends of 2022 was the sharp rise in suspicious basketball matches (220), which increased by approximately 250% compared to 2021. Overall, across all sports, the suspected manipulation rate stood at one in every 476 matches – an increase compared to the manipulation rate of one in every 545 matches in 2021.
In terms of regions affected, Europe continues to see the highest number of suspicious matches (630) followed by Asia (240) and
South America (225). Compared to 2021, the number of suspicious matches has risen in each region except North America and Oceania.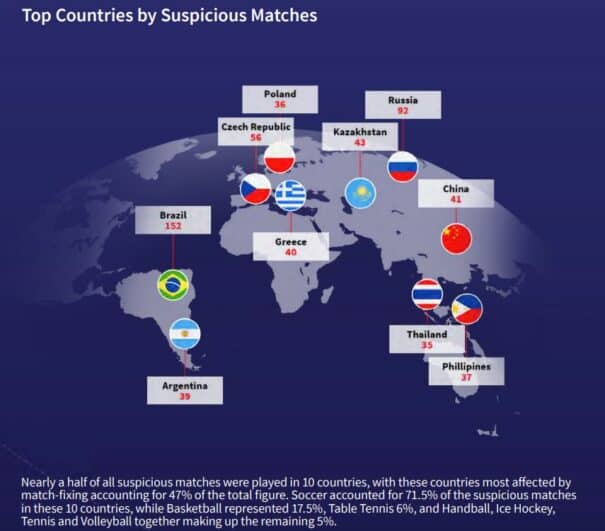 The good news is that North America, and specifically Canada, were not flagged for significant increases in suspicious activity. It'll be interesting to monitor the suspicious match activity moving forward in Canada and the United States as both countries continue to embrace sports betting and launch new markets in different states/provinces in the future.
In Canada, the Canadian Centre for Ethics in Sport — a national not-for-profit multi-sport organization with a vision of fair, safe, accessible, and inclusive sport for everyone — also monitors for suspicious matches across all sports domestically.
Sportradar is a leading sports technology company and supplier that supports many private sports betting operators across North America and around the globe.
FanDuel to expand markets for women's hockey
FanDuel will be expanding its betting offerings in Ontario to include the IIHF Women's World Ice Hockey Championship, the operator told Canada Sports Betting this week.
The tournament, which will be held in Brampton, Ontario, this year, runs from April 5-16.
Some of FanDuel's in-house markets will include: Anytime Goalscorer for games featuring Canada and the USA, Outright Tournament Winner, and Tournament MVP Outright.
The Canadian women have claimed 12 world titles, the most of any nation, since the tournament's inception in 1990, and they'll be seeking a third straight world championship next month.