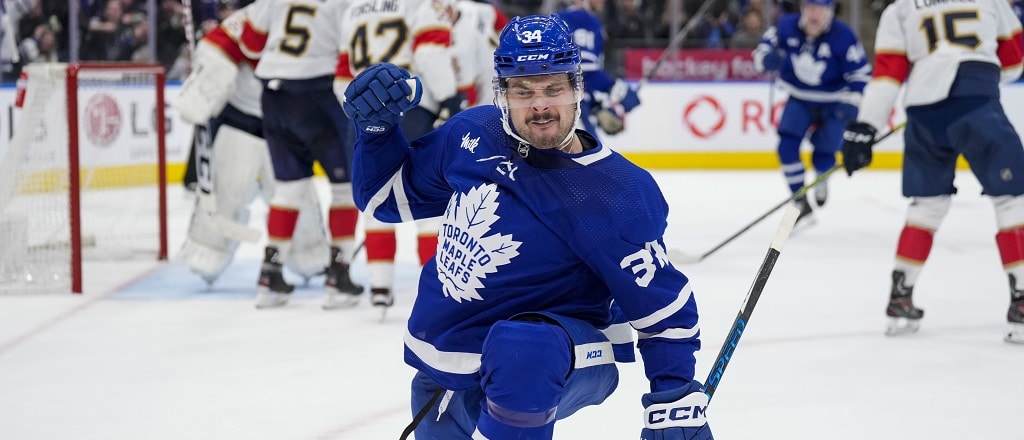 Tonight in Canadian National Hockey League action, the Toronto Maple Leafs look to rebound from an absolute clunker of a game against the New York Islanders, continuing a late-March road trip with a stop in the aptly-named Sunrise, to take on the Florida Panthers. Can they shake off a stinker, or will their woes continue at the feet of a team desperate to get back into the playoff race? Let's break it all down.
Rangers vs. Jets odds
All odds courtesy of

Previous matchup
Toronto and Florida last faced off against each other on Jan. 17, so only about two months ago. With that said, this is the start of a heavy run against each other, with two more rematches to come within each team's next 10 games. The first game had no shortage of thrills, with both teams scoring in the first three minutes of the first period and trading with each other for much of the first 40 minutes. In the third, William Nylander tied the game via his 23rd goal of the year, and added one more in overtime to give Toronto the win. The Leafs held the Panthers to just 19 shots, though they weren't particularly good at keeping them out of the goal, causing Matt Murray to vacate the net 22 minutes in.
About the Maple Leafs (42-19-9, 31-39 ATS, 32-34 o/u)
The Maple Leafs continue their late-season road trip on Thursday, but hope to avoid the same fate as they suffered when the trip kicked off on Tuesday. Toronto got a good old fashioned glass of water to the face at UBS Arena that night, looking good at first with an opening goal from Sam Lafferty (who took my criticisms of him last week personally, clearly), but fell apart in the second and third periods, allowing seven of the next eight goals. It wasn't Ilya Samsonov's best night, and frankly, the same can be said for a lot of the team. Toronto was taken out of the game early by Ilya Sorokin's dominance between the pipes, and similar to how the Panthers will be tonight, the Islanders were playing with a level of desperation to get back into the playoff picture. Also, Cal Clutterbuck had the game of his life somehow. It was weird.
Player to watch: Matt Murray
It's expected that Murray will be the starter for the Maple Leafs tonight, with Samsonov getting the last game and a likely preference to start him on the Saturday end of this weekend's back-to-back set. The glass half-empty concern with Murray is that he's allowed four or more goals in his last six appearances, making him the first Leafs goalie in 17 years to concede that consistently. The half-full look is that this streak is broken up by his injury absence, and includes last Saturday's 5-4 overtime win, in which Murray was arguably Toronto's most important player, stopping 48 of 52. The overall body of work still has Murray at the league average save percentage on the season, which is something most said they'd take between the Toronto pipes this year. It'll be interesting to see if he can have one more positive push before the playoffs start, and if he does, I'd count Saturday as the start of the rise, rather than the end of the fall.
About the Panthers (36-28-7, 28-42 ATS, 39-27 o/u)
While this year has generally been a disappointment for the defending Presidents' Trophy winners, the Panthers are starting to make a late push to get back into the playoff picture. Florida rolls into tonight's game with wins in six of its last eight games, and a 13-6-1 record in its last 20 games. Though a regulation loss to Philadelphia on Tuesday disrupted that momentum, the Panthers have an opportunity to start a new streak, too.
Certainly, they'll be the hungrier of the two teams. Florida sits just one game back of the second Wild Card spot with 11 games to go, seeing Pittsburgh clearly in its sights and potentially even overtaking the New York Islanders, who have three points more with a game in hand. With Ottawa and Buffalo's pushes running out of steam and the old guard of Pittsburgh and Washington in tailspins, this might be the moment where the Panthers can save this season and come out swinging once again. Hey, if they promise to stay in WC2 and then take a chunk out of Boston, I'm sure many in Toronto would accept it.
Player to watch: Aleksander Barkov
Keep an eye on Barkov, who the annual NHLPA Player Poll listed as the most underrated player in the NHL this week. "Most Underrated" has been skipped on the question list for player polls over the past few years, but Barkov becomes the first player to win the prestigious self-vote since 2019, when the players voted Aleksander Barkov as the most underrated player.
Okay, listen, Barkov is the guy that everyone picks as underrated to sound smart, whether you're a player or media member. It's always safe to pick a star from the likes of Florida, Carolina, Minnesota – basically lower-profile teams with top talent, and as the elite two-way captain of the Panthers who isn't as overtly marketed as other stars around the league like Connor McDavid, Auston Matthews, Sidney Crosby, and Alex Ovechkin, I kind of get it. If we're being honest, though, every invested hockey fan knows he's a top talent to watch. All the same, the jokes and the topical nature of this doesn't change the fact he's on a bit of a run of late, picking up two goals and 11 assists in his last 10 games. That goal clip is below what you'd expect with 36 shots on goal in that span, too, so it's only a matter of time before that stick heats up.
Probable goaltenders
Maple Leafs: Matt Murray (13-7-2, 2.96 GAA, 0.905 SV%)- unconfirmed.
Panthers: Sergei Bobrovsky (24-17-3, 2.98 GAA, 0.904 SV%)- unconfirmed.
Noteworthy Absences
TJ Brodie ended up missing Tuesday's game against the Islanders on short notice, but is expected to be back in the Toronto lineup tonight. Florida's recent IR crew consists of Sam Bennett, who is day-to-day with an undisclosed injury and left Monday's game against Detroit early.
Betting trends to watch
Florida almost always has the upper hand when Toronto comes to town. It's the strangest thing – Toronto is 9-1 straight up against in their last 10 games at Scotiabank Arena, but in Sunrise, the Panthers are 8-2. The puckline and total goals stay pretty even, but it's almost always the Panthers who get the upper hand.
Toronto has been rough against the puck line of late, going 1-4 in their last five. Expect the (mathematically) unexpected!
While Florida has that nifty home ice advantage, it hasn't amounted to much lately on the puck line. The Panthers, while they've won 2 of those last 3 games at home against Toronto, failed to clear the spread in any of them.
Wagers to consider
I wonder a bit about William Nylander tonight. He hasn't been playing his best hockey lately, something both himself and coach Sheldon Keefe will admit. Nylander was the driving force of Toronto's victory last time they faced the panthers, so he's certainly capable, and he's been moved back into the top six after a brief demotion. There's some interesting options for him today – you can get him at +150 as an any time goal scorer, -220 for a point, +230 for a powerplay point and +1000 for multiple goals.
I don't normally head over to the Same Game Parlays, but bet365 has a boosted one tonight that has a Leafs win, two points for Mitch Marner, and Auston Matthews to score a goal combined at +450. It's not a super likely outcome to happen all at once, but it's not out of the realm of a possibility and combines the two pieces that tend to drive Leafs wins to make a Leafs win, so if you want to add a little encouragement to your hope for an ideal outcome, that's one way to do it.
If you're thinking we'll get another high-flying start like the last time the two teams played, bet365 has Toronto to score in the first ten minutes at +135, Florida to do the same at +120, and both to do it at +425. I'm not super convinced that they'll do it, but three minutes was all it took last time, and neither projected goalie tonight has been lights out of late – fine, but not lights out – so the potential is at least there.
Other NHL Games Tonight
There are eleven additional games on the NHL schedule tonight. Here's who we've got on tap:
| Home Team | | | Away Team | Time (ET) |
| --- | --- | --- | --- | --- |
| Philadelphia Flyers | +130 | -225 | Minnesota Wild | 6:30 PM |
| Washington Capitals | -275 | +325 | Chicago Blackhawks | 7:00 PM |
| Boston Bruins | -425 | -325 | Montreal Canadiens | 7:00 PM |
| Carolina Hurricanes | -145 | +125 | New York Rangers | 7:00 PM |
| Ottawa Senators | +125 | -145 | Tampa Bay Lightning | 7:00 PM |
| Detroit Red Wings | -125 | +105 | St. Louis Blues | 7:00 PM |
| Nashville Predators | +110 | -130 | Seattle Kraken | 8:00 PM |
| Calgary Flames | -140 | +120 | Vegas Golden Knights | 9:00 PM |
| Dallas Stars | -145 | +125 | Pittsburgh Penguins | 9:00 PM |
| Vancouver Canucks | -170 | +150 | San Jose Sharks | 10:00 PM |
| Anaheim Ducks | +195 | -235 | Winnipeg Jets | 10:00 PM |