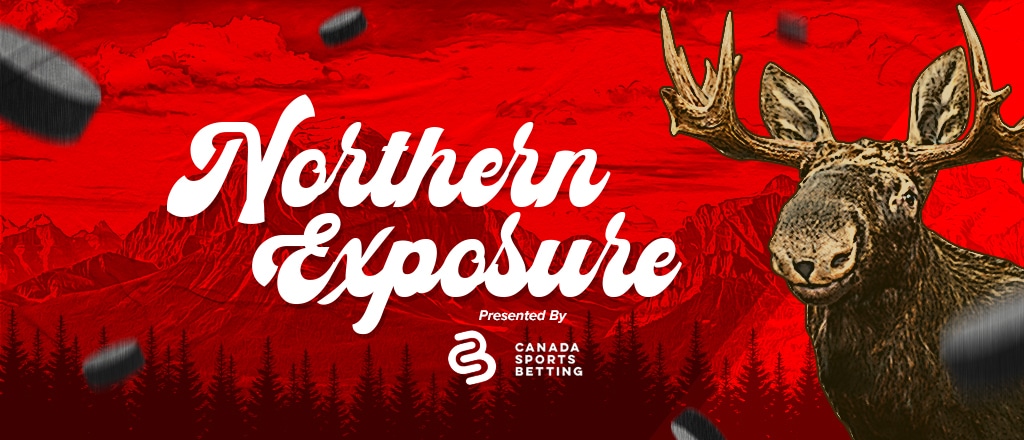 Each week, Canada Sports Betting recaps all the top sports betting and iGaming news in Canada, highlights the event of the week, and takes a look ahead at some of the most intriguing games to bet on over the weekend.
Our top sports stories this week
Event of the week
The Masters – April 6-9
You know spring has arrived when the best golfers in the world congregate at Augusta National Golf Club for The Masters.
The event is already underway and there are several intriguing storylines to follow throughout the weekend.
Will Tiger Woods make the cut? Will Rory McIlroy complete the career grand slam and earn his first green jacket? How will the Canadians in the field fare? And what impact will the anticipated wet weather throughout the weekend have on scoring?
Speaking of the Canadians in the field, there are four them participating in this year's event: Corey Conners (+4000 to win), Adam Svensson (+25000), Mackenzie Hughes (+25000), and 2003 Masters champion Mike Weir (+200000) are representing the red and white in Georgia.
Coming off a win at last week's Valero Texas Open, Conners opened with +6600 Masters odds, but he's been bet down all the way to +4000 by his opening round tee time.
Weir is still the only Canadian to ever win The Masters.
Here's a look at some Masters betting insights from Thursday courtesy of BetMGM:
Ontario iGaming celebrates first anniversary
Members of the Canadian and Ontario iGaming community congregated Tuesday at the Toronto Region Board of Trade to celebrate the one-year anniversary of the new market in the province.
Industry regulators revealed that Ontarians had wagered approximately $35.6 billion in the inaugural year of the online gambling market and the market produced roughly $1.4 billion in total gaming revenue.
The Canadian Gaming Association hosted the event and put on a one-day educational program that touched on several hot-button topics including advertising, affiliates, responsible gambling, and a look back at the historic developments over the past year.
Ontario Attorney General Doug Downey delivered the closing remarks in front of a crowd of roughly 150 executives and industry stakeholders, which included Canada Sports Betting's own JD McNamara, who moderated and participated in a panel on guiding and educating players in Ontario.
An evening reception was held by theScore at its new waterfront offices in Toronto.
AGRI conference concludes in Alberta
The Alberta Gambling Research Institute hosted a two-day conference in beautiful Banff, Alberta, last Friday and Saturday.
The Alberta government kicked things off by announcing it would extend AGRI's funding for another three years to ensure it can continue conducting crucial iGaming/gambling research for the foreseeable future.
This year's focus of the conference was on sports betting and the event attracted several notable speakers including Dr. Andrew Kim, a registered clinical psychologist and Assistant Professor in the Department of Psychology at Toronto Metropolitan University (formerly Ryerson), and Michael Naraine, An Associate Professor of Sport Management at Brock University in St. Catharines, Ontario.
Ontario's new iGaming market, and the associated boom of advertising that has come along with it, was a major topic of conversation throughout the conference. Naraine gave a detailed breakdown of the latest developments with Ontario's regulated market. Alberta's gambling regulators were in attendance absorbing this information as they explore the possibility of also embracing private gambling operators, like Ontario.
Alberta Gaming, Liquor & Cannabis CEO Kandice Machado gave the opening address at the conference and later participated in a spontaneous panel which fielded questions from the in-person and virtual audience. Unfortunately, she didn't give an update on how the search for two private operators with possible mobile extensions was going (despite being asked virtually by Canada Sports Betting) in the province, but she did address the perceived bombardment of gambling advertisements the public is enduring in Ontario and across Canada.
"People are frustrated and feeling overwhelmed, and they're concerned about their children seeing the advertisements," she said. "As we're looking at what does the future hold for Alberta? I'll say it's top of mind for us. The advertisements, the celebrity endorsements. How do you navigate a potentially private marketplace while you also exclude some of those factors? While it's been good on the cannabis side, it also has created challenges for the industry to be able to promote. I think you have to find a balanced solution."
Machado also spoke briefly about PlayAlberta's sports betting offerings. She gave the impression that the AGLC wasn't in a rush to privatize its online sports betting market.
"Sports betting is a very thin margin. While there are large numbers of billions of wagers being made, your hold percentage is low. I'm not going to say that we (PlayAlberta) are generating a huge amount of profit, but we are offering a legal option for Albertans," she said.
Another major topic of discussion was the dangers of in-play wagering. Research was presented suggesting that those that place in-game wagers are at a much higher risk of developing problem gambling habits when compared to single-event bettors and traditional bettors (parlay-style bettors like PROLINE retail in Ontario).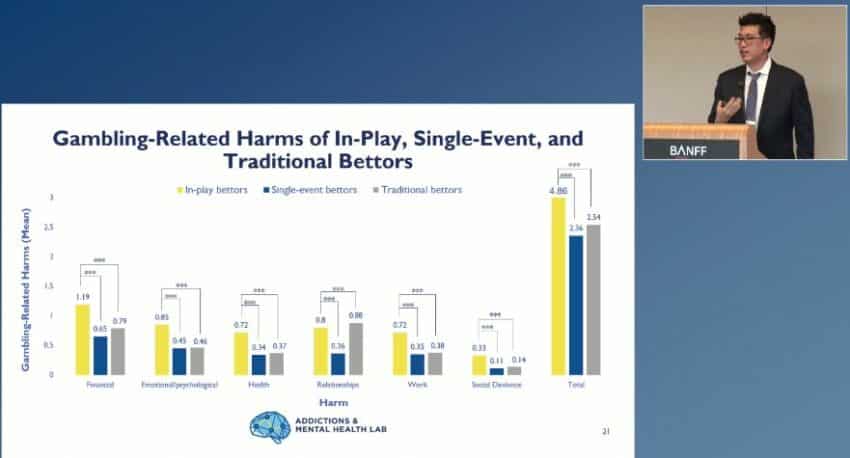 Popular Ontario wagers
Many of the online sportsbooks now available in Ontario also operate in other jurisdictions around the world, so it's difficult to get accurate betting insights that truly reflect the popularity of teams, wagers, and players with Ontario bettors.
However, on the one-year anniversary of the Ontario market, theScore Bet, which only operates in the province of Ontario, released a list of the most bet on players, teams, and events at the sportsbook over the past year.
As anticipated, many of the local Ontario teams and players topped these respective lists. The Toronto Maple Leafs, Toronto Blue Jays, and the Toronto Raptors have all been hot bets at the sportsbook, with many of the elite players on these teams also topping the lists of the most bet on players for each sport.
Three of the most bet on players — Auston Matthews, William Nylander, and Mitch Marner — across all leagues play for the Maple Leafs.
There has also been a ton of love for the Buffalo Bills, Ontario's adopted NFL team, and their players.
TheScore Bet initially launched in a handful of U.S. jurisdictions, but the PENN-owned operator made the decision to discontinue its operations south of the border last July to purely focus on its Canadian business.
BetMGM gets high marks for RG
The Responsible Gambling Council, which is based in Toronto, has approved BetMGM for its top responsible gambling accreditation.
The RGC's RG Check is widely accepted as the industry's most comprehensive and rigorous responsible gambling accreditation programs that involves a review of an operator's policies, procedures, and training platforms.
"We are proud to have received this prestigious RG Check certification," said Adam Greenblatt, CEO of BetMGM, in an email release. "This accreditation is a testament to our ongoing efforts to promote responsibility throughout our business and to ensure the well-being of our customers. We will continue to work closely with the RGC and other industry partners to promote a culture of safe and enjoyable gambling."
BetMGM's Ontario, U.S., and Borgata Online labels were subject to the RG Check.
"Congratulations to BetMGM on achieving the RG Check accreditation for all of its North American platforms. This accomplishment is a clear demonstration that BetMGM has a strong commitment to responsible gambling and player safety. We commend BetMGM for its dedication to promoting responsible gambling practices and its efforts to ensure the well-being of their players," said RGC CEO Shelley White.
The RG Check Accreditation Program has been embedded into the requirements for all private iGaming operators entering the regulated Ontario marketplace by iGaming Ontario (iGO).
Raptors' Boucher speaks out against sports betting
Raptors forward Chris Boucher is sick and tired of sports betting.
During an interview with Yahoo! Sports last week, Boucher expressed his disgust with how sports betting is impacting his relationship with fans.
"The betting is not going to make it better now [relationship between fans and players] with the parlays and all that," Boucher exclaimed. "I'm so over this, man. Somebody said, 'I chose the wrong slave today' and they literally sent me that message. I had to read it. He said it because I only had five points and he needed me to score 10 [to win his bet]. The players don't really mess with the fans as much anymore."
Boucher went on to explain that he felt fortunate he played in Toronto, the city he believes has the best and most respectful basketball fans.
This issue isn't a new one, even dating back to when fantasy sports became prevalent in the early 2000s. Several players, particularly NFL players, have received death threats and other derogatory messages from crazed fans that may have lost wagers of weekly fantasy sports matchups because of perceived subpar performances.
As more and more jurisdictions around North America legalize and embrace sports betting, this is an issue that will certainly have to be addressed in a more serious manner in the future.