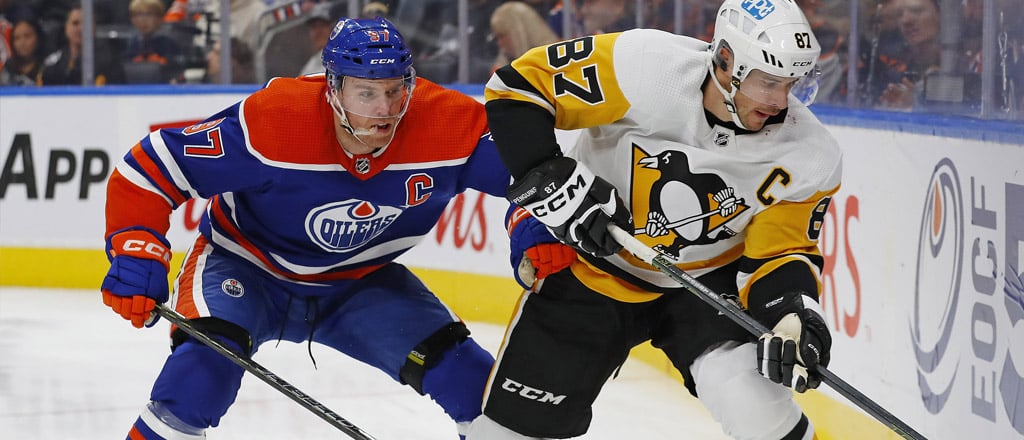 It's a battle of the generational megastars on Thursday night, and one that always gets the league talking. Sidney Crosby and Evgeni Malkin are no longer the kids and represent the old guard of the league, while Connor McDavid and Leon Draisaitl represent the present rather than the future. It's a matured version of the battle, but all four players are still to be feared – particularly McDavid, who is running away with the Hart Trophy conversation.
Tonight, the Edmonton Oilers and Pittsburgh Penguins give us the top National Hockey League matchup. Let's break down what they're bringing to the table:
Oilers vs. Penguins odds
All odds courtesy of

Previous matchup
These two teams last faced off against each other very early in the season – the seventh game of the season for each side – on Oct. 24. The Oilers were the ones who came out on top, and it happened in a game that would've crushed today's over on total goals. Zach Hyman scored first for Edmonton, and while Pittsburgh was able to bounce back and put up a two-goal lead by the time the second period hit the two-minute mark, the Oilers then responded with five unanswered. Draisaitl was the standout performer in this one, with a goal, two assists, four shots, and a +9 on 5-on-5 shot attempts.
About the Oilers (31-19-4-4, 31-27 ATS, 35-18 o/u)
The Oilers are hoping to keep turning around a losing rut that could've been a lot worse. While they did drop four straight last week, three of them came in overtime or the shootout. In fact, Edmonton has just one regulation loss, a 6-2 defeat to Montreal on Feb. 12, to its name in its last 16 games. A 4-2 victory over the Flyers on Tuesday restored winning ways to this 9-1-5 run, but they'll want to keep that going as the Pacific Division race keeps up.
Player to watch: Jack Campbell
Projected to be in between the pipes, Campbell looks a little better of late, though still far from what the Oilers thought they were signing this summer when they committed to him for five years. Since New Year's Day, Campbell has posted a .900 save percentage to go with his 9-1-3 record, which is just barely under the league average, but a marked improvement on the .876 mark he put up in the 16 games prior to that. For his sake, I hope he's able to keep it going, though the likes of Crosby, Malkin, Letang, Guentzel and others might make it tough sledding tonight.
About the Penguins (27-20-8-1, 24-32 ATS, 24-27 o/u)
Penguins fans have seemed pretty unhappy of late and, looking at their last five games, it's pretty easy to see why. Pittsburgh has won just one of them, and its four losses featured an average of five goals against. Worse yet is that the last three came against Metropolitan Division competitors in New Jersey and the New York Islanders, which will make the playoff race that much tougher for them. This game gives them an out-of-conference opponent, and the next seven give them out-of-division opponents, so it's not quite crisis time yet, but the clock is ticking in a year that represents a shrinking hourglass for their veteran core.
Player to watch: Kris Letang
You know that the veteran defenceman is going to see all sorts of ice time tonight, as the Penguins try to contain McDavid and Draisaitl. This would give him some time to build on a pretty good offensive run of form, which has seen him pick up three goals and four assists in nine games since Jan. 24, the game in which he returned from a stroke suffered at the end of December. Now, a good chunk of those points came in his first game back, but assists in two of his last three have me wondering if another run is brewing.
Probable goaltenders
Oilers: Jack Campbell (17-8-4, 3.39 GAA, 0.887 SV%)- unconfirmed.
Penguins: Tristan Jarry (16-6-5, 2.67 GAA, 0.920 SV%)- unconfirmed.
Noteworthy Absences
The Oilers continue to be without Evander Kane and Klim Kostin, along with their Long-Term IR contingent. The Penguins are without Ryan Poehling and Jeff Petry.
Betting trends to watch
The Oilers are 7-3 on the puckline in Edmonton and Pittsburgh's last 10 games against each other.
To that note, the outright winner of the last six games between the two has also cleared the puckline.
The Oilers have played over the total in 25 of their last 36 games overall, though they just missed it against the Flyers earlier this week in a 4-2 game with an over/under of 7.
Wagers to consider
Connor McDavid's shot prop is set at 4.5 tonight, which seems courageous until you realize he's produced 53 shots in his last 10 games. It's a big stage game against his idol Sid The Kid, so you have to imagine he's going to be firing on all cylinders, including the rubber one on his stick.
Evgeni Malkin being +155 to score intrigues me. Malkin is typically a player who you expect to produce at a 30-plus goal clip, but has only scored in one of his last seven games. It's not for a lack of effort, though, as he's averaged 2.5 shots per game in that stretch including six against the Islanders on Feb. 20. I'd keep an eye here.
Other NHL Games Tonight
There are nine additional games on the NHL schedule tonight. Here's who we've got on tap: