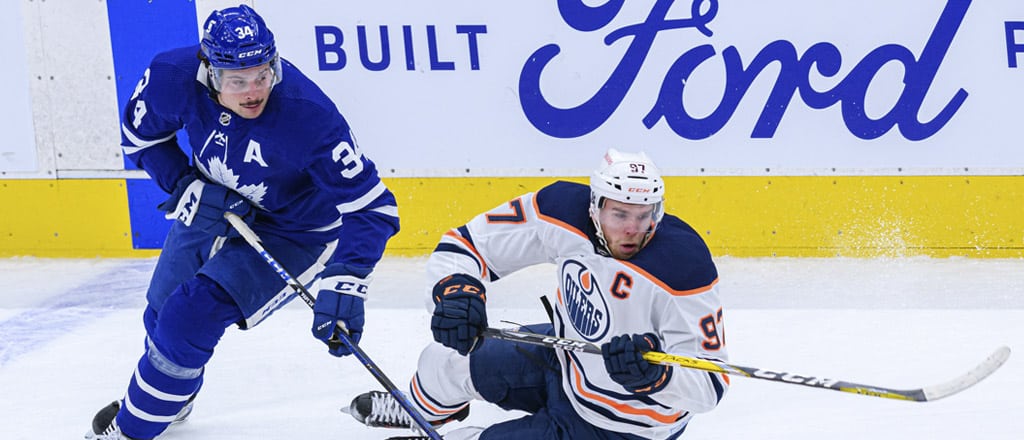 It's the battle of the titans – far away Hart Trophy favourite Connor McDavid comes into tonight in the midst of one of the best National Hockey League seasons in recent history, while last year's MVP is starting to heat back up himself. Normally, this would be the dominant topic heading into Wednesday night's game between the Toronto Maple Leafs and Edmonton Oilers, but instead, we see two fanbases eager to see new additions to their lineups. All of it has to culminate in a hockey game, though, so let's break down what should be a fun one!
Maple Leafs vs. Oilers odds
All odds courtesy of

Previous matchup
The Leafs and Oilers haven't played against each other this season, meaning our last matchup takes us back to 2021/22. In that game, the Maple Leafs came out victorious, kicking off a back and forth first period with John Tavares scoring the icebreaker, promptly falling behind to two Oilers goals in the span of a minute and a half, only to tie the game back up with 28 seconds remaining in the frame. The game stayed quiet in the second period and for much of the third, but now Vancouver Canucks forward Ilya Mikheyev put Toronto up with a power play tally and Alex Kerfoot added insurance into an empty net to seal the deal. Toronto handily took the season series last season, winning 5-1 in the other game between the two teams.
About the Maple Leafs (37-5-7-1, 26-34 ATS, 26-32 o/u)
The Maple Leafs are back on a roll, but that isn't stopping them from looking to improve. Toronto is 6-2 in its last eight games, including a 5-1 run since acquiring Ryan O'Reilly and Noel Acciari. After a run of mostly facing bottom-end opponents, Toronto has ramped up the difficulty progressively in its past several games and made the most of it, beating Buffalo, Minnesota, and Seattle in succession. The story of the week remains off the ice, though, as the "ROR" trade isn't the only one the Leafs made. In the past 48 hours, the Maple Leafs have made no less than four trades, acquiring Jake McCabe and Sam Lafferty from Chicago, Erik Gustafsson from Washington, and Luke Schenn from Vancouver along the way. Pierre Engvall and Rasmus Sandin have departed from the roster through all of this. It's an interesting shake-up that we'll talk more about later in the week.
Player to watch: Jake McCabe
For now, after all those deals, the focus for Leafs fans will land on McCabe, as he likely makes his debut tonight and is the biggest name of the four adds from a pure hockey point of view. The 29-year-old, who has no relation to former Leafs defenceman Bryan, has put up 20 points in 55 games this year with positive defensive signs shown on an otherwise poor Blackhawks team. While I didn't see him as a tier-1 target for the team, the 50% salary retention they got on him makes the acquisition make more sense. I'm curious to see who they pair him with and what kind of deployment he gets out of the gate.
About the Oilers (record, 32-21-4-4, 33-28 ATS, 37-19 o/u)
Like the Maple Leafs above, the Oilers have their current run of form masked by news on the transaction front. While six losses in their last eight games would be otherwise alarming, the Edmonton market is rightfully excited for the bigger of their two trades made on Tuesday, with Mattias Ekholm heading to the team from the Nashville Predators in a whopper of a deal. Edmonton sent back Tyson Barrie, prospect Reid Schaefer, and two draft picks for the 32-year-old blueliner, who has three years remaining on his deal after this one and carries a $5.75 million cap hit moving forward. Some in the market have concern about losing Barrie's more offensive abilities, but with Evan Bouchard looking ready to step into more serious minutes, it wouldn't shock me to see him replace a lot of that duty without much concern. Jesse Puljujarvi was also moved on Tuesday, heading to the Carolina Hurricanes, but that deal did not return a roster player.
Player to watch: Mattias Ekholm
Once again, tonight is going to be less about watching players for what they could contribute to this specific game, and more to see how they fit into the team down the line. Ekholm is expected to make his Oilers debut tonight and with Toronto's firepower, we should see some of his defensive prowess on display.
Probable goaltenders
Toronto: Ilya Samsonov (22-7-2, 2.30 GAA, 0.918 SV%)- unconfirmed.
Edmonton: Stuart Skinner (15-13-4, 2.91 GAA, 0.912 SV%)- unconfirmed.
Noteworthy Absences
The Oilers are still without Evander Kane, who is listed as day-to-day. On the Toronto side, goaltender Matt Murray remains out, but it's also worth noting for those excited to watch the new acquisitions that Gustafsson and Schenn are not expected to play just yet.
Betting trends to watch
The Leafs are 8-2 on the puckline in their last 10 games against the Oilers.
Despite the high-end firepower of these teams, the over has only cleared twice in the last eight games between them.
Edmonton has won just one of its last 10 games against the Maple Leafs.
Wagers to consider
Zach Hyman's line for shots on goal is set at 3.5, which is reasonable given his rates over the stretch. He has 65 shots on goal in his last 20 games, and 30 in his last 10. So 3.5 is a bit optimistic, but my feeling here is that the Edmonton power play, while likely to be just fine with Bouchard coming into Barrie's place, will be a bit more meat and potatoes to start, as the top unit acclimates to each other. This should provide opportunity to a net-front plow horse like Hyman, as he'll play cleanup. There's also the former team factor, and the Hyman being cold on the goals front factor that makes me feel a breakout night is a possibility here.
Speaking of power plays, I'm intrigued by Auston Matthews to pick up a power play point at +175. A nationally broadcast game between two dynamic teams getting used to new teammates feels like a perfect storm for a lot of whistles, and Matthews has started to heat up. Morgan Rielly is also intriguing if you want to take a bigger chance at +300 at bet365, but I feel more confidence in Matthews.
Lastly, if you think this one's going to be a barn burner, you can get both teams to score within the first 10 minutes of the game at +450. A longshot, but also one that wouldn't shock me. Again, lots of star power, lots of chance for penalties, and both teams are getting adjusted to new blue lines. Stranger things have happened.
Other NHL Games Tonight
There are five additional games on the NHL schedule tonight. Here's who we've got on tap: