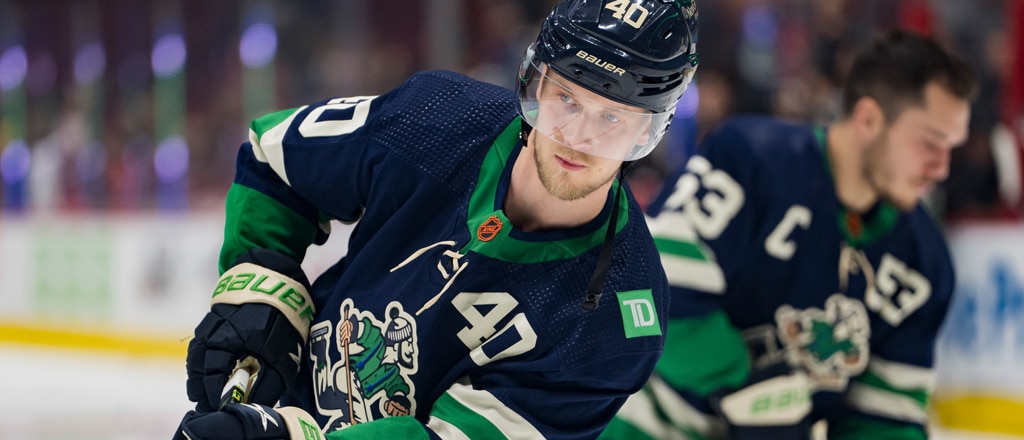 Welcome back to HNIC Coast To Coast, a breakdown of Canada's National Hockey League teams as they head into their respective weekends, most notably those participating in Saturday Night's Hockey Night in Canada headliners. Last week, our theme was road trips, with five of the seven teams playing outside of their home rink. This week, it's the opposite – Saturday features an extra-rare occurrence where all seven Canadian teams play in front of their own fans on the same day. That's a lot of action, so let's jump straight into it!
7:00 p.m. ET HNIC Headliner: Boston Bruins @ Toronto Maple Leafs
Is John Tavares back? In some senses, that's a loaded question, because it implies much more of his "departure" than is actually there. The Maple Leafs captain did, after all, score at a point-per-game clip in 2021/22, producing at a rate that would be celebrated as a special moment in any era of recent team history besides the immediate presence, where the Big Four stars have made monster numbers the norm. All the same, something feels to have clicked at a higher level for the 32-year-old this season, and Wednesday's game against the Flyers was the most prime example of that. Tavares exploded for a hat trick and an assist, moving him up to a team-leading 14 points in 11 games. Most exciting was the goal above, arguably the nicest of his NHL career as he turnstiled Travis Sanheim and crashed the net for his second tally of the game.
Getting a full offseason to train this summer was such a huge boost for Tavares, as the previous summer was spent recovering from a simultaneous concussion and knee injury suffered in the playoffs. This year, Tavares was able to just focus on getting better as a hockey player, including building up his foot speed and agility. Now, he hasn't exactly become a burner as a result, but the extra step has allowed him to get in quality positions and clean up for seven goals and eleven games. Toronto will be hoping that this trend continues, as it takes the pressure off of Auston Matthews, Mitch Marner, and William Nylander when they go through ups and downs.
Wednesday was a big up for the team on the whole, as they had a commanding 5-2 victory over the Philadelphia Flyers. But Saturday will be a whole different test, as they take on the resurgent Boston Bruins, who have ignored all expectations for their decline this year and have come out firing on all cylinders, posting a 10-1-0 record in their first 11 games. Boston currently leads the league in goal differential, and while they've got a bit of puck fortune along the way, the team also finds themselves ranked fourth in Score-Adjusted Corsi (Shot Attempt) Percentage and sixth in Expected Goals share, which are both ahead of Toronto by two spots. They're going to be a tough nut for the Buds to crack, but that's part of what makes this game so important – the bounce-back against Philly was a good opening statement, but they're going to need a big game against a top opponent to really get taken seriously again.
10:00 p.m. HNIC Headliner: Nashville Predators @ Vancouver Canucks
Vancouver Canucks fans and players got a welcome reprieve from what's been a tumultuous season thus far on Thursday, as the organization briefly welcomed back one of their own for a victory lap. Defenceman Kevin Bieksa, who spent ten years with the team and is perhaps most famous for his Western Conference Final-winning goal in 2011, signed a one-day contract with the team so he could formally enter retirement with the team he played his most and best hockey for.
It was a really fun experience to see unfold, so I can only imagine how it felt for him. Bieksa participated in the team's morning skate, gave an inspiring speech to the team afterwards, and came out before the game for one last ovation in full gear before being presented with a display including a piece of the very stanchion that set up his aforementioned legendary goal. The 2022 Canucks responded with their best impression of the 2011 Canucks offence, pouring on a touchdown and a conversion's worth of goals in an 8-5 victory. They'll be hoping to keep that momentum – at least, the offensive side of it, in a battle against the Predators on Saturday night. The two teams are in similar positions in terms of record, though their momentum is heading in different directions. Vancouver started the season with seven consecutive losses and has picked up wins in three of its last four, while Nashville stormed out the gate with two wins over San Jose only to drop seven of its last nine. Can the Canucks take advantage of that? It's certainly possible – while the team has its flaws, they remain better than their start and have a confidence that wasn't there a couple weeks ago.
Afternoon Matchup (3:00 p.m.): Chicago Blackhawks @ Winnipeg Jets
It's been a pretty quiet news week in Winnipeg, and that's not necessarily a bad thing. After all, since their defeat to Toronto on October 22nd, they've strung together a 4-0-1 streak and vaulted themselves into second place in the Central Division. Given that the Jets still see themselves as a team with something to give, this success is something that they're no doubt happy with, though there seems to be more than what meets the eye here.
Three of these five games, for example, went to overtime, and when you tear open the insides, the run looks a little bit like one they shouldn't have. In those five games, the Jets were out-attempted 223-241, and outshot 117-133 at 5-on-5. Even with score effects considered, this should be a bit worrisome, as it implies that good fortune is helping the Jets scrape through these wins – along with Connor Hellebuyck's heroics in goal. While your netminder is part of your team, he's also the most volatile part, and relying on being dragged across the finish line by great goaltending is a risky proposition for any team.
Thankfully for the Jets, they're taking on a team whose start feels even more unsustainable than theirs in the Chicago Blackhawks. Thought to be locks for the Connor Bedard sweepstakes, the Hawks are 5-4-2 to start the year, good for the third spot in the division. When you go under their hood, though, it feels like something's going to give at some point – a 40.6% shot attempt share, 40.8% expected goal share, and 42.7% actual goal share at 5-on-5 is bottom feeder material. Of the seven games where the Blackhawks have points, only one of them was a multi-goal win that didn't include an empty netter. The Hawks are winning coin-toss games, and doing so with the fourth-ranked powerplay and an upper-half penalty kill. Needless to say, I wouldn't bet on that continuing for long – if it does into Saturday though, we could be in for a 1-0, or 2-1 game where neither team shows dominance but one shows fortune. Oh joy!
Afternoon Matchup (4:00 p.m.) Dallas Stars @ Edmonton Oilers
Thursday night was a night of celebration in Edmonton, at least before puck drop. The Oilers joined many other teams in having a second layer below their retired number banners for players on the higher end of "remembering some guys." The Edmonton Oilers Hall of Fame kicked off with two very strong inductees in Lee Fogolin and Ryan Smyth.
For the OG fans, Fogolin will be remembered as the first multi-year captain in the Oilers' NHL history, and the first to lead the group to the Stanley Cup Finals. While he did eventually give up his letter to some kid named Wayne, Fogolin gave seven-plus years of his career to Edmonton and was there for its 1983/84 and 1984/85 Stanley Cups, along with representing the team at the 1986 All-Star Game. Smyth, on the other hand, is a more modern marvel, and on a team without so many all-time legends, would have probably gone all the way up to the rafters. Joining the team originally in 1995, Smyth gave 15 years and 971 games to the team across two separate tenures, scoring 296 goals and adding 631 points while playing a hard-nosed, easy-to-root-for style of game that made him a cult hero not just in Edmonton, but across the league.
Unfortunately, the 2022 Oilers weren't able to live up to the occasion in the same way as the Canucks did for their Thursday celebration, losing 4-3 to the finally good New Jersey Devils. Their Saturday opponent in the Dallas Stars are no slouches either, to a lot of people's surprise – great starts from the likes of Jason Robertson (15 pts in 11 games), Roope Hintz (14 in 11), and resurgent veterans like Joe Pavelski, Tyler Seguin, and Jamie Benn have the team sitting first in the Central Division and tied for third in the NHL in goal differential. With that said, it would be silly to count out a team like the Oilers on any given night, especially while they're looking for vengeance following a tough loss.
Evening Matchup (7:00 p.m.): Philadelphia Flyers @ Ottawa Senators
As mentioned in my early-week piece on this year's NHL team valuations, the Ottawa Senators have now confirmed that they're up for sale. This isn't a huge shock, as the daughters of the late Eugene Melnyk, while they've done a great job in holding the fort since the longtime owner's passing, aren't terribly interested in owning the team long term. With the help of Galatioto Sports Partners, they're looking to find a new owner on the condition that the team remains in Ottawa.
One person who appears interested is Canadian actor Ryan Reynolds, according to People Magazine. The Vancouver native has ties to the Ottawa region and has his hands in all sorts of different investments, including American phone provider Mint Mobile, liquor company Aviation Gin, and Welsh soccer team Wrexham AFC. Now, one who does a little bit of research will notice that Reynolds' net worth is $150 million – certainly an enviable number, but barely enough to buy the Senators when Melnyk originally purchased them, let alone now at a time where they're likely to sell for potentially around $900 million. So the idea that Reynolds would hold controlling interest in the team is a pipe dream. He could, however, join an ownership group, and history has shown that celebrity owners can get in on these clubs at a pretty low price. Remember when Jay-Z "owned the Brooklyn Nets," for example? His share was just 0.06%, and only worth about $350,000. A future majority owner could decide that letting Reynolds in on, say, 1% of the team for $8 million would be good mutual marketing. Just something to keep in mind looking ahead.
Speaking of looking ahead, the Senators have a Saturday game coming up that they should be fired up to play. They'll be taking on the Philadelphia Flyers, who despite being heavily outshot every step of the way, have put up a shockingly respectable 5-3-2 record. A lot of this comes from Carter Hart playing unrealistically well (5-0-2 with a 0.943 SV%), so beyond him, this seems ripe for the taking, especially with their play style under DJ Smith essentially being a more talented version of what John Tortorella is game planning in Philly. This game will mean a lot to 2022 marquee free agent Claude Giroux as well, as he'll be facing the team he spent fifteen years of his career with for the first time. Ottawa would like to snap a four-game losing streak, and this is a great opportunity to do so.
Evening Matchup (7:00 p.m.): Vegas Golden Knights @ Montreal Canadiens
The Habs right now are looking, well, like a combination of a lot of the different things we thought they were. The team is better than their start to last season which sent them to the bottom of the standings, but still not well enough to really scare the rest of the league. Individuals like Nick Suzuki and Cole Caufield have performed well, but that only goes so far, especially once you get to more formidable opponents.
Vegas is one of those, heading into Saturday with the second-best record in the league behind only the previously-mentioned Boston Bruins. The franchise missed the playoffs for the first time ever last season, but a lot of things went in unexpected ways for them along that stretch. Combine that with the hiring of top-end Head Coach Bruce Cassidy, and the sheer vibes of bringing in Ironman Phil Kessel, and you've got an intense 10-2 start to the year. Jack Eichel and Mark Stone both look "back," and the whole team is scoring in waves while maintaining the league's fourth-best expected goal share. Needless to say, this is going to be an uphill battle for Montreal, but one to keep an eye on nonetheless.
Late Night Matchup (10:00 p.m.): New Jersey Devils @ Calgary Flames
As alluded to in our Oilers blurb, the New Jersey Devils, after years of dark horse predictions gone awry, finally look good. Like, really good. The team leads the league in expected goal share at an astonishing 65.8% at 5-on-5. They're second in Shot Attempt / Corsi share at 62.8%. They take more shots on net than any other team, they concede the fewest, and have guys like their young nucleus of Jesper Bratt, Nico Hischier, and Jack Hughes producing at top-end clips. The goaltending could be better, particularly in the case of MacKenzie Blackwood, but it hasn't been to their detriment just yet.
So that's a tough challenge for the Calgary Flames, who come into Saturday with three consecutive regulation losses, all at home, that they'd like to move away from. The fact that they conceded 12 goals in those three games is certainly not inspiring confidence either. Honestly, the biggest highlight of the week for the Flames was head coach Darryl Sutter talking about Johnathan Huberdeau's poop break. Nevertheless, the Flames aren't slouches themselves, and it feels like only a matter of time until Jacob Markstrom has that confidence-inspiring game that starts a hot streak. Despite not being the headliner, there's a good chance that this is the most exciting late-night game on Saturday.
Sunday, Sunday, Sunday
There is only one Sunday game on the schedule, and it's a tough spot for the Maple Leafs, as they have to bounce back from one top opponent in their barn, to another top opponent on the road. Toronto will be taking on the Carolina Hurricanes in a 5 p.m. start, which you can catch on TSN. The Hurricanes thus far look like their usual selves, starting the season 7-2-1 despite only playing three games at home. Toronto will be playing on the second night of a back-to-back with travel in the middle and less than a 24 hour turnaround, while Carolina will be home and on a day's rest, so it's pretty safe to call this a Schedule Loss before we even see what Saturday holds for the Leafs. If it isn't one, that would be a significant accomplishment for the blue and white.
Where To Watch HNIC Games
Want to tune into these games? Of course you do, that's why you're here. Worry not, we're here to help!
The best place to find the headline games on Saturday, of course, is the CBC. Tune in via cable, an antenna, or with the online streams that Canada's public broadcaster offers directly on their website.
For the non-headliners, you've got options. Online, you'll likely be relying on the Sportsnet NOW app for streams. On your TV, you can catch Winnipeg/Chicago on TSN3 (Winnipeg), while Edmonton/Dallas is your other afternoon option on Sportsnet. For the 7:00 p.m. window, you'll have Ottawa/Philadelphia available to you on Sportsnet 1, and Montreal/Vegas on City TV. If the headliner isn't your jam for the 10:00 p.m. block, both SN1 and CITY will have Calgary/New Jersey.
Saturday Night NHL Lines
Lots of action is available on all of these games come the weekend. Our friends at NorthStar Bets already have the main lines up – check them out below! You'll also find all sorts of spreads and props available when you click through.
If you're looking for another book to bet at, we've also got you covered – check out our Best NHL Betting Sites guide for more info!