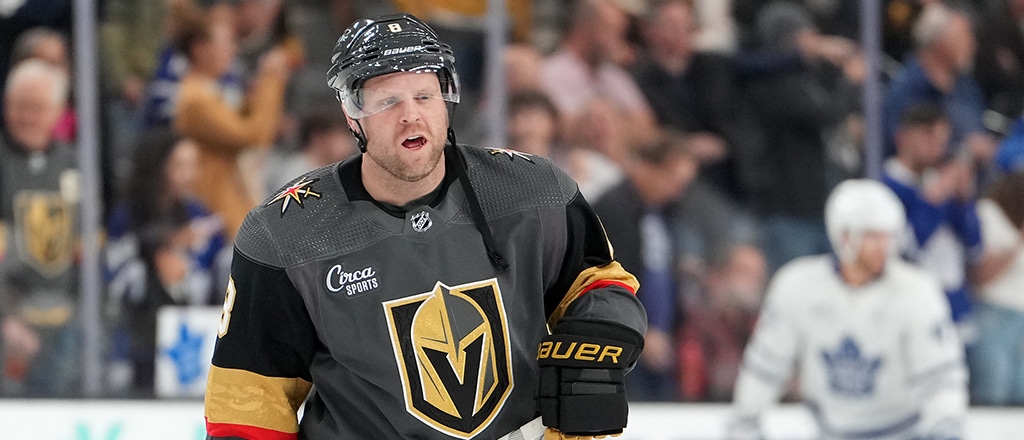 I still remember Phil Kessel's first game in Toronto. After months of speculation – first at the draft, then via offer sheets, and finally a push in the late days of the preseason, the Toronto Maple Leafs' new franchise forward, their first since the departure of Mats Sundin, was finally here. A player who at 21 years old had already notched a 36-goal season on his resume, amidst a gradually declining league wide goal rate. The YouTube montage of those goals played many times through a low-res computer monitor that summer, with little-known pop punk band Drive Like Carson's "The Sensible Thing" in the background, becoming permanently etched into teenage me's memory along the way. The cost of acquiring Kessel was substantial, and future events would make it even steeper, but it felt oh so worth it to see a young gamebreaker on the roster.
Kessel suited up that first game – which was actually the team's thirteenth – coming off shoulder surgery, and was paired with Jason Blake and a rotation of John Mitchell and Matt Stajan. Hardly a stacked line, but it would do. After all, Phil was there, and he was hopefully going to turn around what was already becoming a season much below expectation. Thirteen minutes into the first period of his first game, Kessel picks up the puck in Toronto's defensive zone, curls around, and picks up speed, darting towards an area beter suited for scoring. Stride after stride, a typically dull Air Canada Centre begins to gain momentum as he gains each zone. Kessel crosses the offensive blue line and…
Bang. Rocked by Mattias Ohlund, a Vancouver Canucks legend who was playing out his twilight with the Tampa Bay Lightning, unaware that his last regular season NHL goal was already behind him. Kessel, for a moment, seemed unaware on a different level, disheveled and shaking himself off as the two teams converged to have words.
This would be the "Leafiest" way for things to go. Right after getting their next young superstar, he would have his career suddenly reversed. Was it his head? Did he reaggravate his shoulder? You couldn't help but feel the worst in that moment, an affirmation that things would be bad forever.
That is, until, amidst the scrum, Kessel picks up his stick, has a couple words, and carries on. He'd go to the dressing room to get double checked, but would come back with nothing more than a split lip. Kessel ended that game with career highs in shots on goal (10), and time on ice (23:50). His first point and goal in blue and white would come a few days later, but immediately, the youngster showed that, while he wouldn't be an intimidating presence physically, he would not be physically intimidated.
Kessel would play all 70 games for the Maple Leafs that season. He'd also play the next 383 that the Leafs had, with his only time off coming in the pre-season – be it by rotation, or his famous suspension for lumberjacking John Scott in what started as self-defence, but ended as hilariously petty revenge. He wasn't always amazing in this time, occasionally going through cold streaks where his off-puck deficiencies became clear, and he was far from beloved by all in town. But those who did love him – in the stands, on press row, in the dressing room, and watching from afar – got what they paid for. Kessel, through all his ups and downs, and through all the criticisms of his physique and his physicality, would be there every night and more often than not, he'd leave you with a rush of excitement. Nothing in this otherwise putrid era of Maple Leafs history was more exciting than Kessel, using a lower body built much stronger than his upper, propelling himself from coast-to-coast, ready to push a 70-flex stick to it's absolute limits with a whippy, jumpy snapshot unlike any other hockey had seen before it. While Toronto would finish his tenure with the fourth-fewest wins and just one playoff appearance, Phil would have the 16th-most points and 5th-most goals in the NHL in that span, ensuring that games would still be worth watching so long as he was there to give you a rush.
Kessel, by all accounts, loved Toronto, so much so that after his five-year deal signed upon entry expired, he signed up for eight more – to this day, the longest term a Maple Leafs player has ever signed up for. Unfortunately, the team's window of opportunity and the incoming change of top-level staff did not love him back, and in 2015, he was moved to the Pittsburgh Penguins in a blockbuster deal. In the end, though, that may have been the best thing for all parties. Toronto became just bad enough to fall to the bottom the following season, landing an even more transcendent talent in 2022 NHL MVP Auston Matthews at the following year's draft, and using the assets returned from the trade to build up the roster for years to follow. Kessel found himself in an environment where he didn't have to be the only superstar, but rather a support figure for Sidney Crosby and Evgeni Malkin, and had the best year of his career – arguably exceeding both generational talents for the span of that postseason, where he'd be immediately rewarded for his troubles with his first Stanley Cup. In 2016/17, he'd do it again, and in the following season, he'd smash his career high in points. All this while, once again, never missing a game. Even the heavy playoff workload didn't slow him down, averaging 98 games of hockey a year.
Pittsburgh would eventually end up in a similar situation to Toronto, having to move Kessel for the sake of their roster construction. But even on a rebuilding shell of a franchise that was the Arizona Coyotes, he kept chugging, embracing the beginning of his twilight and shift from star to cult hero. At this time, the Coyotes noticed what we were all noticing – that Kessel was nearing a milestone, and he had every intention of getting there.
This milestone is the NHL's "Ironman" record, better known as the consecutive games played record. For35 years, this record went unchallenged, with Doug Jarvis' run between 1975 and 1987 feeling unbreakable. Andrew Cogliano felt like he had the best shot at chasing it for quite some time, but a 2018 suspension pulled his plug at 830 games, a season and a half shy of Jarvis' 964. This was finally broken last season when Philadelphia Flyers defenceman Keith Yandle crossed over and beyond, to the delight of those who loved and respected him, but to the raised eyebrows of many who had seen a player who was rapidly falling under the replacement-level line, essentially being dressed for the sake of the record. Once the Flyers got him far enough ahead to guarantee him at least one offseason atop the record books, the plug was pulled, and he was scratched five times in the next fifteen games, ultimately retiring at the conclusion of the season.
That brings us all to Kessel once more. On Monday night, against the team who he started this journey of longevity with, Kessel suited up for his 989th consecutive regular season game, matching the record in his new home of Las Vegas. The Vegas Golden Knights ended a summer of speculation by signing the now 35-year-old in late August to a one-year contract, allowing him to chase history while adding a bit of depth to the roster. Kessel's start, while not as below the curve as Yandle's, hasn't been amazing with just two points in seven games. For a brief moment, though, it looked like he'd picked up his 400th career goal on the night of the first half of this milestone, scoring a powerplay tally against Toronto only to have it disallowed for a rather insignificant offside that occurred much earlier in the play.
Tonight, on Tuesday, he'll stand alone as he plays Game 990 against the San Jose Sharks, the team who he defeated to win his first championship. Should his robust history continue, he'll become the first player to dress for 1000 games in a row on November 17th against the Coyotes, another team with a chapter in his proverbial book. From there, we'll see how long Vegas lets him carry it – while he doesn't feel like a threat for the press box yet, stranger things have happened, and with the Golden Knights off to a great start this season and seemingly back in the contender mix, who knows if there comes a time where it might be the best hockey decision to give him some time off.
Either way, there's something brilliant about the fact that Kessel, of all players, gets to be the one who stands on top of one of hockey's most macho podiums. After years of criticism for "softness", "laziness", supposedly poor (but in reality, just unconventional) physical condition, and no shortage of media mudslinging, the ultimate example of endurance in one of the toughest professional sports will be a quirky, introverted, slightly pudgy dude who would never be guessed as an elite athlete if seen by someone who didn't know him. A guy some have labeled a coach killer, but who seems universally beloved by his teammates. A player who has broken so many conventions of what hockey is supposedly about, and written new rules for future generations. As someone who spent their teens trying to get in more conventional shape while practicing that trademark snapshot with the same candy cane tape pattern on their stick, and someone who remembers the sinking feeling when he hit the ground in Shift 3 of Game 1, it's going to be an awesome feeling watching Kessel get out their for Shift 1 of Game 990 tonight. Truly, his "nice guy, tries hard, loves the game" self-descriptor couldn't be better representative of this moment.