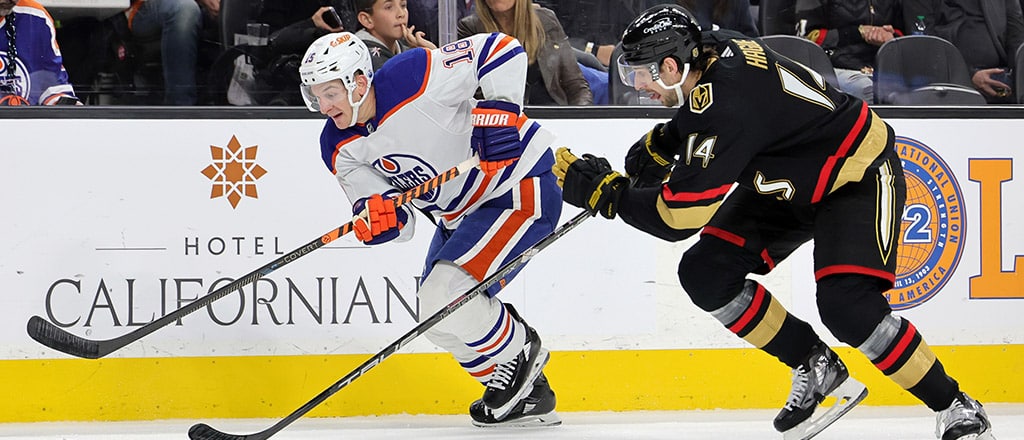 The National Hockey League's MVP race is over – it's Connor McDavid's world, and we're just living in it. We'll talk about that some more in a couple paragraphs for now, but in the meantime, we have all seven Canadian teams playing in NHL action on Saturday, with two encores on Sunday to close out an action-packed weekend. Come with us on our weekly tour of the landscape, as we figure out the major storylines that will grace the Hockey Night in Canada headlines.
7:00 p.m ET HNIC Headliner: Toronto Maple Leafs vs. Carolina Hurricanes
The Maple Leafs continued their run of shaking off bad nights on Thursday. After getting thumped 7-2 by the New York Islanders on Tuesday, the Leafs recognized that playoff-desperate teams were going to be a bit more difficult and responded in kind with a 6-2 victory over the Florida Panthers. This brings them to the next stop in their road trip against the Storm Surging Carolina Hurricanes, who they've had the better of this season. Their last matchup was just a week ago, in which Toronto won 5-2, and a 3-1 win in November essentially hands them the season series.
Carolina won't come easy though, as they try to lock in the top of the Metropolitan Division and prove that they can keep up with another contender. Since the last Toronto loss, the Hurricanes have won two of three, beating the Flyers in OT and splitting a home and home with the Rangers.
10:00 p.m. HNIC Headliner: Vegas Golden Knights vs. Edmonton Oilers
The Edmonton Oilers are red hot right now, and Connor McDavid may as well be a supernova. On Wednesday night, Edmonton barely squeaked out a 4-3 overtime win against the tanking Arizona Coyotes, but the neither the tightness of the result or the opponent mattered amidst the big picture. For one, it gave Edmonton their fifth win in a row and their ninth in 11 games. More importantly across the hockey world, though, the game was bookended by Connor McDavid's 59th and 60th goals of the season, making him the fourth active player to hit the mark in his career, joining Alex Ovechkin, Steven Stamkos, and Auston Matthews.
Needless to say, pretty elite company, and when you combine the rest of McDavid's skillset, you can argue that his run might be the most impressive of them all, as scoring goals isn't the primary focus for him in the same way that it was for those three in their years. What we've seen this season is something special, but the year isn't over, and he's got ten more games to add to it. Can he get to 65 goals? 70? The Vegas Golden Knights will be the first team in his way on this home stretch, as they look to lock themselves into the Pacific Division crown. Vegas is similarly torrid with 10 wins in their last 12, and three in a row. For them, the Oilers will be a back to back opponent, so a lot of focus will be put into these matchups.
Afternoon Matchup (4:00 p.m.): Winnipeg Jets vs. Los Angeles Kings
The Jets' stumble has slowed itself down… mostly. Last time we were here, the Jets had lost eight of 11 with their grip on the Central Division derailed. Since then, the team began an eight-game run largely against non-playoff teams that offered a chance to save their season, and you know what – it's mostly worked! Four games in, and the Jets have picked up three wins against Nashville, Arizona, and Anaheim – the first of which being must-win that they delivered on to give them some padding in the race. The Jets now have a five-point buffer on the second wildcard, and still have a pathway to climbing in the Central.
Their toughest test in this block will be the Los Angeles Kings, who they face on Saturday afternoon. The Kings are four points back of the Pacific Division lead and appear out of the woods on their rebuild, and are also one of the hottest teams in hockey right now, with an 8-0-2 record in their last ten. They don't have the game-breaking, point-raking superstar that a lot of teams do, but their all-around depth has caused opponents a ton of trouble. In fact, the first win in this streak came against the Jets in a high-scoring, 6-5 shootout, where Anze Kopitar turned back the clock with a four-goal game. The Jets have had their own success in return, though, dating back to a 6-4 win against the Kings on October 27th. This will no doubt be an important game for both teams involved.
Afternoon Matchup (4:00 p.m.): San Jose Sharks vs. Calgary Flames
Next up, we have the ever-confusing Calgary Flames, who look poised to slip out of the playoff race once and for all at the rate things are going for them. The team's last three-game win streak came back in December, with even pairs of wins coming few and far between.
To make matters worse, it feels like the bench bosses are more concerned about lessons than survival at this point, with a one-goal loss to Vegas being punctuated with Jonathan Huberdeau getting stapled to the bench in the final three minutes. While Huberdeau has struggled this year – on pace to halve his point totals from last year – these are the sorts of situations you put your stars in to break open for your team and for themselves, especially ones you're trying to keep happy for the next seven or eight years.
Nevertheless, they've got a chance here to stabilize against the Sharks, who hare losing like it's their job right now. Since February 14, the team has won just 2 of 18 games, only finding ways to defeat Seattle and Winnipeg. Calgary previously faced the Sharks in a back to back in December, and won both games while outscoring them 12-5, so if history is any indication, this is a great chance to reset. If they blow it, though, it might be time for the C of Red to start waving white flags.
Evening Matchup (7:00 p.m.): Columbus Blue Jackets vs. Montreal Canadiens
Ah, we've got ourselves a good ol' fashioned tank-off here. Yes, a game where neither team wants to win, featuring 28th overall going up against 32nd. No, this probably won't go to the same extreme as the infamous Buffalo/Arizona game in late 2015 where the fans were all cheering for the opposite teams, but up in the management boxes, that feeling will likely persist.
Montreal comes into this one knowing they've got another injury casualty – Josh Anderson is now out for the year with a high-ankle sprain – and nothing to play for but their remaining teammates and pride. The Habs are 2-8-2 in March and while the immediate outlook of Columbus, Buffalo, and Philadelphia means that said slump will likely burst to some degree in the next few days, they'd like to keep it going for their lottery odds. Not to be outdone, the Blue Jackets have announced the effective end of Patrik Laine's season this morning, with a triceps injury taking him out for 2-4 weeks. The Jackets do come into tonight carrying a win, but have lost seven of their past nine and have a hungry New York Islanders team to face tonight before this game goes down. This is likely the game you'll want to get updates on if you've got action, but not the one you'll want to tune into.
Evening Matchup (7:00 p.m.): Vancouver Canucks vs. Dallas Stars
Over in Vancouver, the Canucks push into the Mediocrity Zone of the standings continues with another point-filled week. Continuing to prove that tanking is organizational and not something carried out by the roster, and that the Canucks frankly don't want either, Vancouver gave the Kings one of their only overtime blows of their hot streak last Saturday and followed it up with wins in two of three during the week.
They've got a chance to jump up to 23rd in the standings on Saturday when they take on the Dallas Stars. This should be a tough task on paper, as Dallas sits eighth in the standings and tied for fourth in goal differential, but the Canucks have had control of this season series, which started and will conclude in the span of a month. Vancouver defeated Dallas 5-4 in overtime on February 27th, and took a 5-2 regulation win ten days ago in Vancouver. The Stars would love to grab two points here and bolster their Central Division lead, particularly with Minnesota and Colorado hot on their heels, but so long as the Canucks are treating every game like it's a Game 7, playing their stars for massive minutes along the way, the result is anyone's guess.
Evening Matchup (7:00 p.m.): Ottawa Senators vs. New Jersey Devils
Finally, we've got two teams on the last gasps of their immediate goals. The New Jersey Devils can still possibly win the Metropolitan Division, and the Ottawa Senators can still possibly squeak into the final wildcard spot, but both will be uphill battles. The former sit two points back of Carolina with their opponents having a game in hand, while the latter are five points back of the second wildcard with ten games to go.
Making matters worse for the Senators is that many of the good vibes coming out of the trade deadline have long dissipated – a five-game losing skid between March 11 and last Saturday caused a massive dent to their push. This week has been better for them, though, taking a necessary regulation win against the Penguins, holding Boston to within a goal, and absolutely thumping the Lightning 7-2 yesterday. This game is going to matter a lot from a tone-setting perspective, though it's likely the upcoming pair they have against Florida that have the most direct standings implications.
Sunday, Sunday, Sunday
Two Canadian games grace the schedule on Sunday, both fitting into the Central-favoured timeslot of 6:00 PM. In both cases, we'll be seeing teams on the second half of back to backs. Toronto hops from Raleigh to Nashville to take on the Predators, who are on the tail end of a disappointing season. Vancouver takes on Chicago in what should be a tank-off, but one the Canucks will likely inspire themselves to win in sight of 23rd overall.
Where to Watch HNIC Games
Want to tune into these games? Of course you do, that's why you're here. Worry not, we're here to help!
As always, the headliner games will be best watched by Canadians on the CBC. Canada's public broadcaster flexes it's muscles by offering free hockey to all on Saturday night, in whatever way you wish to watch it – on their website, through their app, on your cable box, or even through the old school antenna.
For the rest of Saturday's games, you'll have to head elsewhere. In the afternoon, you can catch Jets/Kings on TSN 3 (Winnipeg), and Sharks Flames on Sportsnet (all regions). In parallel with the 7:00 headliner, you can watch Blue Jackets/Canadiens on Sportsnet East or TVA Sports (French), Senators/Devils on Sportsnet 1, and Canucks/Stars on Sportsnet Pacific.
On Sunday, you'll find Leafs/Predators on Sportsnet Ontario, and Canucks/Blackhawks on Sportsnet Pacific.
For those looking to stream the games, your best official bet would be Sportsnet Now, with the premium package required for non-local games. To learn more about Now and your other options, check out CSB's "How to watch the NHL in Canada" guide!
Saturday Night NHL Lines
Lots of action is available on all of these games come the weekend. Our friends at NorthStar Bets already have the main lines up – check them out below! You'll also find all sorts of spreads and props available when you click through.
If you're looking for another book to bet at, we've also got you covered – check out our Best NHL Betting Sites guide for more info!