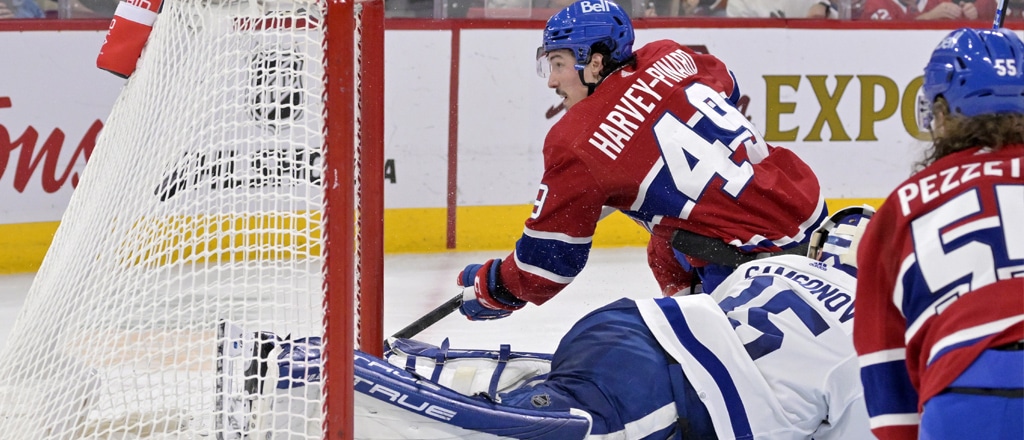 Here we go again! Just a few weeks after our last classic headliner on Hockey Night in Canada, we're back with another Toronto-Montreal matchup leading the pack. While the two teams are far apart in the standings, that has never stopped them from finding a way to bring excitement on a Saturday night. It's not the only Canadian National Hockey League matchup you'll see on the broadcast, though, so let's look ahead to the weekend of matchups!
7:00 p.m ET HNIC Headliner: Montreal Canadiens @ Toronto Maple Leafs
If there's one way to describe the Toronto Maple Leafs' run right now, it's "wobbly". By that, I mean they haven't repeated back-to-back outcomes in regulation in over a month. Yes, a pair of regulation losses on Jan. 12 and 14, and even if you want to boil it down to Wins and Losses and forget about how overtime, Toronto is in the mist of a seven-game yo-yo, bouncing back and forth since a win on Jan. 25.
If you follow that pattern, you're probably penciling in a loss on Saturday against their rivals, the Montreal Canadiens. Especially since, in their last matchup, the Habs were the ones who came out ahead. Back on Jan. 21, the Leafs looked strong in the first period backed by early goals from Mark Giordano and Calle Jarnkrok, but allowed Montreal to slowly crawl back into the game before Rem Pitlick put it away. Not helping things is the fact that Montreal had been actually pretty good this week, up until last night? The Habs crushed their Super Bowl matinee weekend against the Islanders and Oilers, and made tidy work of the Blackhawks on Tuesday. But, as the Carolina Hurricanes reminded us last night, a high-end team going up against Montreal should generally have a good time. The Leafs have a good opportunity here to show that the last game was an aberration, and they also have home ice.
The player I'd look to here, of course, is Auston Matthews, who returned to the lineup after a few weeks off on Wednesday. He made his impact quickly, picking up a goal and assist while taking three shots – making Leafs fans happy, and most, but not all prop bettors happy too. He'll likely still have a jump in his step and a bad taste in his mouth from the last loss, where he picked up an assist but did not score.
On Montreal's end, Rafael Harvey-Pinard continues to be a revelation, with seven goals and nine points in 11 games since being called up – a higher production rate than he actually had in the AHL. It's hard to say how long that will last, but for now, we're all having a fun time watching him play with Nick Suzuki and Josh Anderson on the top line.
10:00 p.m. HNIC Headliner: Philadelphia Flyers @ Vancouver Canucks
With the Rich Tocchet era now fully underway in Vancouver, one of the most fascinating stories is Andrei Kuzmenko. Kuzmenko, who agreed to a two-year contract extension less than a month ago, has seen his ice time twist and turn over the past couple weeks. Without context, one would think that this is simply the Canucks shifting towards showcasing trade chips ahead of the deadline – but it also included mid-game benchings. Tocchet seems determined to round out Kuzmenko's game, making sure that he can support Elias Pettersson in ways besides point and goal production. It was frustrating to watch for the first few games as the 26-year-old saw his minutes dip to as little as 10:35 on Feb. 11, but Tocchet has been giving him his rope back bit by bit, and Kuzmenko has repaid him with a goal and two assists in his last two games. Of course, it would've been nice to synchronize this development shift with his contract extension, but for now, I'm curious to see how it plays out.
The next opportunity for that will come on Saturday against the Flyers. After an early January "dead cat bounce" that saw the team win seven of eight games, the rebuilding Flyers are very much back, losing seven of their last nine games. The last matchup between these two teams came at the very start of the season, with the Flyers rallying from a 2-0 first period deficit to win 3-2. With the way both of these teams have been playing, its hard to truly lean into either of them to be a winner, so I'm just going to cheer for Elias Pettersson to be his typical productive self and hope for the best.
Evening Matchup (10:00 p.m.): New York Rangers @ Calgary Flames
The Calgary Flames are in a bit of a rut right now. Actually, to call it a bit of a rut is an understatement – dropping four of five since the All- Star break. At this point, it's fair to say that the swings to keep the team competitive in the summer, while valiant, might not end up going as well as hoped. The team now sits on the cusp of the playoff picture, tied with Minnesota for the last Wild Card spot with the latter having two games in hand. The team needs to find its spark sooner than later, and there is undeniably no player under more pressure to find said spark than Jonathan Huberdeau, the supposed "crown jewel" of the summer retool.
Huberdeau, who was acquired with MacKenzie Weegar from Florida in exchange for Matthew Tkachuk, joined the team hot off the heels of the best season of his career, in which he exploded for 30 goals and 115 points in 80 games with the Panthers in 2021/22. Now, it's hard to expect that a player repeats his best year of his career, especially when it comes at age 28. But this is a player who produced 1.21 points per game, or 99 points per 82 games, over a four-season run. Especially with league-wide scoring increasing at the top end, you'd expect him to not fall off a cliff. Well, in this case, we're seeing one of the biggest season-by-season dips in the history of the league. Whoops! Huberdeau currently has 10 goals and 36 points in 52 games, or a 57-point clip over a full season. That would make this his least productive season since 2014/15. A lot of this is Darryl Sutter's usage, as his agent Allan Walsh not-so-subtlety implied last night, but superstars are supposed to find a way.
A good starting point would be a big game against the Rangers, who will come into Saturday without rest. Depending on how they do against the Edmonton Oilers on Friday night, they'll either be extending their six-game win streak, or trying to redeem themselves after having said streak snapped. They'll also be coming in with a recently acquired star winger of their own – Vladimir Tarasenko has started off well with a goal and assist in his first three games with the team, even with a slow easing of his minutes into the Rangers lineup. I think the rest will ultimately do the Flames a lot of favours and give them a slight edge here, especially since the Rangers will be chasing Connor McDavid the night before, but this game could go either way.
Sunday, Sunday, Sunday
In an interesting twist, this is the rare case of a Sunday featuring more Canadian team games than the Saturday. I guess that's what happens when you get a week without the NFL running the show! That, or it's just the natural outcome of having a pretty quiet Saturday. Either way, we've got four games on tap.
First, the Ottawa Senators take on the St. Louis Blues in a 2 p.m. matinee. At the time of publish, things are looking pretty good for the Sens, who are clear of .500 for the first time since game No. 6 of the season. A 6-1 run since Jan. 25 might not be good for those who are hoping for the highest draft pick, but those who want to see a team that resembles the hope it had at the start of the year. Their opponents in St. Louis, on the other hand, are working to try to shake off a slump, losing five in a row before the All-Star break.
Midway through that one, the puck will drop on the Edmonton Oilers and Colorado Avalanche in their 3 p.m. game. The last matchup between the two on Jan. 7 was a thriller, with Colorado rallying from a 2-0 deficit in the third period to win in overtime thanks to Cale Makar. At this point, both teams were in similar upper-mid points in the standings, but Colorado has taken off in the past two months (9-2-2 since 1/14), as have the Oilers (9-1-3 since 1/11). Suddenly, this feels more like the Western Conference Final matchup it was at the end of last year.
Heading over to the 6 p.m. timeslot, the Maple Leafs take on the Blackhawks for the second time this week, this time as the team coming into the other's barn on a back-to-back. Needless to say, it probably won't be the game with the most lopsided odds of all time, and if the Columbus back-to-back showed us anything last weekend, it's that Toronto can follow up an easy win against a bad team with a stinker. Realistic money says they're still the favourites, but "typical Leafs" syndrome combined with the potential for another grindy game on Saturday could leave them a little gassed, and give the Hawks a chance to get revenge.
Lastly, the Winnipeg Jets take on the New Jersey Devils. The Jets kicked off their Eastern U.S. road trip last night with a disappointing 3-1 loss to Columbus, headlined by former Winnipeg star Patrik Laine's goal and assist. They've posted an impressive 13-7-0 record since Dec. 27, so the team likely has the confidence to rebound, but Jack Hughes and his Devils are going to be a tough match.
Where to Watch HNIC Games
Want to tune into these games? Of course you do, that's why you're here. Worry not, we're here to help!
As always, the headliner games will be best watched by Canadians on the CBC. Canada's public broadcaster flexes it's muscles by offering free hockey to all on Saturday night, in whatever way you wish to watch it – on their website, through their app, on your cable box, or even through the old school antenna.
For Saturday's other late night game, you'll have to head elsewhere. I suppose this was a game where they chose the order of precedent at the beginning of the year with a little more hope in their hearts for Vancouver and Philadelphia, but anyway, you can catch the Rangers and Flames on Sportsnet Ontario, East, and West, or CityTV.
On Sunday, The action is all over the place. You'll find Blues/Senators on TSN 5 Ottawa in English or TVA Sports in French. For Oilers/Avalanche, you'll be able to watch it across Sportsnet. For Leafs/Blackhawks, you'll go to Sportsnet Ontario for English or TVA for French, and for Jets/Devils you'll go to TSN 3 Winnipeg.
For those looking to stream the games, your best official bet would be Sportsnet Now, with the premium package required for non-local games. To learn more about Now and your other options, check out CSB's "How to watch the NHL in Canada" guide!
Saturday Night NHL Lines
Lots of action is available on all of these games come the weekend. Our friends at NorthStar Bets already have the main lines up – check them out below! You'll also find all sorts of spreads and props available when you click through.
If you're looking for another book to bet at, we've also got you covered – check out our Best NHL Betting Sites guide for more info!