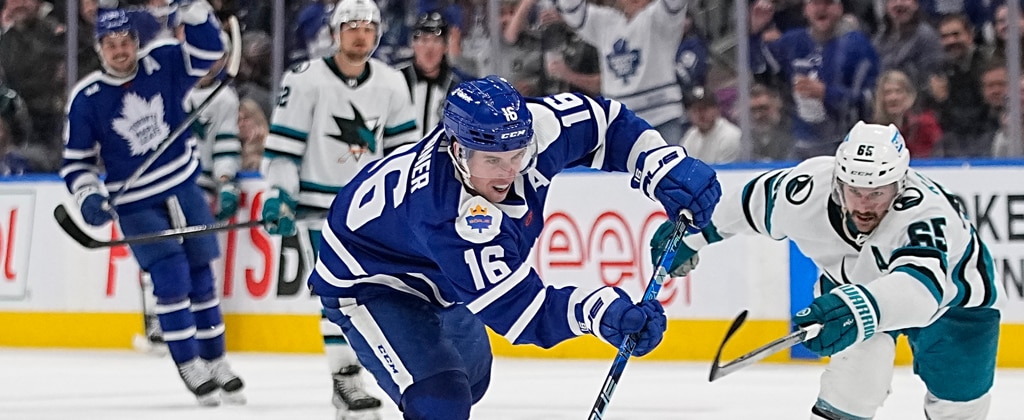 It's so hilariously Toronto for the Maple Leafs to steal the spotlight on the first night of the year where they aren't given headline billing. Nevertheless, it's the reality of the news cycle this week, and for once, it's earned. Leafs superstar Mitch Marner has his sights set on outright possession of the team's point streak record on Saturday, and that's going to eat up a lot of eyeball real estate. All the same, you still have five other Canadian National Hockey League teams on the schedule for the night, and all seven playing across the weekend, with no shortage of interesting angles – so let's break them all down!
7:00 p.m ET HNIC Headliner: Montreal Canadiens @ Edmonton Oilers
As referenced above, this Saturday is a rare case where the Maple Leafs don't take the main spotlight. It makes sense, all things considered – your second biggest market, your biggest star, and more importantly, the only game of the night that features two Canadian teams instead of just one.
The big story leading into this one is the evolving change-of-guard in between the Edmonton pipes. Jack Campbell's struggles continue, with the big free agent signing now down to numbers that would make the 1980s blush. The good news for Edmonton is that Stuart Skinner has been fantastic, posting a 6-5 record with a .914 save percentage through 12 games. One could argue that the team might have a little more flexibility right now had it given him a more extensive look last season – he's already caught up to his workload from 2021/22 – but for now he's at least bailing them out of that predicament.
On the other side, it's really interesting seeing how Montreal's goals are split right now. Twenty-five of its 64 goals (or roughly 39%) have come from either Nick Suzuki or Cole Caufield this year. Don't sleep on Kirby Dach or Sean Monahan, though. While their tallies have mostly come in the assist department, the pair are both having major bounce-back seasons. Dach is already within nine points of his career high with 17 in 23 games, and Monahan's 16 in 23 put him at a scoring clip that we haven't seen from him since 2018/19.
10:00 p.m. ET HNIC Headliner: Washington Capitals @ Calgary Flames
The headlines for the Flames this week seemed to be ones of reunion as the Scotiabank Saddledome welcomed back some former players. We just mentioned Monahan in the previous segment – he arrived in Montreal via Calgary, and his first game back in town came on Thursday night. It took him just 13 seconds to get his first point against his longtime team, assisting Slafkovsky's fourth goal of the season, and he added another assist on the game winner in the third period. The Flames also had Matthew Tkachuk come visit with the Panthers on Tuesday, and that went better for them, as both big pieces from their summer trade (MacKenzie Weegar and Jonathan Huberdeau) picked up points in a 6-2 victory.
Saturday will see them take on the Washington Capitals, who are sputtering in the sixth place of the Metropolitan Division. Washington has been putrid on the road this year, posting a 3-7-3 record, but do you know who hasn't had gripes away from home? Alex Ovechkin. With two goals against the Vancouver Canucks on Tuesday, Ovi passed Wayne Gretzky for the all-time lead in road goals. The Russian Machine is up to 13 tallies in 25 games so far this season, as he now sits 102 goals away from being the overall all-time leader.
Evening Matchup (7:00 p.m ET): Toronto Maple Leafs @ Tampa Bay Lightning
Normally, this game would be seen as a playoff rematch between two combatants who played arguably the best series of last year's first round. Seven thrilling games ended in a Lightning win which put them en route to another Conference Championship, and a Leafs loss, which brought them to a shocking six consecutive first-round exits. In a sense, this will still be a big storyline for this game.
But a bigger one is history. Marner tied a Leafs franchise record with an empty-net goal on Wednesday, giving him his 18th consecutive game with a point. This equalled Darryl Sittler and Eddie Olczyk, and now he has a chance to go for sole ownership of the record. Someone with the glass half empty will notice that Marner's production in this stretch hasn't been as nuclear as you'd think – for example, Connor McDavid has had two games without points in his last 18, but has 33 to Marner's 24. But consistency has value, and more importantly than anything else, Toronto is getting results as a team through Marner's help, posting a 12-1-5 record along the way. Just as much, sometimes you just gotta have fun with something like this. Marner has been through a lot of ups and downs in the past few years, so it's nice to see him get a little reward here.
Striking gold again is going to be a tough task, though. Sure, the Lightning haven't been as great this year as they usually are, but they've won seven of their last 10 and are 7-3-1 when they host. Not to mention, that Andrei Vasilevskiy guy in net is pretty good, and even if his save percentage is below his career average right now, you can never count him out.
Evening Matchup (7:00 p.m ET): San Jose Sharks @ Ottawa Senators
A familiar face comes to town, with all sorts of gossip about whether a reunion could be in his future. The San Jose Sharks are amidst their eastern road trip, which covers the three Eastern Conference Canadian teams (Montreal, Toronto, and Ottawa), and the Buffalo Sabres. This means once again, Erik Karlsson will make an appearance against the team where he got his probable Hall of Fame career started.
While Karlsson's time in San Jose has been oft-criticized, in large part because of his $11.5 million cap hit, the 32-year-old defenceman has had easily his best season since leaving Ottawa, putting up 32 points in 26 games to go with excellent puck-possession numbers. This has many feeling that he could be trade bait if San Jose is willing to retain salary on the last four-plus years of his deal, which just might work given its lean towards a rebuild. Ottawa immediately comes to mind given his legacy there, and its desperate need for blue line help, particularly the type that both eats minutes and contributes to a counter attack.
Given Ottawa's utterly underwhelming start, we might not see this come to fruition this year. But it would be a lot of fun, and barring that, this reunion is always good entertainment.
Late Night Matchup (10:00 p.m ET): Arizona Coyotes @ Vancouver Canucks
Wrapping up our look at Saturday, we move to the Vancouver Canucks. There's a lot of things I can vent about here, and believe me, I've got one of those for you all in a few days.
For now, let's say a good thing – I'm very impressed by what the Canucks have gotten out of Andrei Kuzmenko this season. Signed by Vancouver in the spring with hopes that he might be the next Ilya Mikheyev (who the Canucks also signed), he's been a step ahead of that, putting up 21 points in his first 23 NHL games with strong play driving numbers. Signed out of SKA St. Petersburg of the KHL last year, Kuzmenko is just barely too old to be in the Calder Trophy race, but few first-year players have come close to his impact.
Where this goes for Vancouver remains hard to tell – the team doesn't have a ton of cap buffer and he immediately becomes an unrestricted free agent this summer. Agent Dan Milstein, who has seemingly cornered the market on incoming Russian talent, has given his usual, playful "show me the money" routine on social media, but doesn't seem in a huge rush to talk dollars. For now, the challenge for Kuzmenko and his Canucks stays laser focused on the Arizona Coyotes, who trail Vancouver by four points in the standings with three games in hand. Depending on whether you're team tank or team playoffs, this is a must-win or a must-lose for the Canucks, but we can all agree that with players like Kuzmenko, Elias Pettersson, and the red-hot Bo Horvat, it's a very good late-night option to watch.
Sunday, Sunday, Sunday
There is just one Canadian team playing on Sunday. The Winnipeg Jets, continuing to fly high as the second seed of the Central Division (and first in points percentage), will take on the Anaheim Ducks. Years ago, we'd hear about this as the Teemu Selanne legacy bowl; now, it's more or less just another Western Conference game. The Jets will be heavy favourites in this one, as the Ducks, to put it bluntly, have been terrible this year. How terrible? Through 24 games, the Ducks have just one win in regulation. This puts them on pace for three or four over the course of the year, and when you consider that last-place Montreal had 16 regulation wins last year, it looks even worse.
Despite it only being the quarter-season mark, there is a whopping 59 goal difference in differential between these two teams. Maybe making matters worse from an entertainment perspective is that Winnipeg's success hasn't been through high-octane play either – goaltending has really pushed it forward, but the skaters have the fewest goals for of any team with a .600 winning percentage or better record.
I guess what I'm saying is, I wouldn't blame you if you were neutral and passed on this one, maybe to check out some NFL Bets or some World Cup action. But who knows, maybe we're proven wrong and this ends up being a fun one.
Where to Watch HNIC Games
Want to tune into these games? Of course you do, that's why you're here. Worry not, we're here to help!
As always, you can check out the two headliner games through the almighty Ceeb – or, you know, the CBC. Its website has free streams, and there are countless ways to get the channel on your TV. Score one for federal broadcasting!
For Leafs/Lightning, you'll head over to mainline Sportsnet to tune into the game. For Sharks/Senators, you'll head to Sportsnet 1, CityTV, or for the French-language version, TVA Sports. For Canucks/Coyotes, you'll also go to Sportsnet 1 or City, but have Sportsnet Pacific as your third option. Lastly, if you want to watch online, the Sportsnet Now app will be your go-to.
For the Sunday game, you'll find that TSN 3 (Winnipeg, also known as TSN-JETS) is your way to go.
Saturday Night NHL Lines
Lots of action is available on all of these games come the weekend. Our friends at NorthStar Bets already have the main lines up – check them out below! You'll also find all sorts of spreads and props available when you click through.
If you're looking for another book to bet at, we've also got you covered – check out our Best NHL Betting Sites guide for more info!