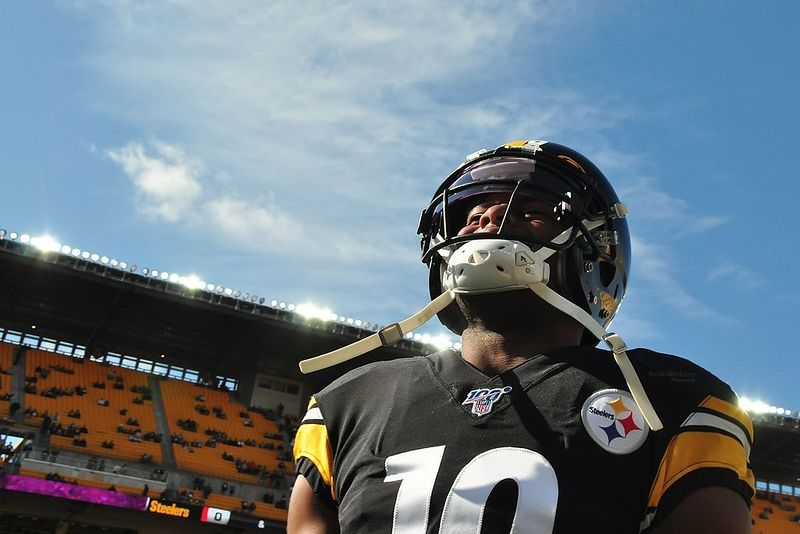 With the NFL in full swing, football fans all over the world love seeing great touchdowns, awesome interceptions, hard hits and brilliant finishes being showcased on their television sets. But, if you're an NFL fan north of the border, there's always one main question on your mind, and that's how to watch the NFL in Canada?
Fortunately for you, we have the answer to that in this piece, as we break down the multiple different options you have out there to not miss any of the action weeks in and week out for the biggest games on the NFL schedule.
NFL online streams in Canada
In terms of finding the best and fastest streams at the drop of a hat, NFL online streams in Canada are always going to be available to you, including the Super Bowl game. As long as you have internet access, or even cell phone service, there's going to be a way for you to find a stream.
So, which options do you have when it comes to NFL streaming? We're glad you asked, as two of the main sites we'd recommend would be nflbite.com and sportsurge.com. Starting with NFL Bite, this is a one-stop-shop for you on Thursday Night Football, the full slate on Sundays or Monday Night Football as well.
The best thing about NFL Bite is that it provides you with multiple different streaming options for you to select. So, say you pick one stream and you're not getting the best signal of the Seahawks vs. Chiefs game. Not to worry! With NFL Bite, there will be multiple other options for you to test out. We're confident at least one of the options they provide will work for you. We should warn that there may be some pop-ups at times, but you can get rid of the ads within only a few clicks. It really is a great option for how to watch the NFL in Canada.
SportSurge is another great NFL option for Canadian fans
Moving on to SportSurge, this site is great because you're not just going to find NFL games with this outlet. You can find college football, NBA, MLB and so much more. Sticking with football, though, they do a tremendous job of providing all the streams organized for you.
If you're in a pinch and are looking for the Packers-Vikings game, you can find it in only a matter of seconds with SportSurge. As well, what makes them great is that they aren't loaded with ads, so it tends to create a far better user experience.
DAZN in Canada delivers for NFL fans
If you're not a fan of the stream sites, DAZN in Canada is a spectacular NFL option for you to watch all the games during any given season. Heck, DAZN provides you with top coverage of the NFL, English Premier League and other sporting events that you're not going to want to miss out on. There's boxing, rugby, darts, auto racing, tennis – the list goes on and on.
DAZN has become a trusted outlet in recent years, providing great quality on its NFL coverage as well. You're never going to complain about bad signals or loss of connection. The quality puts DAZN among the best ways to watch NFL in Canada.
Along with live streaming of every NFL preseason, regular-season and postseason game right through the Super Bowl, you won't miss a moment of the action. They also provide daily access to the NFL Network and popular shows such as Hard Knocks. Every Sunday, they also offer access to the popular NFL Red Zone, which lets fans keep track of every game as the action unfolds. Game streams are accessible for a couple of days after the live stream, so there's always the chance to watch as many games as you'd like.
DAZN even provides access to videotape of every Super Bowl game ever played. Always been curious about how Joe Namath and the New York Jets engineered that upset of the Baltimore Colts as 18-point underdogs in Super Bowl III? Well, the entire game is available for your viewing pleasure at DAZN.
The main difference between DAZN and the streaming sites is that DAZN is not free. There are multiple different sign-up options for you to consider. You can pay for a one-month subscription, which costs $20 CAD. However, if you decide you're ready for a long-term commitment and really like the services that DAZN is able to provide, you can sign up for the one-year subscription at a price of $150 CAD.
DAZN also offers NFL fans a free trial
If you're unsure whether or not you want to commit right away, the good news is that DAZN also offers NFL fans a free trial to check things out. With this promotion, you can sign up for a free 30 days. After that, you have the option to either sign up for the month or go with the year-long option.
From our perspective, it would make much more sense, if you're happy with DAZN of course, to just pay for the year at $150 CAD. With them charging $20 CAD a month, that'd come out to $240 CAD a year if you choose to just do things month by month. You could save $90 CAD in just ponying up for the entire year.
Again, what's great about DAZN is that they offer you many other sporting options. So, if you do sign up, you'll of course have the NFL games available, but that's not where things will end. Come the postseason, or when you're ready to watch the Super Bowl in Canada, DAZN will feel like a great investment, especially if your favourite team is in the thick of things.
Watching the games live brings you more betting opportunities. Many of our partners offer live betting options. Check them out from our reputable list of sportsbooks.
Click here if you want to read about how to watch the CFL in Canada.