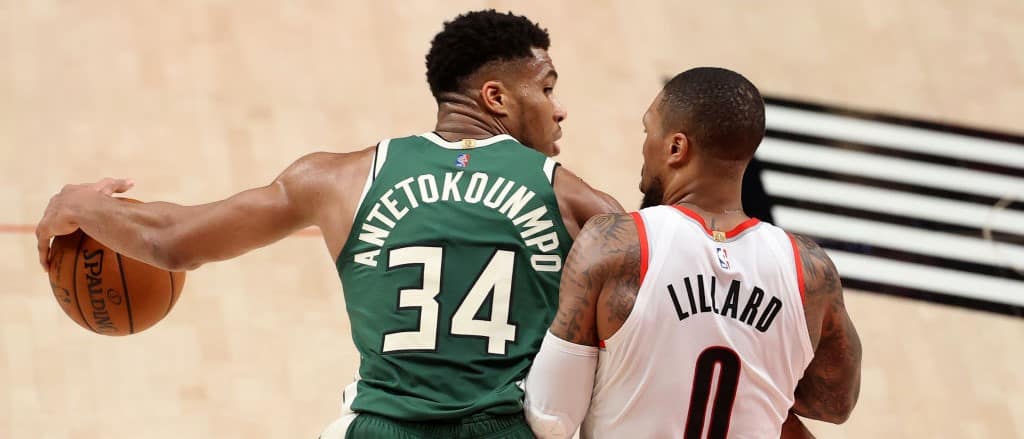 How about a blockbuster trade to shake up some NBA futures odds on a Wednesday afternoon?
The Portland Trail Blazers reportedly traded disgruntled superstar Damian Lillard to the Milwaukee Bucks on Wednesday as part of a three-team trade that also involves the Phoenix Suns.
Here's how the trade is reportedly shaking out, according to The Athletic's Shams Charania:
Lillard, a seven-time All-Star and Portland's all-time leading scorer, asked the Trail Blazers for a trade in early July after the team failed to the make the postseason for the second straight year, and he publicly stated that he preferred to land with the Miami Heat.
DraftKings later opened betting markets on which team Lillard would suit up for next, with Miami being listed as the favourite at -300 odds. Milwaukee had long +3000 odds to acquire Lillard's services.
Several news outlets reported this week that the Toronto Raptors were "in the mix" to acquire Lillard, but sadly, the team's bid to acquire a major superstar for the first time since Kawhi Leonard came up short.
After acquiring Lillard, the Bucks' NBA outright odds skyrocketed across the board. They're now the favourites to win the title over the Denver Nuggets with +400 odds at DraftKings. They had +850 odds prior to the deal.
Over at BetMGM, the Bucks were +650 to win it all, and now they're also the favourites at +400.
At FanDuel, the Bucks went from +600 to +360 to win the title as a result of the reported traded. Their Eastern Conference title odds also jumped from +290 to +145.
And theScore Bet has shifted its Milwaukee title odds from +550 to +375.
In an email to Canada Sports Betting, DraftKings is reporting that deal hasn't impacted Giannis Antetokounmpo's or Lillard's MVP odds. They still sit at +550 and +2200, respectively.
But perhaps the most shocking futures odds move involves the Heat, who went from +1000 to +3000 at BetMGM to win the Larry O'Brien Trophy. Sportsbooks adjusted Miami's futures odds immediately after Lillard stated he had a preference to play with the Heat, and getting a deal done seemed like just a formality at the time. Bettors that backed the Heat thinking Lillard would join Jimmy Butler in South Beach will surely be disappointed in how things have played out.
And let's not forget about the Suns. Their odds went from +650 to +600 as a result of the deal, in which they acquired four role players for big man Deandre Ayton, who struggled mightily and was embarrassed during the postseason last year by Denver's Nikola Jokic. Of course, the Suns already boast a big three of Kevin Durant, Bradley Beal, and Devin Booker.