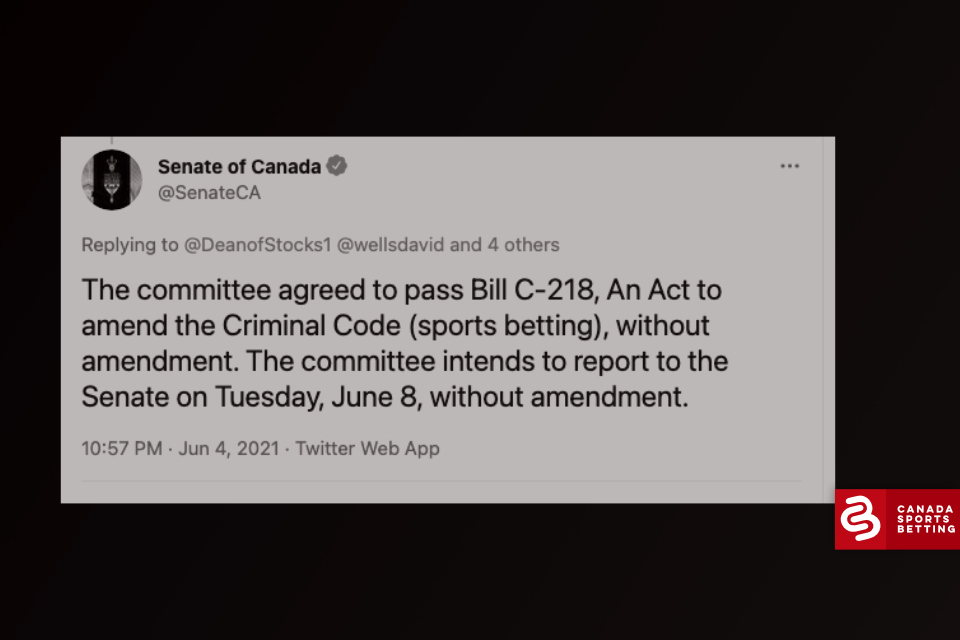 Canada Sports Betting Bill C-218, the Safe and Regulated Sports Betting Act, has finished the committee hearings and will be referred back to the Senate on Tuesday, June 8th. Third Reading debate to start on Thursday, June 10th.
The Senate Standing Committee on Banking, Trade and Commerce staged two days of witness hearings and chose not to add any amendments to the bill.
Witnesses heard by the Committee included:
Paul Burns, President & CEO, Canadian Gaming Association
Randy Ambrosie, Commissioner, Canadian Football League
Chief Gina Deer, Mohawk Council of Kahanwà:ke
Chief Ross Montour, Mohawk Counsel of Kahnawà:ke
Zane Hansen, President & CEO, Saskatchewan Indian Gaming Authority
Dave Phillips, COO, Alcohol and Gaming Commission of Ontario
Shelley White, CEO of the Responsible Gambling Council
Stewart Groumoutis, Director eGaming, British Columbia Lottery Corporation
Dr. Jamie Wiebe, Director Player Health, British Columbia Lottery Corporation
Donald Bourgeois, Gaming Lawyer, Gaming & Regulation Group Inc
Paul Melia, President & CEO, Canadian Centre for Ethics in Sport
Other submissions were made by several organizations including the Alberta Liquor, Gaming and Cannabis Corporation.
What's next? The Third Reading
Senator David Wells tweeted an update today saying that the Third Reading debate will start on Thursday, June 10th.
The Committee's decision to add no amendments to the bill is a controversial one. The Mohawk Council of Kahnawà:ke (MCK) released a press release on Saturday 5 June stating that this "move… threatens Kahnawà:ke's ability to control its economic future and self-determination."
MCK is calling on all remaining Senators "to take the responsibility of abandoning government perpetuation of colonialism and advance reconciliation seriously, by immediately supporting our proposed amendments to Bill C-218."
MCK's proposed Amendment
If Bill C-218 passes as is, it will create a new licensing body for gambling in Canada, or to be more precise, several – one in each province.
The summary of the House of Commons Bill C-218 is as follows:
"This enactment amends paragraph 207(4)‍(b) of the Criminal Code to make it lawful for the government of a province, or a person or entity licensed by the Lieutenant Governor in Council of that province, to conduct and manage a lottery scheme in the province that involves betting on a race — other than a horse-race — or fight, or on a single sport event or athletic contest."
The amendment that MCK wants to add to the bill states:
"(a) for an Indigenous governing body to conduct and manage a lottery scheme pursuant to the terms of an agreement with the government of Canada."
If the MCK amendment is not added, the Kahnawà:kes would need to apply for a license from the Lieutenant Governor in Council of each province in Canada. At the moment MCK is the de facto licensing body in Canada.
Time is running out
If the Senate decides to amend the bill, it will have to go back to The House of Commons for approval, as both chambers of the Parliament have to pass an identical version of the bill. In that case, the upcoming election might destroy the plan and send it back to the drawing board for another couple of years.