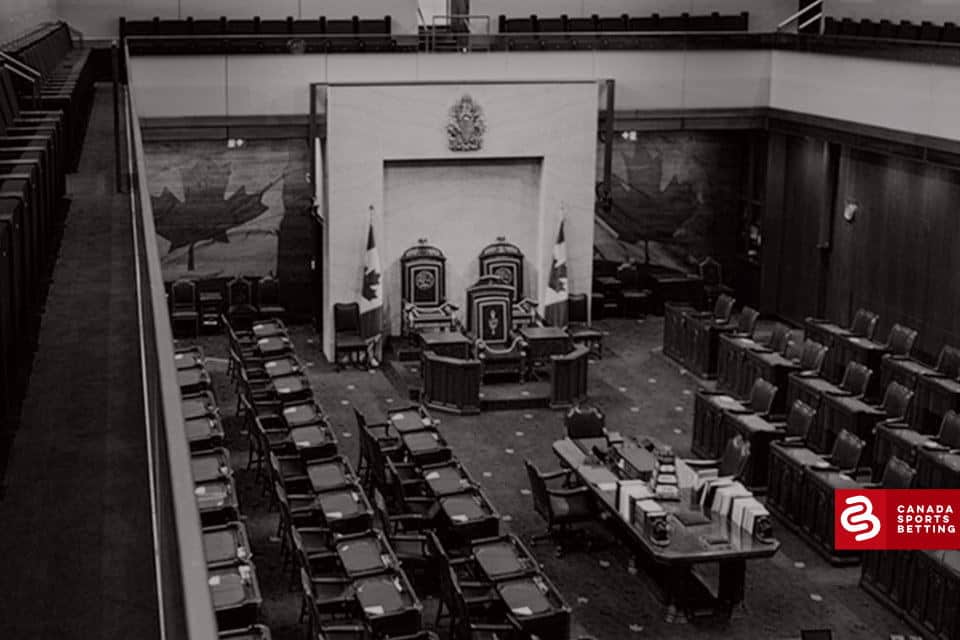 Third reading and potentially a vote on Bill C-218, which if approved would legalize single sports betting across Canada, is slated to take place when the Senate of Canada begins its next session on Tuesday, June 22 at 2 p.m. eastern time. If the bill passes through third reading in the Senate without amendment, then it would move on to the Governor-General's Office for Royal Assent, the last step in becoming a law.
Third Reading of Bill C-218 Expected on June 22
Third reading and a vote on Bill C-218, which would legalize single-sports betting in Canada, are expected to place when the Senate convenes on Tuesday, June 22
An amendment to the bill that would have added a specific law prohibiting match-fixing was defeated on the Senate floor
If the bill passes, it will go to the Governor-General's office to receive Royal Assent and become law
The goalposts keep getting moved, but those in the Senate of Canada who are trying to drive Bill C-218 across the finish line continue their relentless pursuit of making the bill a law. With the Summer Session of the Senate slated to conclude on Friday, June 25, the discussion of the bill that would legalize single-sports betting in Canada appears to be over. Attempts by those who seek to slow or halt the bill's progress look to have all been defeated.
Bill C-218, also known as the Safe and Regulated Sports Betting Act, is a Private Member's bill that was introduced into the House of Commons by Conservative Kevin Waugh, a Member of Parliament for Saskatoon-Grasswood. The bill would amend paragraph 207(4)(b) of the Criminal Code to make it lawful for the government of a province, or a person or entity licensed by the Lieutenant Governor in Council of that province, to conduct and manage a lottery scheme in the province that involves betting on a race – other than a horse race – or fight, or on a single sport event or athletic contest.
All the federal government has to do is take a single line out of the Criminal Code to give the provinces and territories the much-needed support to move forward with single-event sports betting.
Currently, provincial lottery corporations offer parlay bets through Pro-Line Sports Select, which require at least two games to be wagered and all wagers to come in for a ticket to cash as a winner. In essence, the current Canadian Criminal Code requires that more gambling take place every time a wager is played since one game is not sufficient enough to place a wager.
Amendments Defeated
Two attempts to amend the bill, which would have delayed the third reading and made it unlikely that the bill could be passed prior to the end of the summer session, were defeated.
On June 17, Ontario Senator Vernon White, a retired police chief and RCMP assistant commissioner, sought to amend the bill to add a specific law pertaining to match-fixing. Proponents of the bill insist that any form of match-fixing is already covered under the Canadian fraud laws and therefore no amendment to create this law is necessary.
"One of the concerns I have with the passing of this bill is that passing it appears to be more important than passing it right," White said. "For this bill to be right, match-fixing must be illegal. We will have a problem with match-fixing. Every country does."
"The Criminal Code, including the fraud provisions and cheating at play, (is) more than adequate to handle the range of match-fixing strategies that might occur," countered Senator Brent Cotter of Saskatchewan.
"I think it's important to note that the Supreme Court of Canada has upheld that match-fixing is covered specifically through the fraud provisions," added Senator David Wells of Newfoundland.
A vote was taken and the proposed amendment was voted down.
A second amendment proposal was put forth by Senator Mary Jane McCallum of Manitoba that would've provided for an Indigenous council, government or other entity that is authorized to act on behalf of an Indigenous group, community or people that holds rights recognized and affirmed . . . to conduct and manage a lottery scheme under an agreement or arrangement with the Government of Canada. This amendment was designed in order to protect native gaming interests.
This amendment was also defeated.
Afterward, Senator Wells, sponsor of the bill in the Senate, agreed to delay the third reading of the bill until the Tuesday, June 22 session of the Senate of Canada.
Native Group Issues Statement
The Mohawk Council of Kahnawake:ke issued a statement to each Senator in support of Senator McCallum's defeated amendment.
"With the amendment put forward by Senator McCallum (June 18, 2021), you now have the opportunity to pass an improved version of Bill C-218," the statement read. "We have been crystal clear since day one on this issue amended, the Mohawks of Kahnawa:ke do not oppose Bill C-218. Any suggestion to the contrary is patently false. What we have requested, however, is equally evident: the accommodation of Indigenous interests and the protection of our economic future in gaming."
"It is evident that Kahnawa:ke has been acting reasonably throughout. We have provided suggestions on how to accommodate our requests. Despite the roadblocks that have been put in our way, we are still confident that Canada's lawmakers will see fit to respect our wishes to include a carve-out for Indigenous operators and communities to participate in the Gaming Industry as a partner – and not an adversary."
The Kahnawa:ke Gaming Commission currently licenses Canadian sportsbooks Sports Interaction, Spin Palace Sports and Bet99. Since they are operated on tribal land, these betting sites are not governed by Canadian law.
For now, you can continue to bet using the best online sportsbooks, like SportsInteraction (SIA).