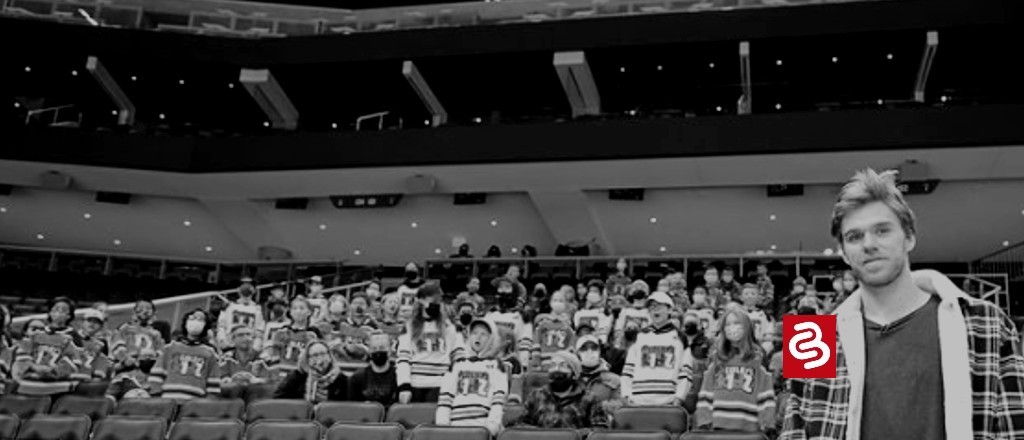 With the NHL's regular season set to come to a close in late April, people can't wait for the Stanley Cup Playoffs to arrive. There are going to be several teams in the hunt to win it all. With that said, people strongly believe in the following: Edmonton Oilers' best chance to represent Canada in the Stanley Cup this year. It's hard to argue with that fact, as Edmonton has been sensational this year.
As of this writing, the team may be in fourth place in the Pacific Division standings, but they're right in the thick of things with their 66 points. While the Calgary Flames may go on to win the division, with the Kings and Golden Knights in the mix as well, that doesn't take away from the excitement surrounding the Oilers right now. They're loaded with talent on offence and defence.
Fans are fired up about their potential. With the team being 31-23-4, they've shown that they've been able to come out on top of some big games. In times of pressure and with their backs against the wall, the Oilers seem to find a way to record a victory. That's going to be crucial for them in the postseason too, as that's when things really get interesting. Could it lead to a Stanley Cup berth?
That's what everyone in the Edmonton area is hoping for. The Oilers had a dynasty in the 1980s, as they won the Stanley Cup in 1984, 1985, 1987, 1988 and 1990. That's five championships in seven years, which is out of this world. No one has been able to match that kind of production in such a short amount of time ever since. However, it's been 32 years since they won the Stanley Cup. Will that change this year?
All eyes will be on Connor McDavid in the playoffs
It goes without saying, but all eyes will be on Connor McDavid in the playoffs for the Edmonton Oilers. McDavid is widely considered one of the best young players in the game, as the 25-year-old star also serves as the captain for Edmonton. McDavid is one of the highest-paid players in the NHL and he most definitely lives up to his contract. Fans love the energy he plays with each game for Edmonton.
McDavid is known for playing with an incredible amount of passion, while he's also scored some great goals for the Oilers. He knows that there will be pressure on him in the playoffs. Whenever you're such a big superstar like McDavid is, people will be expecting you to ball out in crunch time. McDavid understands this, and he already has a postseason mentality inside of him. That is key for the squad.
"It's obviously always disappointing giving up a tying goal late in the game, especially that late in the game. We need to find a way to close that out, but it didn't hurt us, which was good," McDavid said after a thrilling win over Washington last week which the team truly really did need. "These are big points, and they all are from here on out. We need to start piling them up."
With that quote, you can see that McDavid understands just how important each game is going to be for Edmonton moving forward. They had been in a bit of a losing skid, but they were able to bounce back against the Capitals. Now, the hope is that they can keep pushing forward. With the team's confidence, people are checking out NHL betting sites and putting their faith in the Oilers. We'll see if they deliver.
Oddsmakers are big-time doubters in the Oilers getting things done
While Edmonton Oilers supporters are feeling good right now, the oddsmakers are big-time doubters in the Oilers getting things done later this year. Per the best Canadian sportsbooks, the Oilers have been given 31.00 odds. That's not even close to some of the teams who are at the top of the list, which of course includes Colorado, Tampa Bay and Florida. Those three teams are the favourites to win it all.
The Calgary Flames also have high Stanley Cup odds, as do the Toronto Maple Leafs, but there's clearly plenty of doubt in Edmonton. While that may be the case, you never know what this team might be able to accomplish thanks to McDavid being on the ice. Again, he's one of the best, young talents in all the NHL and he's always ready to put on a show whenever he's got his skates on. He's just that great.
McDavid alone has fans believing that this team could potentially go on a deep postseason run and then potentially put themselves in a position to try and compete for the Stanley Cup title. It's going to be a long, difficult road, but this team has the pieces in place to try and get something done here. It'd be a big upset if Edmonton does win the Cup, but don't rule them out. They could prove their haters/doubters wrong.