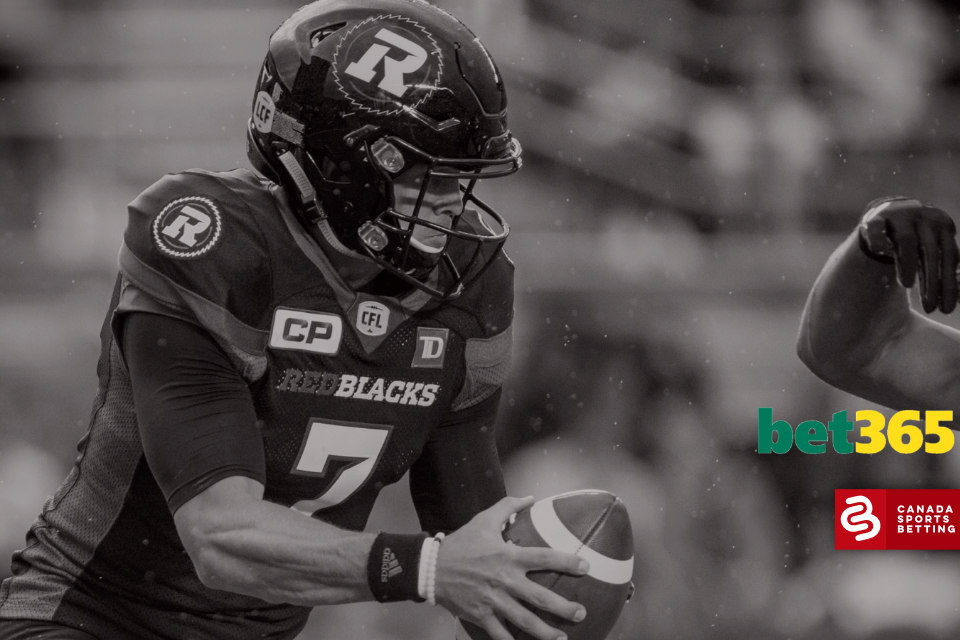 Fans of the CFL looking for the best bets and the CFL picks and betting lines need look no further than the sports betting experts at Bet365. From game lines featuring moneyline, point spread and total wagering, to game props relating to both team and player outcomes, to outrights including the future book CFL odds on which team will win the Grey Cup and who will win individual awards, it's all here.
Betting on the CFL with Bet365
Bet365 offers the best in CFL betting all season long
There are moneylines, point spreads and total wagers on every CFL game
As well, bettors can try their luck at game props and outright wagers on season-long outcomes
The CFL is a uniquely Canadian game. It isn't the NFL and they are proud of that fact. Rosters are constantly in flux and change is as much a part of the game as the wider field, larger end zones and three down football played by CFLers. The CFL is a league built around excitement and that's just one of the reasons why it's proving to be a popular wagering market with online sportsbook Bet365. Those with the necessary acumen to nail down the weekly CFL picks can earn a healthy return on their investment.
The wide open style of play and the roster upheaval tends to make the CFL a much more volatile league to bet on than the NFL. With so much player turnover every season, today's champion can quickly become tomorrow's basement dweller.
That wide field and those large end zones, coupled with the three downs to gain a first down, make it virtually impossible for a team to take the air out of the football once ahead and seek to grind out the clock. Teams must come to the line of scrimmage looking to pass the ball. That makes the CFL an exciting game to play and watch and a potentially profitable game upon which to wager.
CFL bettors will find that when they are searching out a sportsbook that makes the CFL a priority and delivers reliable CFL picks and competitive CFL odds, Bet365 fits the bill.
Bet365 CFL Betting Lines
At Bet365, they are a full-service sportsbook when it comes to getting action on the CFL picks. Each week during the CFL season they offer moneyline, point spread and total (over/under) lines on every CFL game played.
Beyond the straight bets on the game, there are a number of live in-play markets that CFL bettors can partake in during the game. These can include such markets as the next touchdown scorer, the type of score that will be next in the game and which team will commit the next turnover. Bet365 also offers a rich menu of game prop wagers, both team and player props.
And there's no need to miss a second of the action. Bet365 provides live streaming of over 140,000 sporting events every year.
Bet365 CFL Promotions
There are a number of CFL-specific promotions that CFL bettors can take advantage of on the Bet365 web page. A CFL parlay bonus offer will see Bet365 provide a profit boost to any CFL accumulator.
Simply place a pre-game parlay (accumulator) of two or more selections for the CFL on the following two-way markets: Spread, Game Totals, First Half Point Spread, Second Half Point Spread, First Half Totals and Second Half Totals. If the bet is successful, they will add a bonus of 5-70 percent to your winnings. The bonus amount is dependent on the number of selections in the parlay.
Bet365 also provides a CFL early payout offer. Place a pre-game bet on the moneyline market for any game in the CFL up to and including Sunday, December 12, 2021.
For single bets, if the team the CFL bettor backs goes 20 points ahead at any stage during the game, Bet365 will pay out the bet in full regardless of whether the opposition comes back to win the game. For multiple bets, if a team backed by a CFL bettor goes 20 points ahead, this selection will be marked as won within My Bets, with the remaining selections are left to run.
How to Bet On The CFL?
Along with Bet365, there are a number of leading online betting sites that will provide bettors with the chance to place a wager on the CFL picks, whether it be a moneyline or point spread wager, a future book bet, a parlay wager, or a player or team prop wager and Bet365 rates right there with the top sportsbooks. They offer new players up to $200 in bet credits and an array of promotions and parlay offers covering all the major sports. But don't take our word for it. The best bet you can make is to shop around in advance and seek out the right deal before joining one of these sportsbooks. Check out Sports Interaction and Bet99 as examples.
The signup bonus offers that are in place at all of these recommended sites will prove advantageous to the bettor. And since you'll get a good deal wherever you go, why not check out several sites and find the ideal fit for your needs?
Do you want a risk-free first bet as a signup bonus? Perhaps you find a no deposit bonus to be enticing. Or maybe you simply like the feel of cold, hard cash in your account and you want to go for a matching first deposit bonus. Whatever option you choose, you're already a winner.
Remember that new players and returning customers are eligible for better bonuses when they deposit using Bitcoin. As well, take advantage of the betting advice offered at these sites to help newcomers acclimatize to sports betting.
See below the top sportsbooks where you can wager online and choose the right one for you: