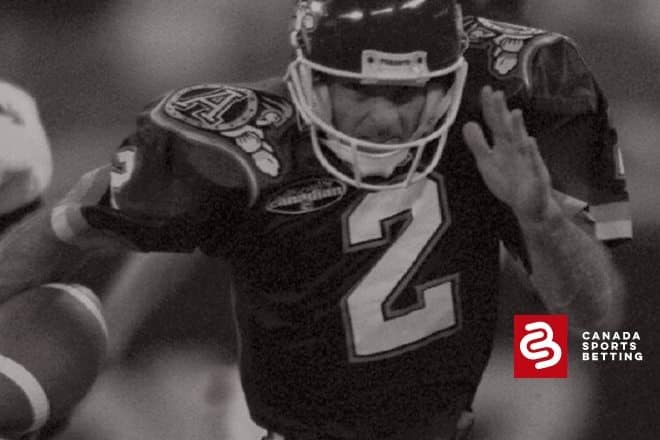 Who are the greatest quarterbacks in CFL history, and will any current player join the list? Find out here!
From the dual-threat passers to guys who played for over two decades – the best quarterbacks in CFL history are a mix of players with a few things in common – the best CFL quarterbacks all have talent and are proven winners.
Best CFL Quarterbacks – Honourable Mention: Bo Levi Mitchell
Of all the active CFL quarterbacks– the one with the best chance of ending his career as one of the greats is Bo Levi Mitchell. This season, Mitchell became the 18th quarterback in CFL history with at least 30,000 passing yards in his career. With his play lately, he has helped Calgary's 2021 Grey Cup odds from the best CFL sportsbooks to remain up there with the other contenders.
While 30,000 is impressive, it is Mitchell's record as a starter that puts him in the conversation to end his career as an all-time great. Entering the 2021 CFL Season, Mitchell had the highest winning percentage in CFL history (.804). It dipped a tiny bit this season – but with two games left in 2021, Mitchell owns an 82-22-2 record (.783).
Mitchell is only 31 and has multiple years left to add to his impressive resume. Along with the best winning percentage in CFL history, Mitchell has two Grey Cups, two Grey Cup MVPs, and twice won the CFL Most Outstanding Player Award.
Number Five – Warren Moon
Although he only played six years in the CFL, there is no denying the success and talent of Warren Moon. Moon tossed 21,228 yards and 144 touchdowns in six seasons – all with Edmonton. His greatest accomplishment was helping Edmonton win five straight Grey Cups from 1978 to 1982.
After leading the CFL in passing yardages and touchdowns in 1983 (and also winning his only CFL Most Outstanding Player award), Moon would take his services south to the National Football League.
Moon's football career lasted 23 years. Along with his accomplishments in the CFL, NFL went to nine Pro Bowls in the NFL and retired from professional football as the all-time leading passer with 70,553 yards.
Number Four – Anthony Calvillo
Although Anthony Calvillo may not have the pure talent of the other guys on this list – in terms of longevity there is no better quarterback. Calvillo spent 20 seasons in the CFL – with 16 of them with the Montreal Alouettes.
Calvillo helped the Montreal Alouettes dominate the East Division during the 2000s. As the starter in Montreal, Calvillo led the team to eight Grey Cups – winning three times (2002, 2009, and 2010). It was a decade where you would find CFL betting lines from the best sportsbooks frequently have Montreal as the Grey Cup favourite.
Over his career, Calvillo set numerous CFL passing records. Calvillo holds the record for most career passing touchdowns (455), passing yards (79,816), completions (5892), and attempts (5892). With Mike Reilly the active leader in passing yards at just under 35,000 yards – it is hard to see any of Calvillo's records broken any time soon.
Number Three – Russ Jackson
Of all of the Canadian quarterbacks in CFL history – none are better than Russ Jackson. Jackson played 12 seasons in the CFL – all with the Ottawa Rough Riders. Originally signed as a defensive back, Jackson quickly made the switch to quarterback – with superb results.
Jackson helped Ottawa make four Grey Cups in the 1960s – winning three (1960, 1968, and 1969). Jackson's individual accomplishments include three Most Outstanding Player awards and four Most Outstanding Canadian awards.
Jackson's skill as a dual-threat quarterback helped him succeed as the league developed into a more pass-friendly league during the 1960s.
Number Two -Damon Allen
Of all the great quarterbacks in CFL history – no quarterback balanced excellent passing skills with the ability to make plays with their legs. Damon Allen finished his 23-year CFL career with 72,381 passing yards and 11,920 rushing yards. Combined, he holds the pro football record for most total yards. His rushing yardage total ranks third in CFL history.
Allen was also a consistent winner. He won four Grey Cups in his career – two with Edmonton, one with BC, and one with Toronto. Allen would also win one Most Outstanding Player Award (in 2005).
Number One – Doug Flutie
Who other than Doug Flutie would rank as the greatest quarterback in CFL history? Despite his smaller stature (5' 10" and 180 lbs), the Boston College star was dynamic in the CFL – setting numerous records and winning multiple Grey Cups.
Flutie only played eight years in the CFL. During that span his accumulated 41,355 passing yards (5,169 yards per season) while tossing 270 touchdowns and adding 66 more with his legs.
During the eight years, Flutie won a record six Most Outstanding Player Awards and captured three Grey Cups (one with Calgary and two with Toronto).
While his short career in the CFL keeps him from holding any career passing marks, he is the holder of numerous season records. In 1991, Flutie set the passing yardage in a season record with 6,619. In 1994, he set the passing touchdown record with 48.
Flutie would return to the NFL in 1998. While he did not have much success in the league, he remains a fan-favourite everywhere he has played. In his NFL career, he made the 1998 Pro Bowl, had a chance to play with the NFL player with the most Super Bowl rings (Tom Brady), and won AFC Special Teams Player of Week – after making the first dropkick field goal since 1941.
Check out below for the best sportsbooks to bet on the CFL!