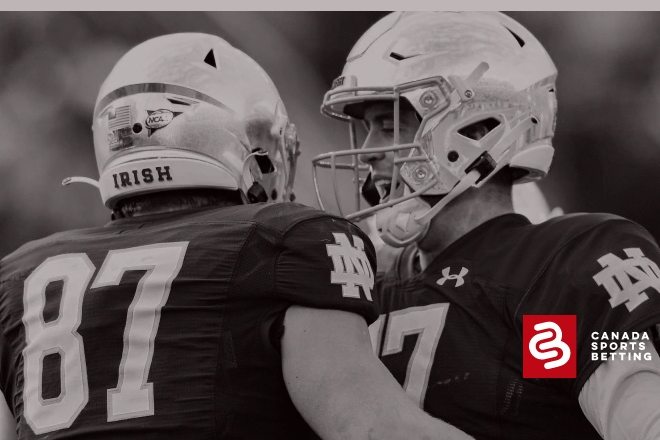 It is the most wonderful time of the year as we look at some NCAA Football Bowl Games. Yes, it is all about New Year's Day. Get the TV on and bet money!
2022 is almost upon us and that means it is time for some early New Years Day Bowl Game picks. This is the time of year where one just throws caution to the wind and takes a shot at a few games. Okay, maybe there are more than a few. There are 44 games that take place. They started on December 17th and go all the way until January 10th.
The bowl names are usually something else in some cases too. That is beside the point. Our focus today is on the New Year's Day contests in particular. There is everything from the Fiesta Bowl which features Notre Dame and Oklahoma State to the Rose Bowl which features Ohio State and Utah. Finally, there is the Sugar Bowl with Baylor and Mississippi.
These games are scheduled at 1:00 pm ET, 5:00 pm ET, and 8:45 pm ET. Here at CSB, we will be taking a look at just the moneylines for these tilts.
New Years Day Bowl Numbers
It is time to dig into the numbers. At the end of the day, three of these teams will get to brag they beat a top opponent. It is not the same as making the college football playoff but it will do. Now, let's see what wagers we can make to maximize some of the potentials.
Most numbers and odds have not moved very much in the past couple of weeks. Unless something happens with COVID, then there may not be much to fret over. Let's bust out that table!
The College Football Bowl Odds are an interesting sort this bowl season. New Years Day Bowl Games can be their own animal. With all the pageantry, pomp, and circumstance, these games often take on a life of their own. It is time to look at some bowls.
Fiesta Bowl Pick: Notre Dame versus Oklahoma State
The No. 5 Notre Dame Fighting Irish face the No. 9 Oklahoma State Cowboys from Sun Devil Sunday on Saturday afternoon, January 1st at 1:00 pm ET. Beautiful Glendale, Arizona is the locale for the Fiesta Bowl. Notre Dame comes in with an 11-1 record while Oklahoma State is 11-2. The only blemish for the Fighting Irish was their loss to Cincinnati in the middle of the season. The Cowboys most recently lost to Baylor in the Big-12 Championship Game.
Notre Dame was a team waiting to lose all season in the early going. Their offensive and defensive line play was horrendous. It was almost as if losing to Cincinnati was a blessing. After that, they improved greatly and may have been one of the four best teams in the nation. They blew out their last four opponents like a top team should. Even the North Carolina game was not as close as it looked. They finally came together.
For Oklahoma State, it was a different story. They survived "Bedlam" as the Cowboys escaped the Sooners. Mike Gundy later said that Oklahoma State probably got a bit complacent. The Baylor Bears took advantage of that going up 21-3 early. Oklahoma State could not come back and fell short by one yard basically. With that, their national title aspirations went away.
Notre Dame comes in with a slightly better offence and a more explosive defence. This game boils down to execution. New coach Marcus Freeman seems to have the Fighting Irish engaged in a big way. Mike Gundy and Oklahoma State will put up a big fight but the balance of Notre Dame will be too much late in this one. Our Fiesta Bowl pick is with Notre Dame.
Rose Bowl Pick: Utah versus Ohio State
It is the "Grand Daddy Of Them All". The No. 6 Ohio State Buckeyes battle against the No. 10 Utah Utes from the Rose Bowl in Pasadena, California. Utah may be one of the hottest teams in the nation coming in. The Utes have won six straight games which include two demolitions of the Oregon Ducks. Those very same Ducks beat the Buckeyes at Columbus earlier in the season by the way.
Utah outscored Oregon 76-17 in those two meetings and the second one was on a neutral site. Their strength and balance should scare C.J. Stroud and the Ohio State Buckeyes — especially that Utah defence. Now Ohio State did average 45.5 points per game but against Michigan, they wilted under the pressure. If Utah even brings a fraction of that, the Buckeyes are again in trouble.
The 1-2 punch of Cameron Rising and Tavion Thomas combined with their defence gives us hope that Utah can pull off a mild upset. Take Utah and the 3.05 odds to get the win as our Rose Bowl Pick.
Also, go check out some World Junior Ice Hockey Championship betting as well.
The Quick Sugar Bowl Pick: Baylor versus Mississippi
It is rare to see this but the Baylor Bears and Ole Miss Rebels are a virtual pick-em on New Years Day. Baylor comes in ranked #7 and Ole Miss is #8 in the nation. Baylor relied on its defence in the second half to win the Big-12 Championship game. It is their defence and runs game that should control the clock and be the difference in a close game. Our pick is to take the Baylor Bears at the 1.90 moneyline.
Lastly, do check out the free NFL picks as Week 17 will be a pivotal one.