Find the best US Open tennis odds and many other US Open betting resources like picks for every round here.
The odds were last updated on May 23, 2022:
US Open Tennis Betting Canada
2020 U.S. Open Men's Champion
Congratulations to 2020 U.S. Open Tennis Champion Dominic Thiem, winning the final 2-6, 4-6, 6-4, 6-3, 7-6 to claim the victory over Alexander Zverev.
2020 U.S. Open Women's Champion
Naomi Osaka beat Victoria Azarenka 1-6, 6-3, 6-3 to claim her first US Open title, completing her third grand slam win. A bright future for this young star.
US OPEN ODDS
Betting on the U.S. Open can be done before the start or during the match. The most popular bet to make before the match starts is on who will win.
Other popular prematch wagers available involve how long the match will last and some over/under bets on total aces and faults. Our online partners offer the best odds for betting in Canada, which includes the U.S. Open.
Odds on matches open after the two players in the match are determined. Round 1 odds start appearing after the draw is set. From Round 2 onwards, U.S. Open tennis odds are available once the previous round ends.

Some odds are slower than others to appear. For example, if a player looks injured entering the next round, then some online sportsbooks may delay releasing lines until an injury report is available.
Betting is also available during the match. U.S. Open live betting odds adjust as the match is played, reflecting the chances each player has of winning.
These odds open as soon as the match starts and remain available up until the final set (although some online sportsbooks may close betting in the event the match is very one-sided, with almost a zero-percentage chance of a comeback).
HOW TO MAKE MONEY WITH US OPEN ODDS?
The first step to making money betting on the U.S. Open is picking an online sportsbook. Before finalizing on an online sportsbook to bet on the U.S. Open, we recommend our readers compare bonuses, odds and mobile sites.
All the Canadian betting sites we recommend offers a bonus to new customers. Some may even offer special promotions on the U.S. Open. Comparing the different bonuses and promotions available is the first step in making money on the U.S. Open.
Our readers should also compare the different odds markets and the quality of odds available. While all our top-rated partners offer U.S. Open tennis odds, they will differ in the bets available, when they open certain markets for betting and the odds they offer.
We go into more details on this in a later section, but for those ready to bet on the fourth Grand Slam of the year, can check out our list of the best Canadian betting sites.
Also, many Canadians are turning to mobile websites and applications for their sports betting. Our partners offer the best mobile betting experiences for Canadians looking to wager on the U.S. Open.
How to Find the Best Welcome Bonus for US Open Betting?
When new users sign up for an online sportsbook, they are eligible for a welcome bonus, which they can use to bet on 2019 U.S. Open odds (as well as on other sports).
To receive a welcome bonus, a user needs to create an account and make a deposit.
Sportsbooks offer two main types of online betting deposit bonuses to their customers. They are initial deposit bonuses and free bets.
Initial deposit bonuses are the most common. An initial deposit bonus is when an online sportsbook matches a user's first deposit on the website.
Most online sportsbooks will match first deposit amounts starting at $20 up to $200 (although a few partners will match higher amounts through special promotions).
These bonuses are ineligible for withdrawal. Bettors need to use the bonus for sports betting.
They also need to need a rollover requirement before they can make full withdrawals from their account.
The terms of this bonus usually require users to wager six to ten the amount of their first deposit and bonus before they can make full withdrawals (although some partners offer partial withdrawals before they hit the rollover requirement).
Free bet welcome bonuses are free wagers given to new customers.
The amount, frequently ranging between $5 and $10, are given to users after they make their first deposit. This money is only useable for betting. Free bets often come with a minimum odds requirement, with the industry-standard around 1.40.
Which Sportsbook has the Highest US Open Odds?
Knowing the online sportsbooks that offer the best odds to best on the U.S. Open is a time-consuming ordeal to research. We here at Canada Sports Betting have dozens of partners offering U.S. Open betting lines.
There are two options to finds the best odds on the U.S. Open. The first is to check every website individually, then compare their odds (a lot of work).
The second is to check out our odds widget, which draws in odds from multiple sportsbooks at once. We often headline some of the sportsbooks offering U.S. Open promotion, making this a way to not only find great odds, but also extra bonus when signing up and placing bets.
Which Sportsbook has the Most Current US Open Odds?
The first futures market to open is on odds to win Men's U.S. Open tennis and odds to win Women's U.S. Open tennis champions.
These betting options open well before the tournament begins and even before qualifying is done and the bracket is set. Every online sportsbook offers the main futures, but a few options, including Bet365, have more futures available.
To bet on futures, pick the tennis player you think will win the tournament and wager. Also, it is possible to wager on multiple futures and still make a profit if one of them is a winner, as U.S Open odds 2019 on most range from 3.0 to over 100.0.
Some of the other futures available focus on the odds of the top-ranked tennis players meeting in the finals, odds on certain players losses before a certain round and betting lines on the winners of the doubles portion of the U.S. Open.
When pre-match odds and tennis prop bets open is different per online sportsbooks. Some of the larger online sportsbooks such as William Hill open their tennis markets quicker than some competitors.
Other partners, such as Sports Interaction (SIA), will follow the odds available on the biggest online sportsbooks and Vegas before they set their lines.
The main tennis markets that open on tennis include who will win the match and how long the match will last.
Online sportsbooks also have different prop bet options on tennis. Betway is one of the best online sportsbooks for betting on tennis propositions.
Throughout the biggest tennis tournaments including the U.S. Open, Betway's team creates multiple tennis prop bet lines for every match. Some bets include total aces, total faults, and if there will be a tiebreaker.
Can I Bet on US Open Odds with Mobile?
Betting on U.S. Open odds is easy to do using one of our top-rated partners' mobile websites. All the sites we recommend come with a fully functioning mobile site along with a desktop counterpart.
There are a few differences when betting using mobile sites and mobile betting apps. The main differences what is visible on mobile compared to the desktop. Mobile sites scale down the experience to fit the smaller scale size.
Most mobile options show only one betting option at a time. All betting options are still available on mobile. They just need to be selected from a dropdown menu at the top of the page.
Sports Interaction (SIA) has a great and easy to navigate mobile website. Its decent and fluidity make it a great place to bet on the U.S. Open.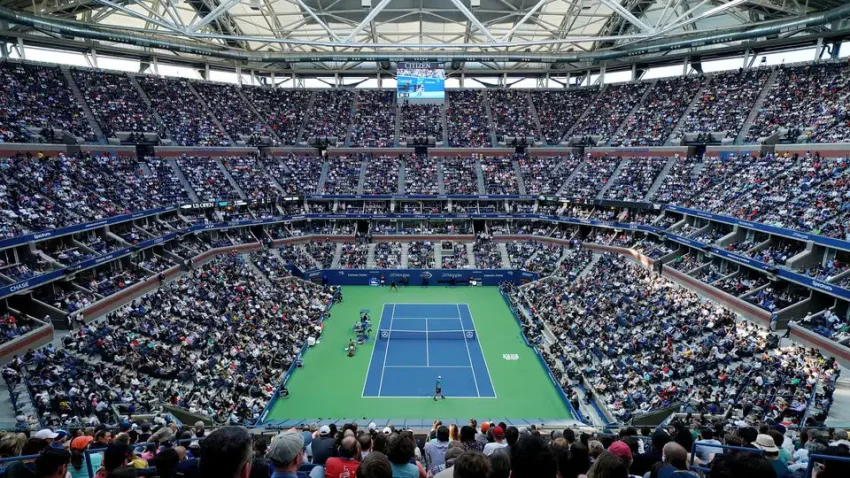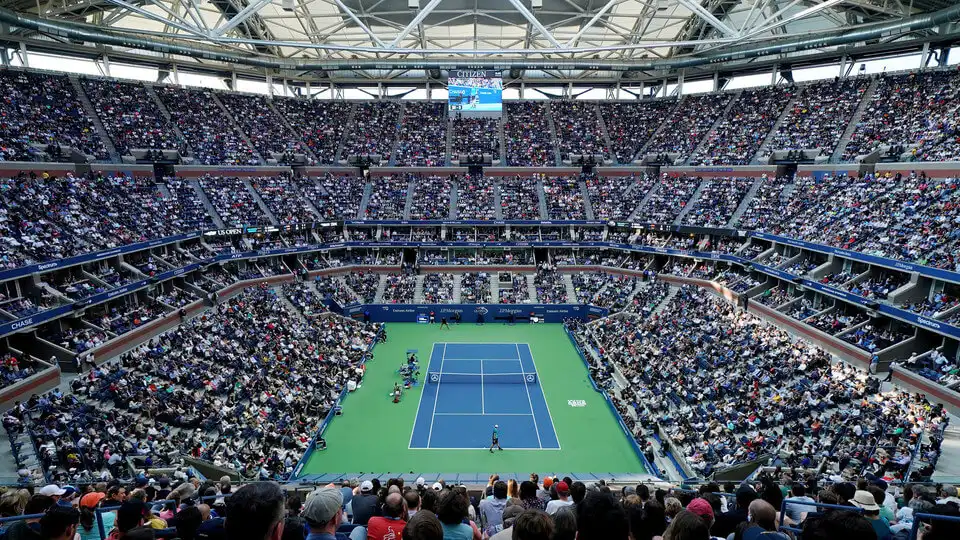 Learn to Make The Best US Open Bets Tonight
When ready, follow our U.S. Open picks, for the best US Open tennis betting odds and predictions. We update our picks after every round and draw the best odds from the top online sportsbooks available in Canada.
Our team of expert research everything U.S. Open to prior our readers with great advice and tennis odds, to make betting on the final tennis major of the year easy. Following our page for all your U.S. Open predictions and betting needs.
All-Time U.S. Open Champions
Chris Evert and Serena Williams are the joint-most successful women at the U.S. Open in the Open-era with six Championships each. In days long since past; Molla Bjurstedt Mallory won eight tournaments between 1915 and 1926.
Roger Federer is tied with Jimmy Connors and Pete Sampras (below) with five U.S. Open titles in the Open-era, two behind the record of seven achieved prior to professionalism. Novak Djokovic and Rafael Nadal have won three titles.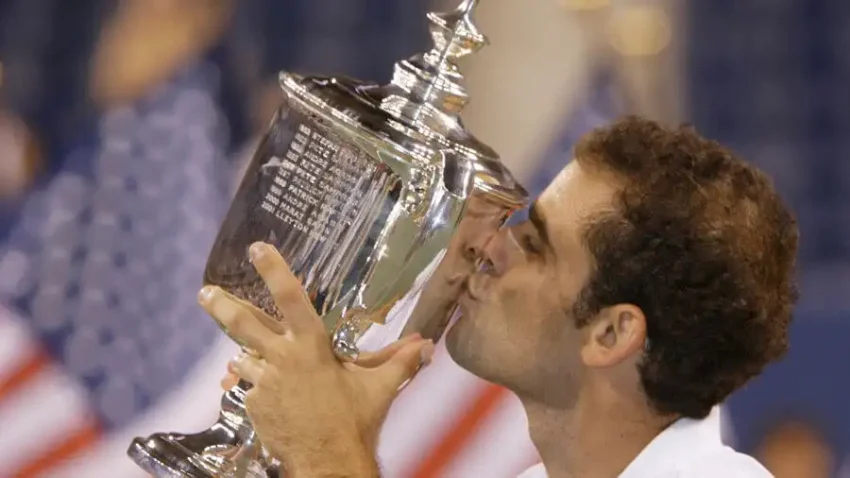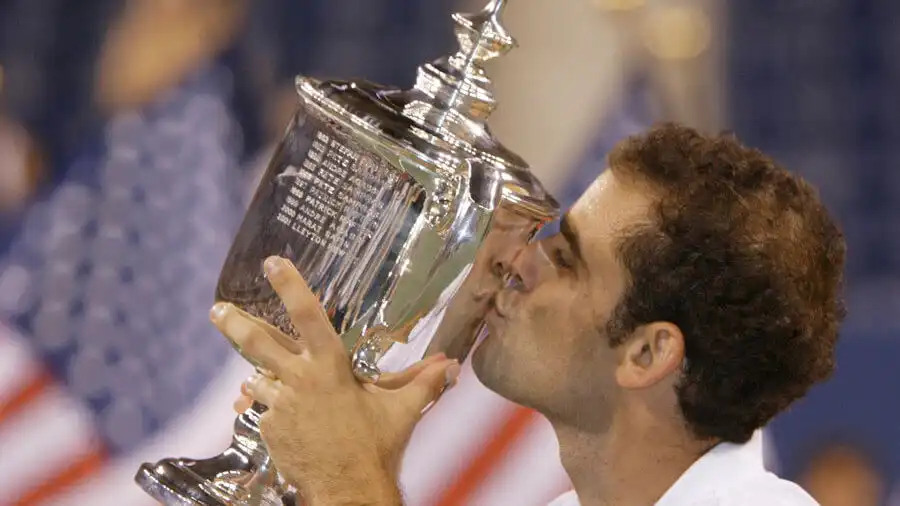 Men's U.S. Open Tournament Singles Champions:
| Player | Wins | Year of Titles |
| --- | --- | --- |
| William Larned | 7 | 1901, 1902, 1907-1911 |
| Richard Sears | 7 | 1881-1887 |
| Bill Tilden | 7 | 1920-1925, 1929 |
| Jimmy Connors | 5 | 1974, 1976, 1978, 1982, 1983 |
| Pete Sampras | 5 | 1990, 1993, 1995, 1996, 2002 |
| Roger Federer | 5 | 2004-2008 |
Women's U.S. Open Tournament Singles Champions:
| Player | Wins | Year of Titles |
| --- | --- | --- |
| Molla Bjurstedt Mallory | 8 | 1915-1918, 1920-1922, 1926 |
| Helen Wills Moody | 7 | 1923-1925, 1927-1929, 1931 |
| Chirs Evert | 6 | 1975-1978, 1980, 1982 |
| Serena Williams | 6 | Â 1999, 2002, 2008, 2012-2014 |
| Margaret Court | 5 | 1962, 1965, 1969, 1970, 1973 |
| Steffi Graf | 5 | 1988, 1989, 1993, 1995, 1996 |
US Open Betting Odds FAQ
How to bet on US Open odds?
With the US Open set to kick off on June 17 and run through June 20 in Flushing, N.Y., fans are already looking on which bets they can make. There are countless wagers that will be made available to you. This includes picking an overall champion, who will make it to the championship round, how far certain players will make it and much more.
In the 2018 US Open, Novak Djokovic was able to take down Juan Martin del Potro in the championship round. He took home the title after winning in three sets: 6-3, 7-6, 6-3. Will Djokovic be able to go back-to-back, or will someone else take the crown? This and other bets are ready to be made.
Where to bet on US Open odds?
There are countless outlets for sports bettors to get in on the action for the 2021 US Open. This includes the numerous partners we have here at Canada Sports Betting. Whether it be Sports Interaction (SIA), BETWAY, Spin Palace Sports or BET365, your options to put money down on the US Open are either already waiting for you, or will be available shortly.
With the tournament set to begin in late August, more and more bets will be posted on different sites a little bit closer to when the first ball is served. Multiple different prop bets will also arise.
Is US Open betting legal in Canada?
Betting on the US Open is completely legal for Canadian citizens. Should you decide to bet online to pick someone like Rafael Nadal or Novak Djokavic to win the men's championship, you're more than in the right to do so.
However, you must be at least 18 years old in order to place a bet. Anyone under 18 is still considered a minor, making gambling on the US Open 100 percent illegal.
Can I make US Open bets with bitcoin?
While bitcoin continues to gain popularity throughout the world, it's also become a way for gamblers to make their bets online.
While most sites prefer not to go down this road, places like TigerGaming and 22Bet  accept bitcoin as a form of payment. Other outlets prefer to go the traditional route of using debit/credit cards or inputting bank routing numbers, but there are several bitcoin options out there available.
Which US Open sites accept Paypal?
Similar to bitcoin, Paypal has also seen an increase in outlets allowing their gamblers use it as a form to put down money on sports bets.
Here at Canada Sports Betting, we actually encourage our users to go the PayPal route due to its convenience and cost effectiveness. Sites like BET365, BETWAY and William Hill are highly recommended because the processing fees are either minimal or in some cases non existent. It's truly a win-win for bettors out there to use Paypal.
How to compare US Open odds?
US Open odds are going to vary depending on which outlet you visit. After all, there are hundreds of different places out there, where one tennis star may have better odds than another depending on where you visit.
One player might be the No. 1 choice and have 1.15 odds to be named the champion, while another site may have him with 1.20 odds. It all depends.
With that being said, the better the payout plays a huge factor in which site to choose. If you bet $50 on Rafael Nadal to win on one site and it pays you $65, but another pays out $72, obviously you're going to go with the one that gives you the extra $7 on your wager.
What are the types of US Open odds?
As stated above, many more odds and bets will be released for the 2021 U.S. Open a little bit closer to the start date. However, different odds you can expect include match-by-match lines, a futures pick on who will win the championship, predicting how many sets each match will be played and many more.
How does betting with US Open odds work?
In the US Open, popular bets expected to be made include the over/under odds and the correct score odds. With the over/under, you simply must decide how many games you think a match will last.
For example, if the under for a match between Rafael Nadal is set at 30, he and his opponent must play 29 games or less for you to win. So if Nadal wins 6-2, 6-2, 7-6, the total games played is 29, meaning you've won.
For example, if the under for a match between Rafael Nadal is set at 30, he and his opponent must play 29 games or less for you to win. So if Nadal wins 6-2, 6-2, 7-6, the total games played is 29, meaning you've won.
Why do US Open odds change?
US Open odds, like virtually all sports out there, can change due to a number of different reasons.
Rafael Nadal could enter the tournament with 1.50 odds to win the title, but say he injured his knee in the first round and is clearly slowed down by it to scrape by a close win. You could see his odds drop to 1.85 because of this.
Or, say an underdog like John Isner dominates and advances all the way to the semifinals. Entering the final four, Isner's odds would have surely skyrocketed in terms of potentially taking down the field and winning it all.
How do US Open odds work?
Moneyline odds would just match up two tennis stars against one another and then it's up to you to decide who you think the winner will be.
An example of this would be if we take a look at the women's side of the tournament. Say Naomi Osaka is getting ready to battle Serena Williams for all of the glory, and she had 2.03 odds to take Williams down. If you were to put $100 on Osaka to win and she gets the job done, you'd earn a profit of $103.
Who makes US Open odds?
Full US Open odds are often released a little before the first match is played in Flushing.
Different bookmakers out there release odds, but for the most part, the majority of different outlets are within spitting distance of one another if they're not the same.
You can find a boatload of different bookmakers, with all the odds you need, here at Canada Sports Betting.
Where to find the best odds for US Open tennis betting?
Our partners here at Canada Sports Betting will have you covered for all your 2021 US Open odds needs both leading up to the tournament and after things get underway.
Places like Sports Interaction (SIA), BET365, BETWAY, William Hale and others will provided up-to-the-second odds and updates for you to be fully prepared to make your best bests possible.
How to read US Open betting odds?
Though reading US Open betting odds seems like it might be a bit tricky or confusing, that's certainly not the case. It's always smart to remember the lower the number is, the more a player is considered a favorite and vise versa.
So, if Naomi Osaka has 1.89 odds to win the title and Serena Williams' odds are 2.40, you'd earn less of a payout to bet on Osaka than you would on Williams.
What if US Open odds change after I made a bet?
Once you lock in your bets for the 2021 US Open, they can't be changed.
For example, if you picked Rafael Nadal the day before the tourney starts at 1.85 to win, but then his odds dropped to 1.95 on Day 1, you can't go back and expect to be paid out with the 1.95 number. You're locked in with your 1.85 wager as soon as you submit and your bet goes through.