Recognizing the best Canadian tennis player in the world, we dedicate an entire page to Bianca Andreescu odds.
Bianca Andreescu 2022 Tennis Futures
Bianca Andreescu odds are available right here. There are many major tournaments yet to be played this year. Below are the betting odds for the final major of 2022 updated on June 16, 2022:
It's been a couple of years now since she won her maiden grand slam title, the 2019 US Open, Andreescu stunned the tennis world by beating the greatest female player of all time: Serena Williams.
Andreescu burst into the scene in 2019 by defeating former world number one's Caroline Wozniacki and Venus Williams en route to finishing second in her first WTA singles tournament of the year.
She had a breakout performance by winning the Indian Wells tournament upsetting several major names like two-time grand slam champion Garbine Muguruza, world number three Elina Svitolina and former world number and three-time champion Angelique Kerber.
Injuries would slow down Andreescu for chunks of 2019 and she did not advance past the second round in the major tournaments.
This is why Andreescu's betting odds always pegged her as a longshot despite her budding potential.
She finally had a major breakthrough when she came up huge in home turf by becoming the first Canadian to win the Rogers Open in 50 years.
Despite her success, she was a 15-1 underdog heading to the US Open where she soundly defeated heavy favourite Serena Williams in straight sets to become the first Canadian to win a major grand slam tournament.
Keep an eye on Andreescu and check the betting odds for tennis here.
Andreescu Betting Odds
We display all of Andreescu's betting odds regardless of what and where she is playing. Canada's newest sporting sensation isn't just big nationally as she's set to become tennis's next big star.
Congratulations to her, and all the sharp bettors who bet her to win as a sizable underdog via US Open odds. And she's just getting started.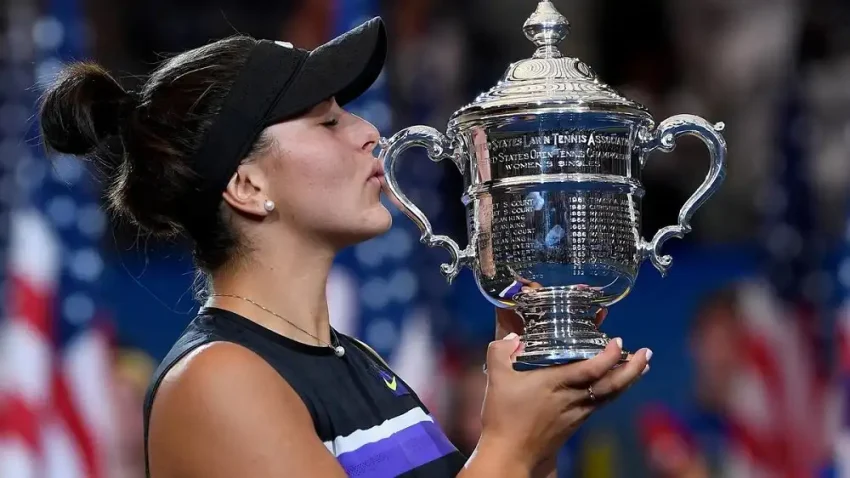 Look through Andreescu's odds to discover that she was already making noise as a prospect when she came up early in 2019.
The US Open win was no fluke. Bet on Andreescu to continue winning and the star women's tennis has needed since Serena Williams.
Our Guide to Andreescu Betting
Tennis betting is what Andreescu betting is.
Just like other sports like football, tennis's main three odds are the moneyline (straight-up betting), spread, and totals (over/under). But unlike football, these are different due to the different rules in tennis.
The spread is determined by how many points the player wins or loses by.
Andreescu as a favourite is showed as a minus (e.g. -3.0, she needs to win by three points or more) or a plus (+3.0, she can lose by up to three points). You calculate this by adding her total points for the match and deduct it from her opponent's.
For totals, you add both Andreescu's points plus her opponent's and you bet whether it will go over or under the bookmaker's number.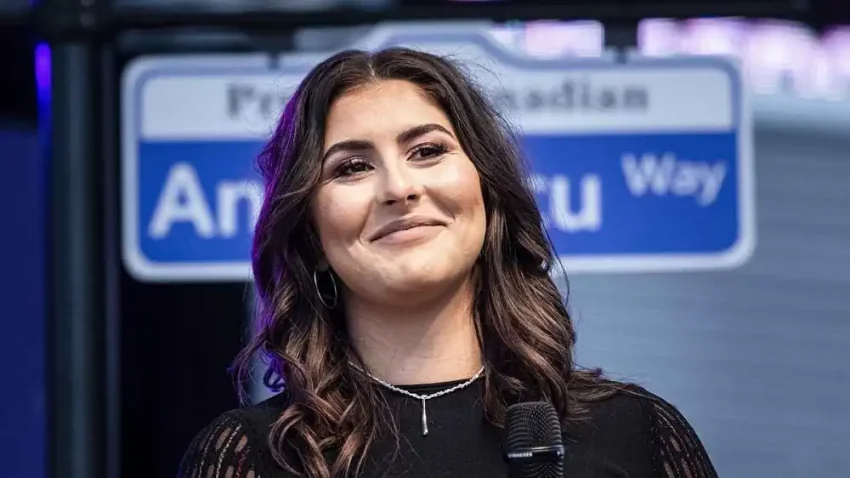 There are many tennis tournaments and they happen throughout the year. Andreescu won't play in every single one but as a prominent player, she will be featured in the best and biggest tournaments.
Most tournaments have six to seven rounds (not including the qualifiers, which are two to three rounds by themselves).
Bianca Andreescu's odds change depending on the tournament. She does not need to qualify for most tournaments, especially if she's a ranked player.
If she falls from the rankings, she will need to partake in qualifiers for major tournaments (unless she gets a "wild card" berth).
As talented as Andreescu is, she won't reach the Finals in most tournaments. And upsets are common in women's tennis.
Although if she is the real deal, Andreescu bets to consistently win matches and reach the deeper parts of a tournament.
Pre-match bets
These are the basic bets for Andreescu's betting odds – like the ones we discussed earlier.
These are bets where you choose who wins through moneyline or spread or what the total points will be (over/unders). Additionally, there are prop bets.
Prop bets are side bets that are more specific. Examples of these are bets like "to win first set", "total match games", and "total match sets."
Bets like these are perfect for avid tennis fans or for you if you notice trends with players like Andreescu (she can start slow and make a comeback).
These bets are ever-present and available in most tennis tournaments, especially the major ones where we have tennis betting odds for Wimbledon and others.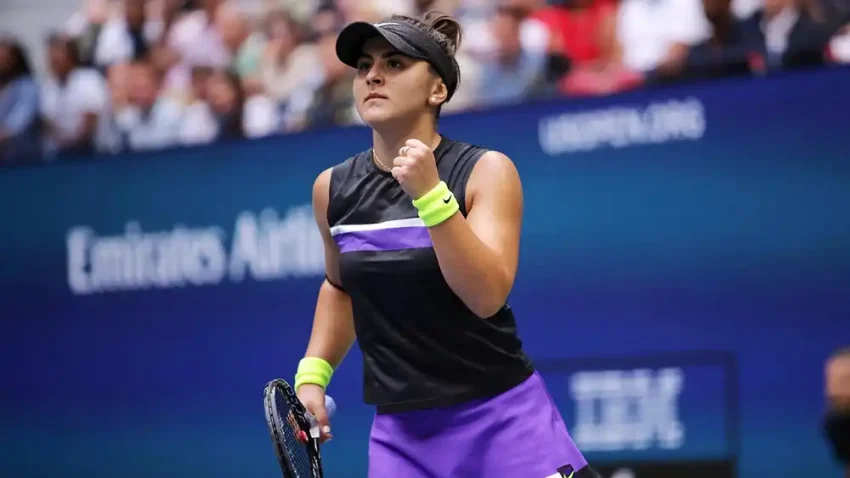 Live bets
Live betting is your ability to place bets when the match has already started and tennis features live bets like most major sports. It works the same, essentially.
Check your sportsbook to find where the live betting portion is.
It opens during breaks in the game: either after a match point, a set is over, or when there is extended delay in action. It depends on the sportsbook.
If you want to properly use live betting, you will need a solid betting app or a sportsbook with a good mobile website.
Many of these apps are designed for live betting making it easier for you to navigate (as opposed to a desktop).
You will also need to be familiar when bets open and when they close. Speed is the essence. You may need to be quick as bets go live for a brief moment and are taken off the board rather quickly.
You can live bet on Andreescu and tennis whenever it is available. It is offered for most tournaments or matches, especially the grand slams. Our French Open odds will include live betting.
Andreescu Futures
Futures is a popular bet in sports and involves you betting the outcome of matches, tournaments, and games that are still to come – such as the next US Open.
Andreescu's odds to win the 2021 US Open are just among the many types of bets you can place. You can bet on her or anyone.
"Special" futures bets also happen once in a while such as whether Roger Federer will play the next French Open or if Serena Williams will play a game in 2021.
Since these bets are special, not every sportsbook offers them. You will need to be crafty in searching for these types of bets.
Speaking of futures bets, the Australian Open odds are already taking futures bets and Andreescu is once again one of the favourites to emerge.
When placing futures bets, be wary of the time period between your bet and the event. The farther away from the event, the more likely something happens that could sink your bet.
If ever an injury happens or Andreescu can't participate, your bet will be given back to you (depending on the conditions of the book).
How to make the best Andreescu Bets
You've probably heard this before but, to make the best Andreescu bets, you will need plenty of research. There are no two ways about it. "If you fail to plan, you plan to fail," as the saying goes.
Getting to know Andreescu intimately will give you an edge over the countless bettors wh just go by their whim or by what analysts say or by what statistics show.
They're missing that hidden layer that could determine a bad performance from a breakout game.
Women tennis players are inconsistent unless they're an all-time great like Serena Williams.
Andreescu is relatively unproven. And while she has all the tools to be a legend, injuries and inconsistencies can plague her as they did to so many promising players before her.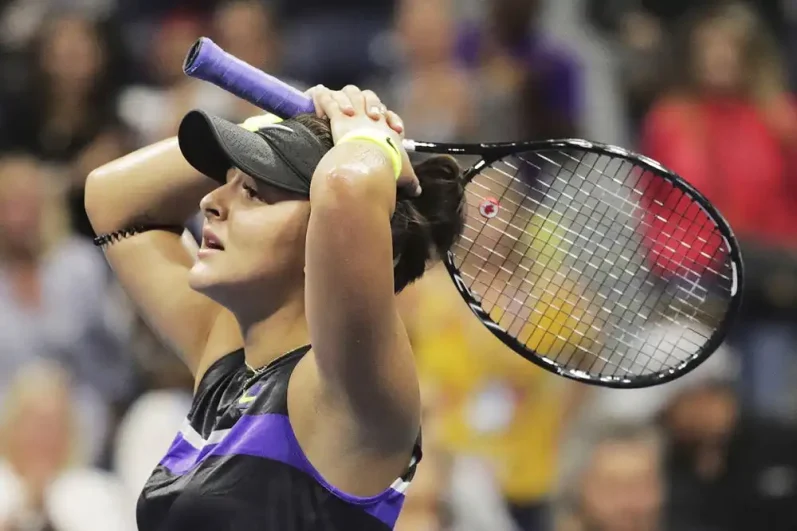 Additionally, you can read up on the different sportsbooks for tennis. This is something many bettors don't even consider. You can take advantage of the different odds, the signup offers, and the different markets. Depending on your style, some books will also be better for you.
Spread your options around and keep a close eye on Andreescu (and her opponents). Getting her at the best odd gives you a huge edge, especially if you get info before everyone else.