Each year Super Bowl fans are presented with a vast range of Super Bowl prop betting options. One which always draws in wagers from football fans is the Super Bowl Gatorade colour bet. The Gatorade bath has become synonymous with the big game in February, with viewers around the world guessing what colour it will be.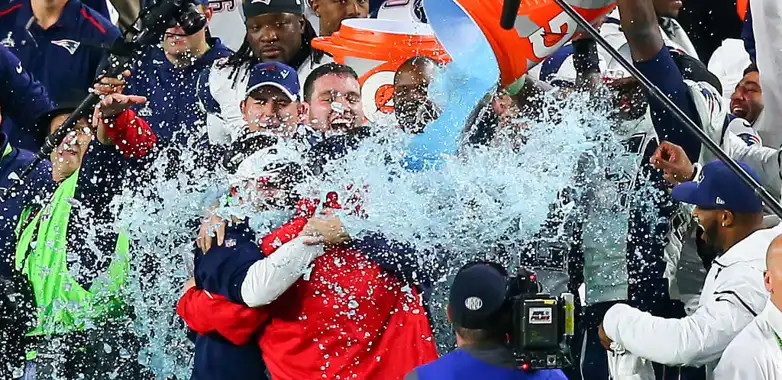 The ceremonious drenching of the winning coach has become something iconic. Although it may seem quite odd, it's a tradition that has carried over from other major sports events. Sports fans are now used to placing a Gatorade Super Bowl bet, with the odds often looking quite favourable. The odds were last updated on February 2, 2022:
It was the Kansas City Chiefs who won it back in 2020, with head coach Andy Reid getting covered in the Orange Gatorade electrolyte drink – which closed at 3.00 with many major sportsbook providers. Within this article, we'll cover everything you need to know about this wet and colour celebration!
A Brief History of the Gatorade Shower
As we mentioned before, the Gatorade shower received by Bruce Arians in 2021 was blue. But, what will the Super Bowl betting Gatorade colour be in 2022? Well, let's take a glance at what's happened in recent years – below is a list of recent Gatorade shower colours:
2021 – Tampa Bay Bucs – Blue
2020 – Kansas City Chiefs – Orange
2019 – New England Patriots – Blue
2018 – Philadelphia Eagles – Yellow
2017 – New England Patriots – None
2016 – Denver Broncos – Orange
2015 – New England Patriots – Blue
2014 – Seattle Seahawks – Orange
2013 – Baltimore Ravens – None
2012 – New York Giants – Purple
2011 – Green Bay Packers – Orange
2010 – New Orleans Saints – Orange
2009 – Pittsburgh Steelers – Yellow
2008 – New York Giants – Clear
2007 – Indianapolis Colts – Clear
2006 – Pittsburgh Steelers – Clear
2005 – New England Patriots – Clear
2004 – New England Patriots – None
2003 – Tampa Bay Buccaneers – Purple
2002 – New England Patriots – None
2001 – Baltimore Ravens – Yellow
What to do when placing a Gatorade Super Bowl bet
Like many of the Super Bowl prop betting lines, the Gatorade bath is mainly guesswork, unless there is some form of information leak. As a bettor, your best bet is looking at what's happened in recent years.
As the NFL sponsor since 1983, Gatorade has really benefited from this particular event. But, what do the stats look like? Well, since 2001, this is how the colours tally up:
Clear – 4
Orange – 4
Yellow – 3
Blue – 3
Purple – 2
None – 4
While conclusions can be drawn from these stats, it's difficult to say if the assessments made will actually mean anything on the day. Though one does suspect that certain colours are due for a comeback. Clear hasn't shown up since 2008 but did have a three-year run between 2005-2008. As well as that, there has been a pattern for Orange, which has shown up randomly over the years and is certainly one of the most popular colours.
The smart money says to choose a colour that hasn't shown up recently but is also one of the favourites. One question we often get from our readers is "why don't we see red at the Super Bowl?" Red remains a longshot in the oddsmakers eyes, but maybe worth a punt.
Where the Gatorade Shower Started
The story goes that coaches were first getting drenched after the Super Bowl back in 1984 when Jim Burt of the New York Giants decided to soak coach Bill Parcells with whatever he had in the cooler at the time.
A tradition that has gained so much traction over the years, that now in 2022 we have millions swarming to the Super Bowl betting lines for the Gatorade colour.
This unique heritage has extended beyond the sport of football, as other coaches are receiving a similar treatment for their accomplishments in sports such as baseball, basketball, soccer, among many others.
See below the top sportsbooks where you can wager online on the Super Bowl Props and choose the best one for you:
Super Bowl Gatorade Shower FAQs
Is it worth making a Super Bowl Gatorade color bet?
It absolutely is, every year millions of sports fans worldwide place a wager on this unusual tradition. As a prop bet, it's mostly for fun, yet remains very popular.
Can bettors profit making this kind of bet?
Of course. While it is a prop bet, it remains extremely popular within the betting community, as it gives bettors the opportunity to place a bet away from the standard moneyline and over/under markets.
Are Gatorade Super Bowl bet lines fixed?
Not to our knowledge. The integrity of the tradition is dependent on there being no leaks and ensuring that everything is done fairly – there has been no history of foul-play.
Is this a prop bet?
It is indeed, like many other prop betting lines. It offers bettors the opportunity to wager on an aspect of the Super Bowl that doesn't focus on the outcome of the game.
What is the best colour to bet on for the Super Bowl Gatorade shower?
This isn't something we can answer! You'll notice throughout our article we've mentioned what's happened in previous years and this information could help you to inform your decision.