The Super Bowl typically lasts up to 3 and a half hours, which means when you invite all your friends over for the game, you better have some other way of keeping guests entertained! The Super Bowl winners' odds are now available. The odds were last updated on February 2, 2022:
The option of playing games is important, as you cannot rely on the fact everyone will be fixated on the games – sometimes people just come for the food! There are many different ways to bet on the Super Bowl, but sometimes guests prefer to avoid betting.
If you plan it correctly, even if the team you're supporting loses, the evening will be one people keep talking about for some time. We will cover all kinds of games, from simplistic games to more serious drawn-out ones. Stayed tuned to find out more about these excellent Super Bowl 2022 betting games!
Best Super Bowl Party Games
You may be sitting there thinking it's kind of odd to promote playing Super Bowl at home betting games when viewers could just watch the game itself. However, other than the dedicated football groups, there are always going to be a few stragglers that take almost no interest in the game.
For these types, we wanted to provide a source of entertainment for them. A few fun little games can really add colour to the day and turn you into the ultimate host!
The principal purpose of Super Bowl party games is just that – to ensure everyone has a fun night. The Super Bowl lovers here have put together a collection of their favourite games for sports fans to enjoy during the commercials.
Super Bowl Trivia
One of the best Super Bowl 2022 betting games is Super Bowl Trivia – test your guests on their football knowledge, regarding everything Super Bowl.
From the most trivial questions to taking an in-depth look at the history of this sporting extravaganza. Tailor the questions to suit your audience, make them suitably difficult – don't make them too hard otherwise your guests will lose interest!
Football Bingo
Bingo is always a great option for hosts, as it's easy to play and it always brings about a good level of excitement amongst participants. Except, as it's the Super Bowl, the bingo will be geared towards football.
Football Bingo will take place during the game, with players marking off things such as fumbles, incomplete passes, tackles, completed passes, etc… A great way to get everyone involved in the game, even if they don't enjoy football!
Super Bowl Word Scrabble
Sometimes a hit, sometimes not! It largely depends on your audience. Some people simply don't enjoy word scrabble-type games – but for those that don't, try to make the words really easy, so they don't drift off. We highly recommend this game and it's one we always play in the office during the Super Bowl.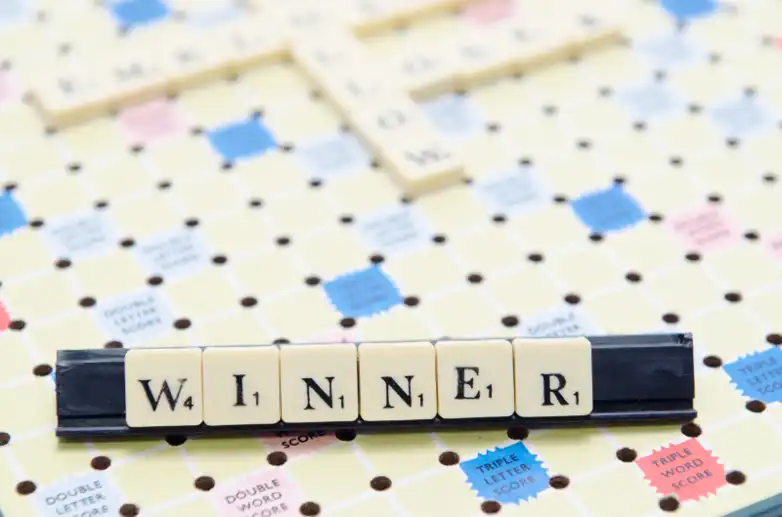 Super Bowl Guessing Game
This one is always a lot of fun. Trying to complete the most correct estimations about how the game will unfold is always fun. Questions can vary, with things such as what will the coin toss be, to who will make the first touchdown. The guessing options are endless to those that create the game! Think of some great guessing questions, or download a printable sheet online.
Football Charades
A real family favorite! For those that have hosted a dinner party, or love to hang out with the family, they'll know the value of charades. A game that people of all ages can relate to and enjoy. It's best to think of a variety of difficulties when setting up this game, as some players are natural actors and thrive on games such as these!
Super Bowl Squares
Probably the most popular Super Bowl game – outside of the game itself of course – involving players electing a square that's associated with two numbers. The winner is decided by who has the matching numbers at the end of each quarter, at which point this player will win a prize (or some cash!)
A real favourite among experienced Super Bowl fans, there are an array of sheets online that can be downloaded, well worth checking this one out!
DIY Football Toss
Another great little game that focuses, as you'd expect, on the theme of football. In order to get this one going for your guests, simply set up a target in the garden for your guests to try and hit with the football.
As is the theme of the day, points mean prizes! So set up a scoring system and offer rewards to the best players, or forfeits to the worst. A great game to bring people together before the game or during the breaks.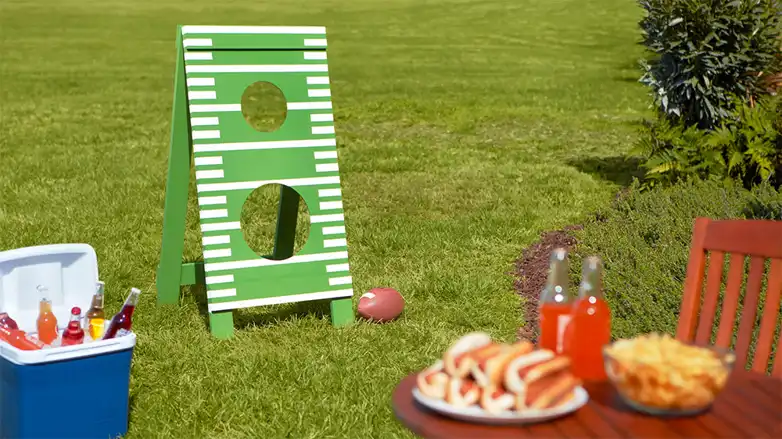 Super Bowl Commercial Bingo
Much like the other Bingo games we mentioned, it takes on a standard bingo format except the focus is on the all-important commercials that run throughout the Super Bowl. Create as many unique Super Bowl bingo cards as possible that include brands and celebrities for the event
Football Piñata
The previous nine games we've recommended are generally catered to teenagers and adults. As such, we thought we'd include this option for the littluns that get dragged along on the game day.
Football piñata is exactly what it says. Create a piñata in the shape and look of a football and then fill it with goodies for the kids to enjoy, make sure you create the game with ample space otherwise things could get broken – you've been warned!
We've made some great recommendations here, but there are endless options available to bettors. Get creative, learn some new craft-making skills and start creating your own unique Super Bowl experience!
Some of the best online sportsbooks also offer betting games. Check them out:
Super Bowl Betting Games FAQs
Are Super Bowl betting games available at sportsbooks?
The purpose of these games is to function as a way of entertaining those that aren't turning up to the Super Bowl social events, who don't really care about the game. They are not sportsbook bets.
Can you bet on Super Bowl games?
It really depends on the game in question. But, generally speaking, there are many games that can be bet on between friends, but it's not a way to make big money – it's designed for entertainment first and foremost.
What is the purpose of Super Bowl betting games?
The purpose of Super Bowl betting games is to provide an alternative way of enjoying the events and social gatherings that we see each year for the game.
Do you need to know a lot about football to play these games?
This is dependent on the game in question. However, there are many games that don't require the players to know anything about the sport of football or the Super Bowl in question.
Do all the games have to be related to the current Super Bowl?
While this is a common theme for the games, it isn't mandatory. The host/gamemaster can choose whatever they like to play, so they can cater the games to suit the guests.