Betting Long Shots At The Race Track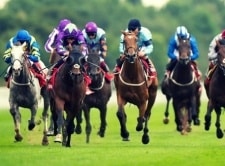 Odds Widget
No text required
Feast or famine?
One of the biggest attractions to horse racing is the possibility of capturing, witnessing, and profitting on the proverbial longshot. While there's certainly more to the game than dismissing every favorite or logical choice in favor of chasing gargantuan odds (although I know plenty of unsuccessful players who bet like this), there are plenty of times where predicting chaos can put land you on horse at a big price. 
The challenge is not to go broke getting there. Hitting a single 50/1 shot doesn't mean much if you've lost the previous 100 attempts to catch that lightening in a bottle. As with so many things in life, profitting from longshots at the racetrack is a matter of being selective.
Picking the right spots
In general, there are a handful of scenarios where taking a stab on a longshot makes sense. All of them begin with identifying a vulnerable favorite. While longshots can, and frequently do, win at all levels of horse racing, I see them more commonly in these three categories:
Cheaper Races (claimers less than $20,000)
Long Turf Races (1 1/2-miles or greater)
Short sprint races (Less than 6 furlongs)
The cheap race isn't always an invitation to look for bombs, but when you get a bunch of bad horses together, the natural uncertainty of racing increases. Besides that fact, does it really make sense to bet good money on bad horses? If I'm betting a cheap race, I'd rather throw a few bucks on a price.
Long turf races also tend to bring the longshots out of the woodwork. As a possible explanation, North America features few horses bred or trained to contest this type of race. Further, there aren't very many turf races of this length. Thus, the betting public is largely relying on handicapping data that requires an impossible extrapolation of a horse's ability. A horse that appears slower on paper, may simply relish the extra distance, thereby beating horses he couldn't otherwise compete with at shorter distances.
Short sprint races are similar in this fashion. Many horses possess superior early speed, but can't carry it longer than 4-5 furlongs. Smaller tracks frequently hold these types of sprints and horses that can simply get to the early lead sometimes forget to stop. This has a tendency to produce some windfalls.
Applying logic
The trick to identifying appropriate longshot opportunities is usually to pinpoint races where there are a middling group of horses and the wagering public simply settles on a favorite by default. This happens pretty frequently. Big fields can help the cause as money gets scattered around arbitrarily on the top 3 lukewarm wagering choices, and horses that deserve to be 15/1 or 20/1 get sent to post at double those odds.
The inverse of the big field longshot is the short field longshot. Such an opporunity arises when all of the public's betting money settles on a vulnerable favorite – perhaps because the runner appears to be the best of a small group and seemingly won't have to do much to earn a win. This is flawed thinking by the betting public and does happen occassionally.
Looking past the obvious
I once heard a crusty racetrack veteran say about a short-priced horse, "Of course he's the favorite; he should win the race." It's important for bettors to remember, however, that should win and will win are two very disparate things. Horse racing is a game full of variables, and what can go wrong, frequently does. Inherently, this puts bettors in a position to prosper even though the wagering favorite wins approximately 33% of the time year after year.
Picking longshots requires bettors to dig a little deeper into their handicapping and look for hidden form. This could mean looking for a valid reason why a horse might have run poorly in recent starts, or a valid reason why they may run better in the upcoming start. To avoid vagueness, new distances, new equipment, new trainers, new surfaces and new jockeys can all help horses perform better. Try to find the angle that lends itself to selecting a horse with an actual chance to win despite longshot odds.
How To Bet a Longshot
Before we get into the housekeeping logistics, remember to do your homework. Preparing to bet a race could mean conducting your own study, or avidly searching for expert opinions on Canada Sports Betting. Try to use logic to make your own deductions and dive in with confidence. With the plethora of online resources available, there's no reason to be uninformed. 
Go to your online racebook
Click horses
Select the track/race of interest
Pick your horse
Profit
Other Betting Tips/Information
Above all, don't chase longshots. Select them. I can't emphasize this enough. Develop your handicapping skills enough to realize when the top few betting choices in a race are overbet and likely to lose. Develop your own angles and observe/record the things that seem to work over time.