PowerPlay casino is one of the newer competitors on the scene, but they've started strong, providing a similar quality of gaming experience that players expect from older brands.
Our PowerPlay casino review goes through the strengths of the site, like their bonuses and ease of use, along with areas they could stand to improve as they evolve.



PowerPlay Casino Games
With the exception of bingo, a game that many online casinos don't run, PowerPlay features all the most popular offerings, including slots, jackpot slots, table games, live casino, and Power Play poker.
Licensed by the government of Curcacao, PowerPlay uses the latest secure gaming technology and follows best practices for licensed online gaming.
PowerPlay How to Sign-Up?
Signing up to PowerPlay is a very straightforward process and one which mimics the signup anyone would expect for any online retailer or registration for any other casino.
Users should navigate to the PowerPlay website and then look to the top right-hand corner of the screen, where users will find a green button stating "Register". From there, they will need to fill out the basic registration information and sign up. Finally, users are ready to deposit and begin playing the tables in the casino!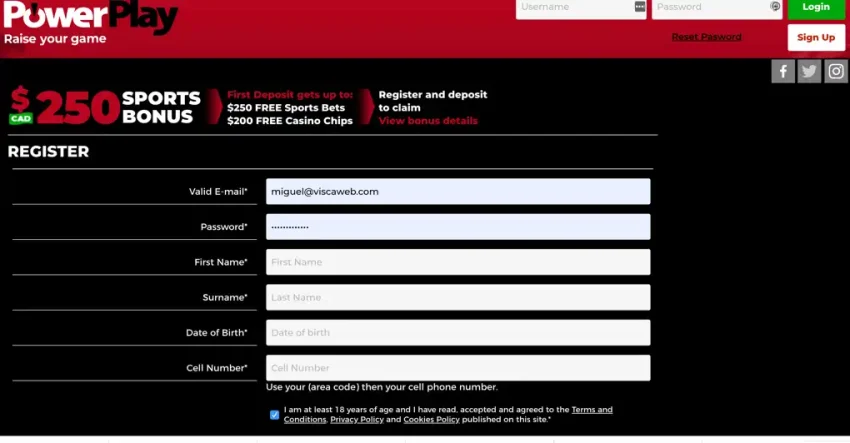 PowerPlay Mobile Casino
One negative aspect of the PowerPlay casino is the lack of downloadable software allowing users to play the tables from their devices without having to log in every time through the PowerPlay website. While this is true, bettors are still able to access the casino as long as they have access to the internet.
iPhone
iPhone is supported by the Apple software iOS, which is the most popular software used on smartphones today. iPhones with access to the internet will be able to play the tables at the PowerPlay casino.
Android
Android is the second-most popular form of software on phones and one which is support by PowerPlay, allowing Android users to access the PowerPlay Casino from a smartphone.
Tablet
Tablets are a common feature in homes across the world these days and function as a great device for playing the tables in the PowerPlay casino.
PowerPlay Live Casino
Enjoy your favourite casino classics at the PowerPlay live casino! Canadian casino fans can enjoy live dealers directly on their screen, making the live casino even more exciting. Blackjack, roulette, baccarat, poker, and more are all available at the PowerPlay live casino.
PowerPlay Loyalty Programmes
Loyalty programmes are a regular feature on the sportsbook and online casino sites, but often players won't' find them and must be willing to shop around. While PowerPlay doesn't officially offer a loyalty programme, they offer not just a second, but a third deposit bonus to users.
This isn't the classic type of loyalty programme you'd expect at an online casino provider, it's even better. Users are normally required to keep making bets and deposits in order to earn loyalty points. But, with the PowerPlay third deposit bonus, users are being gifted large sums of free money, just for playing the casino.
PowerPlay Responsible Gaming
Customers' experience and enjoyment are paramount to the team at Canada Sports Betting. It's exciting to play the slots and tables, but it's important to remember that there is money at stake. For this reason, PowerPlay provides a service to the customer which allows customers to control and limit their access to the casino.
It would be recommended to contact the customer support, through any of the contact lines listed below, and discuss the situation with the team there. Or, if it's simply for a chat, emotional support regarding gambling issues. PowerPlay has the ability to limit the time and funds, allowing users to gain control of their betting again.
PowerPlay Customer Support
PowerPlay is dedicated to providing its customers with the best service possible, and this doesn't mean just offering competitive odds and betting markets. It goes beyond that and customers loyal to PowerPlay are well aware of the lengths they go to. As the first point of call, PowerPlay users should go to their extensive FAQ for information on the most common questions.
The customers support team can be contacted via Live Chat, Facebook, email, or phone their support centre directly on +13055177484. All avenues of contact are met with one of PowerPlay's friendly and well-informed customer support team. The contact centre is open between:
Mon-Fri: 8:00am-6:00pm (EST) / Mon-Fri: 5:00am-3:00pm (PST)
Sat-Sun: 11:00am-5:00pm (EST) / Sat-Sun: 8:00am-2:00pm (PST)
PowerPlay Casino Review Verdict
A good variety of available table games and live casino games helps to make up for PowerPlay's lack of variety in terms of jackpots and bingo games. Many online casinos don't have bingo, but nearly all provide more choices for jackpot slots. Those seeking regular slot games will find a decent array of games to play, nonetheless.
PowerPlay's banking options don't feature the same variety as other casinos, but quick processing and small minimums for deposits and withdrawals will be appreciated by many players. Despite a few shortcomings, the majority of players will enjoy gaming on PowerPlay online casino.
---
PowerPlay Casino FAQ
Why do I need to verify my account?
To verify a PowerPlay account, users must show proof of their age. In order to comply with government regulations, the PowerPlay team needs a valid proof of identity and residency on their system.
Is PowerPlay Casino legit?
PowerPlay is a new online casino provider and with that often comes a level of doubt among new players. However, having conducted a comprehensive review of their practices and all aspects of the various PowerPlay services. From that, we can conclude that PowerPlay is entirely legitimate and has become one of the most popular providers in North America.
Why do my credit cards need to be verified?
PowerPlay users who want to deposit or withdraw using a Credit/Debit card must reveal basic information regarding their account in order to protect the cardholder from any fraudulent transactions. It's common for fraudsters to replicate cards.
Is the PowerPlay Casino available via mobile app?
Positioning themselves as the number one online sportsbook and casino provider in Canada, it's important to stay ahead of the game. As advancements in technology influenced the gambling industry we saw the rise of mobile casino apps. PowerPlay hasn't disappointed its customers and has a great downloadable app for players to get direct access to the tables.
Who owns the PowerPlay Casino?
The PowerPlay Casino isn't owned by an individual, rather it's owned by the Deck Entertainment B.V. group.
Does the PowerPlay Casino support Android users?
Android remains one of the most popular software platforms for smartphone users. As such it was important for the development team that they released an app compatible with Android, and they did.
Does the PowerPlay Casino support iOS users?
iOS supports iPhones and remains the most popular choice for smartphones. Of course, PowerPlay designed its app to serve all its customers, including iOS users.
Can you deposit with Bitcoin?
Unfortunately not. PowerPlay is yet to jump on the cryptocurrency train. However, we see other providers offering Bitcoin deposits, it's a possibility for the future.
Is PowerPlay Casino rigged?
There have been no concrete accusations against PowerPlay, they have always conducted their services with integrity and in line with regulators. They aspire to be something more than just another provider and a big part of that is ensuring they stick to their ethics.
How to withdraw from the PowerPlay Casino?
Withdrawing from a PowerPlay account is very straightforward. All bettors have to do is log in to their account and go to "Withdraw", at which point they'll be met with a whole host of withdrawal payment methods that they must choose from.
---