Pinnacle mobile features a mobile website instead of an app. Unlike bookies who feature apps on Google Play or the App Store, PInnacle just requires a web browser to access their full range of sports betting services. 
The Pinnacle mobile site operates without the need for a download to install. Switching to the mobile site provides a streamlined user interface, while the desktop site isn't as condensed, making it a bit easier to go through the odds.
Our Pinnacle sports review rated the sportsbook as an excellent service for high volume players.
Click on the link if you are looking for our sportsbooks mobile apps reviews.
---
Pinnacle Mobile Betting Features
Allows large wagers and high volume betting on sports.
Solid customer service, in operation worldwide since 1998.
No download needed for Pinnacle sports mobile.
User interface for mobile provides lots of information without overwhelming.
Option to access mobile site on desktop computers.
---
Pinnacle Sportsbook Mobile – Sports Betting Made Simple
Pinnacle Sports was founded in 1998, with headquarters located in Curaçao. This company is regulated under the Government of the Netherland Antilles, which governs as the regulating body for the territory.
They also won the right to own a Class II Remote Maltese Gaming Licence, expanding their services around the globe.
As such, Pinnacle maintains sufficient funds to hand the massive amount of action that runs through the sportsbook every year. Pinnacle's among the best sports betting sites online, especially for high rollers who enjoy action throughout the year.
Similar to most sportsbooks, Pinnacle launched a mobile site to cater to the preferences of their growing online audience.
Over time, the mobile site was offered on desktop because some prefer a no frills design which provides more information on screen.
The desktop version features a more pleasing design in terms of visual aesthetics, making the sports betting info a bit easier to read.
When logging onto Pinnacle mobile, you'll notice that it's easy to find the sports that you wish to wager on because the site places in-season sports at the top of the site. Betting slips are easy to use, allowing wagers in a few clicks.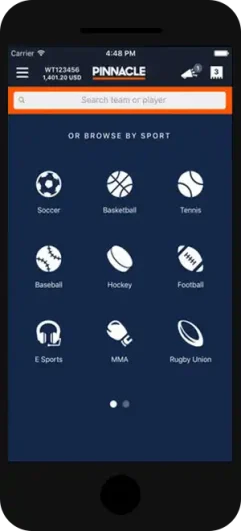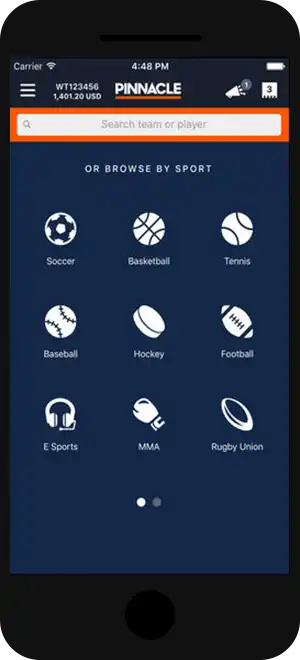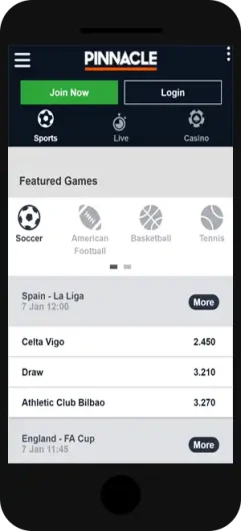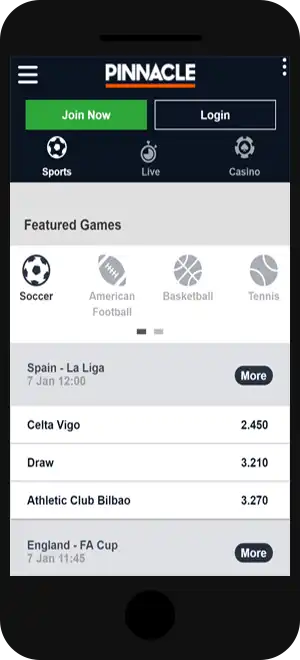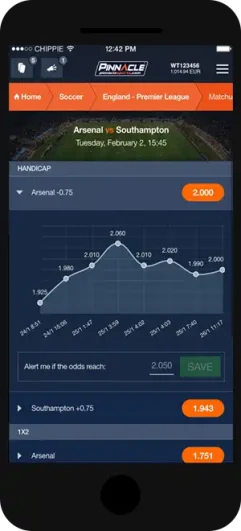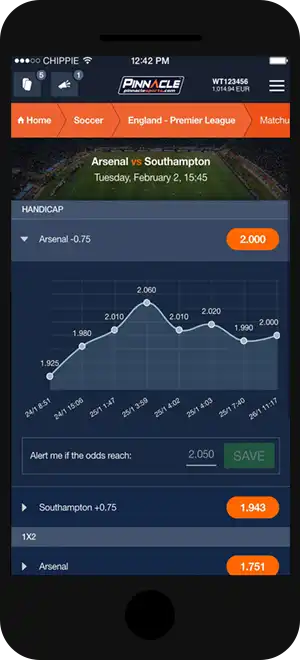 ---
Pinnacle Mobile Apps
Featuring one mobile site to rule them all, Pinnacle mobile utilizes a single mobile site to provide access to dozens of sports and leagues from around the world.
The site prioritizes sports according to popularity and location. For example, during summer, Pinnacle offers lines for baseball. NFL lines become top of mind during late summer and early fall, while winter is dominated by NBA basketball and NHL hockey.
Interestingly, the Pinnacle has responded to the rise of eSports by listing competitive video game competitions alongside pro sports.
Over the past few years, the industry has grown into a moneymaker, with sports betting sites modernizing their services for an eSports scene which is in the progress of growing alongside the biggest traditional sports leagues in the world.
Overall, Pinnacle opted to lower the bar in terms of ease of use, making it easy to sign up for the service regardless of the platform you use.
Tablets, smartphones and desktop computers all respond well to the mobile design of Pinnacle sports betting, ensuring that betting fans enjoy placing a little action on their favorite games.
Can You Customize the Pinnacle Mobile App?
Since Pinnacle focused on providing the easiest possible user experience for sports bettors, the mobile version of the site doesn't feature significant customizations for players.
While customization is a nice feature to occasionally enjoy, the biggest change that you can implement involve the format of the odds that the site displays.
Instead of customization, PInnacle provides quick access to the most popular sports that are in-season, reducing the amount of time that you have to spend in order to find the action you want to wager on.
Essentially, Pinnacle spends most of their efforts facilitating superb odds compared to competing bookies, along with the ability to place big bets.
Pinnacle Mobile Betting Promos
There are no specific promotions or offers available from Pinnacle mobile or the desktop variant of the site.
This may change at any moment, as some sites may send an email promo to established members. New members will not find a welcome offer, which may initially put off some players.
Instead of promos, PInnacle tends to offer less expensive odds compared to the competition, which adds up over time.
Instead of a free bet or a percentage of your wagers returned as a bonus, players should use Pinnacle to gain an edge in terms of the odds offered for events.
Pinnacle Mobile Bankroll Options
Like most sportsbooks, Pinnacle allows for a wide range of payment options which vary according to the geographic location where you're playing. Visa and Mastercard are accepted, along with Skrill, Neteller, Bitcoin, Paysafecard and iDebit. Traditional deposit methods include bank transfers and e-cheque.
With the exception of iDebit, deposits are completely free, with a minimum between $10 to $150, according to the option you choose. The maximum deposit is $7,500 per 24 hours over bank transfer. Withdrawals don't feature the same number of options, with a feebetween $15 and $30.
Adding new deposits doesn't require a lot of time or effort once you complete the sign up and verification process, similar to the legitimate sportsbooks who run "know your player" programs.
All Pinnacle Mobile Deposit Options
Visa
Mastercard
eCheque
ecoPayz
Neteller
Bank Transfer
iDebit
Instadebit
Bitcoin
MuchBetter
Paysafecard
---
Pinnacle App Verdict
The Pinnacle mobile version of their online sports betting service is a superb example of simple design facilitating an excellent user experience. Pinnacle mobile will be the preferred option to access wagering lines for most, even on desktop.
Considering the fact that sports betting markets change rather quickly, it's a good idea to have a mobile solution to take advantage of line movements as quickly as possible to extract the best value from your bets.
Pinnacle services all sports bettors, but find themselves with a dedicated customer base of high rollers because of large deposit allowances.
The odds found on this sportsbook make up for a lack of welcome bonuses or promotions. Typically, promos involve rollovers that complicate promotions, while less expensive odds guarantee extra points on each and every wager.
---