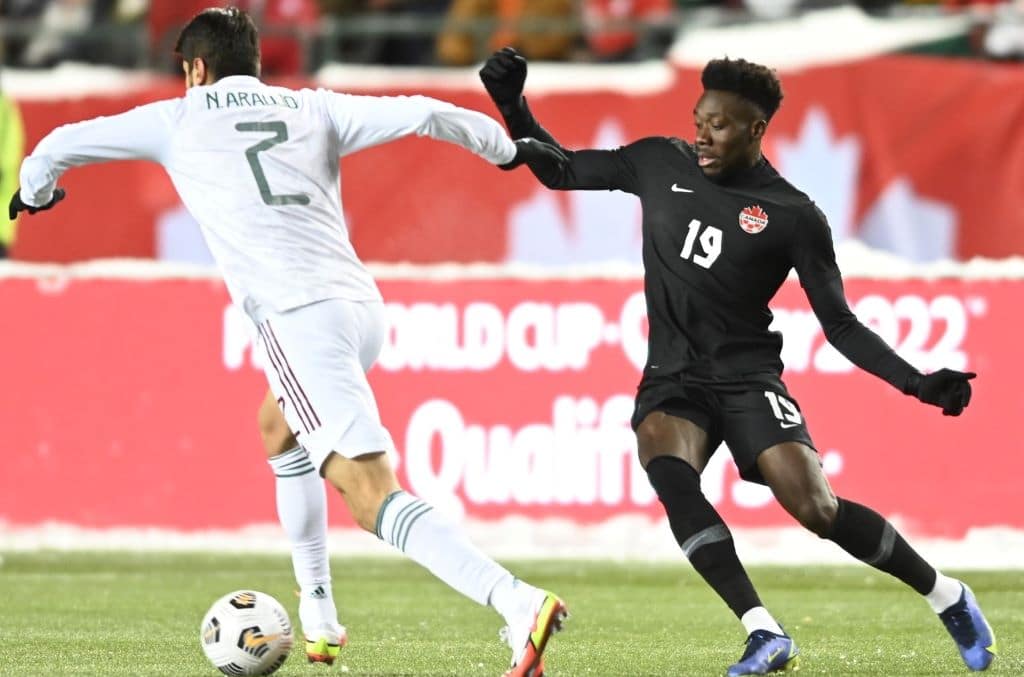 The Canadian national men's soccer team is one of the hottest bets ahead of the FIFA World Cup despite being a huge underdog in the tournament.
Multiple sportsbooks are reporting that Canada is one of their biggest liabilities heading into the tournament, which begins on Nov. 20.
In an update on Nov. 8, BetMGM reported that 3.3% of tickets and 4.6% of its handle on World Cup outright odds was on Canada. The sportsbook acknowledged that Canada was one of its biggest liabilities, along with the United States and Argentina, in the category.
As of Tuesday morning, Canada is a massive +25000 longshot to win the World Cup. The United States (+10000) and Argentina (+600) are also seeing heavy action at BetMGM.
BetMGM's data is comprised of wagering activity from both Ontario and the United States.
FanDuel, which is only available to Canadian bettors in the province of Ontario, didn't release exact data to Canada Sports Betting, but did provide some insights on the betting preferences of Ontarians.
"The top 5 staked teams to win the World Cup in order from Ontario bettors are Argentina, Brazil, England, Canada, and Portugal," a FanDuel trader told CSB.
Canada has long +25000 odds to win the World Cup at FanDuel, but that's clearly not stopping Ontario bettors from tossing a wager on their countrymen.
FanDuel says roughly 83% of the action from Ontarians is on Belgium to win Group F, which also features Croatia, Morocco, and Canada. Around 12% of bets to win the group are on Canada and about 20% of the stakes are on Canada at +800 to beat Belgium in its tournament opener on Nov. 23.
The FanDuel trader noted that most of the bets being placed on "Group Winners" were very chalky, with many Ontarians electing to back the favourites in each group.
However, Ontarians are going off the board when it comes to wagering on the tournament's top goal-scorer.
"A bit of a surprise from Ontario bettors is their preference for the veteran players in the Golden Boot market – Lionel Messi at +1400 has been by far the most-staked player and 34-year-old Karim Benzema has been the second-most staked player well ahead of the favourites for the award Kylian Mbappe and Harry Kane. Beyond Canada (+25000) as the fourth-most staked team to win the World Cup, host Qatar has received some attention at +55000," the trader noted.
Betting on local teams is a common betting practice in Ontario, and sportsbooks are expecting even more Canada optimists to throw down wagers as the tournament nears.
"Raptors win, you're screwed. Leafs win, you're screwed. Blue Jays win, you're screwed. In Southern Ontario, if the Bills win, you're screwed," a veteran sportsbook executive said about the hometown bias of bettors in the province. "We're always quietly rooting against the local and national teams because we take so much money on them."
Bettors are buying the hype
Canada shockingly finished atop the CONCACAF standings with 28 points in World Cup qualifying ahead of Mexico and the United States. The men's team is set to play in the World Cup for the first time since 1986, the only other time the nation qualified for the event. In that World Cup, Canada was winless in three group stage games and failed to score a single goal.
Canada's 26-man final roster was revealed last Sunday, and three players – Maxime Crepeau, Scott Kennedy, and Doneil Henry – won't be making appearances in Qatar due to various injuries.
But does Canada actually have a chance of succeeding at the World Cup? The predictions from analysts appear to be mixed, and many agree that Canada making it out of the group stage would be considered the ceiling for this upstart group of players. No one appears to be projecting Canada to advance past the Round of 16, or win the tournament.
TSN soccer analyst Steve Caldwell predicted Canada would earn a third-place finish in its group to finish ahead of Morocco, but ultimately fall short of the Round of 16.
While Sports Illustrated made a bolder prediction by stating Canada would finish as the runner-up in Group F behind Belgium before bowing out against Spain in the Round of 16.
James Sharman, a respected soccer analyst in Canada for the past 25 years and now Head of Soccer for The Parleh, recently appeared on The Bob McCown Podcast sponsored by BetRivers, and he believes Canada has the potential to keep its momentum going into the World Cup.
"Naturally, they do sit back and defend, and defend well," Sharman said on the podcast. "They just rely on their pace on the counter-attack, so they actually match up quite well against Croatia and Belgium, tactically. Both of those teams have aging players in their 30s. You can catch them on the break with pace. And then Morocco plays a similar style to Canada. Some real quality out wide. You're going to see a Canada team that's happy to sit back and wait for its opportunity. If it can put a blanket over the creative forces of Croatia and Belgium, and that's not going to be easy, they might stand a chance."
In order to have a chance of advancing past the group stage, Canada will need a strong showing from its best player, Alphonso Davies. Unfortunately, he suffered a hamstring injury just weeks before the World Cup while playing with club team, Bayern Munich. The team is hopeful he'll be fine in time for the World Cup opener.
"It doesn't appear that Davies will be out, but it would certainly affect the Canada lines if it even appears that he won't be able to play," a trader from FanDuel said.
Davies has been plagued with health issues over the past year. Last winter, he was diagnosed with myocarditis after a bout of COVID-19, and he missed six qualifying games for the World Cup.
Canada, Mexico, and the United States have already pre-qualified for the 2026 World Cup as joint hosts of the event.