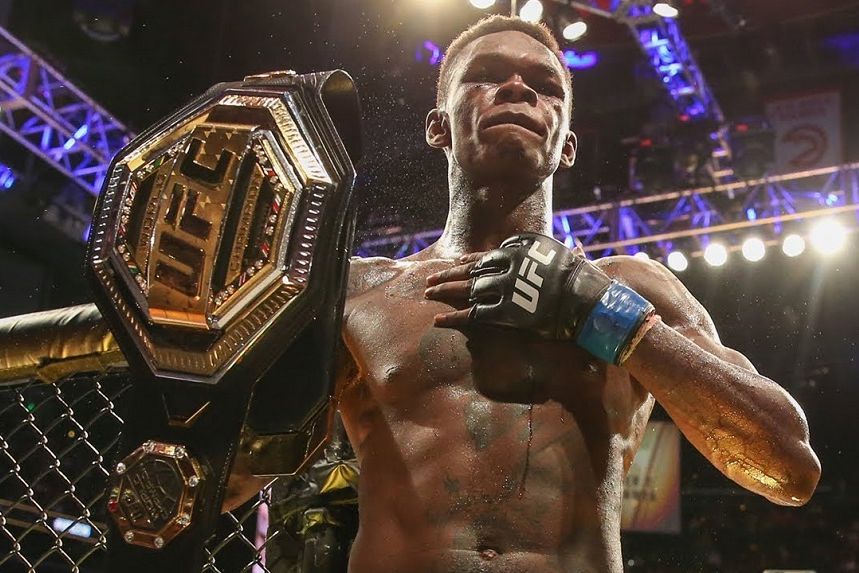 UFC fighters come and go, but superstars are forever. As Ronda Rousey moved on, Amanda Nunes took female UFC fighters to new heights and established herself as one of the best UFC fighters of all time.
Conor McGregor is still hanging out, but the likes of Khabib Nurmagomedov and Israel Adesanya have gladly taken up the torch as the UFC's next superstars. But who else are the upcoming UFC fighters to watch?
The UFC's next superstars: future champions
There are two types of upcoming UFC fighters to watch: those who are moving from being a contender to a superstar and those who are prospects becoming contenders. Israel Adesanya made both jumps as quickly as two years.
Gifted with both fighting brilliance and charisma, Adesanya broke into the UFC as an undefeated Muay Thai specialist with an 11-0 record, all knockouts. He quickly dazzled both the fans and UFC promoters when he went 4-0 in 2018 establishing himself as the prospect to watch.
Adesanya got his big break in 2019 when he headlined UFC 234 and defeated Anderson Silva, one of the best UFC fighters of all time. He used that momentum to beat Kelvin Gastelum to claim the interim UFC middleweight championship.
With the title in tow, he put on a superstar-making performance by obliterating Robert Whittaker and unifying the belts. Adesanya is now fresh off a title defence against the ever-dangerous Yoel Romero and remains one of the UFC's superstars.
Who could be the next Israel Adesanya? Who's next in line to be a champion? Who's that rising prospect on the fast lane to contender status?
Here are several top UFC fighters worth keeping an eye on.
Francis Ngannou
Like Adesanya, Ngannou is a championship away from breaking into superstardom. The Cameroonian looked to be on his way in 2017 following his unbelievable knockout against Alistair Overeem.
But he stumbled in his first shot at gold, losing against Stipe Miocic then subsequently against Derrick Lewis. But Ngannou never stopped and following three straight first-round knockouts, "The Predator" looks to be one of the best UFC heavyweight fighters.
Should he get past fellow heavy hitter Jairzinho Rozenstruik, he'll get a rematch against Miocic. And if he gets the job done this time, he'll finally live up to being the UFC's Mike Tyson.
Zabit Magomedsharipov
Sometimes you are a victim of your own success and this Russian phenomenom embodies this. Magomedsharipov is so dangerous that he and his camp have claimed most notable fighters avoid fighting him. And for good reason: he is the best striker in the division.
Magomedsharipov is like a kung fu fighter brought to life. Add his proficiency in Jiu-Jitsu and his ability to finish fights via knockout or submission, and you have Dana White's next favourite dog.
Currently un-booked, Magomedsharipov could just be one win away from challenging newly-minted champion Alexander Volkanovski. And what a fight it will be! Magomedsharipov could be joining fellow Dagestani Khabib Nurmagomedov as a champion.
Dominick Reyes
It's rare that a fighter's stock goes up coming off a loss, but the "Devastator" won more fans after he nearly beat Jon Jones early in 2020. Both the fans and media outlets were split on the fight with at least half making an argument for the Mexican-American.
The loss, Reyes's first in 13 bouts, could be a blessing in disguise as it should push him to train harder and stay hungry. Reyes could get a title shot as soon as his next bout whether it's against Jones or another contender.
Either way, Reyes should be wearing gold sooner than later.
Future stars: watch out for these hot prospects
MMA is so ripe with talent that the UFC seems to birth a hot new prospect almost every event. But there are a few who are on the verge of breaking out and becoming a true contender, meaning they'll be on the shortlist of being on the list above: a future champion.
Aspen Ladd
Ladd is more of a contender than a prospect and is one of the best female UFC fighters in her division. She suffered a setback against Germaine de Randamie but quickly rebounded by starching Yana Kunitskaya. The Californian is only 25 and has plenty of room to blossom into a true title threat.
Geoff Neal
With five of his six UFC victories coming via finish, Neal has started to make a name for himself in the UFC's most stacked division. In most divisions, he'd be a contender, but given the depth of welterweight, he's still a few marquee victories away from being recognized. But he's knocking on that door.
Edmen Shahbazyan
Like neal, Shahbazyan is another gem unearthed from the Contender Series. As a 22-year-old, the prodigy is undefeated and set on becoming the UFC's youngest champion. With a bout against Derek Brunson on the horizon, he's a few spectacular wins away from being a household name.
Related Links