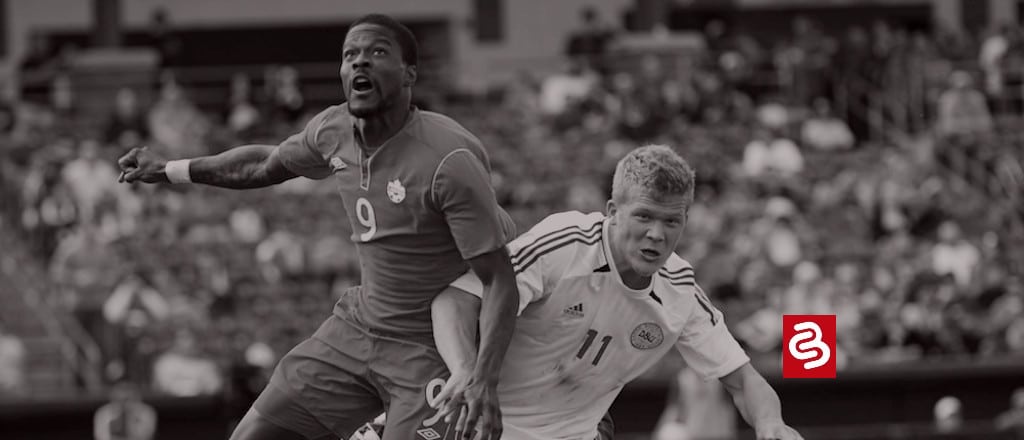 Sports betting is now live in Ontario, so what better time to talk about Canada's National soccer team's recent successes!
Additionally, the 2021/22 Premier League season is starting to approach its home stretch, and as teams prepare for their final bookings of the year and fight for their spots on the table, we've caught up with a man that has experience on multiple sides of the pitch. Paul Parker appeared in over 400 matches for club and country, including 105 appearances with Manchester United and 19 with England's national team between 1982 and 1997. Parker also spent five years as manager at the lower league levels, and several years as an analyst for venues such as ESPN and Sky Sports.
In this interview, the former Premier League and FA Cup winner discusses what Canada's 2022 World Cup qualification means to them, the rise of Alphonso Davies, and the fine details of Manchester United's recent turmoil – from recent comments by their star players, to their managerial situation, potential transfer rumours, and their shift to what some have called a "commercial club" that values profit over prestige.
The Canadian national football team has just qualified for the World Cup for the first time since 1986. What kind of impact will this have on the country?
"It's the same when the US qualified and performed in their own country [in 1994]. I think it made a big impact, but it is still no way near the numbers of their own native sports. I'm not being rude, but I think it is not going to happen for them in my lifetime or your lifetime."
"In Canada, which is becoming more open to football becoming their number one sport. Yes, they have their ice hockey there, but there is more coaching now there. But when you look at it, there are more European people coming to Canada, so there is more chance of football making it, particularly thanks to the big British population in Canada.
"They never had the strength and depth to compete and now there's a guy playing for Bayern Munich, Alphonso Davies, he is a good player. They do have a good infrastructure, there have been a lot of players who came from the Premier League and played many years ago, when Vancouver Whitecaps were the top team."
"There is definitely something there for them to build on and compete. It is just a shame for them that they are not going to play the World Cup in a real footballing country. I am interested to see how they go and do, and I think that they are going to get into it in better shape than the Americans when they went into their second tournament. It is going to factor in the way they are as a country who is built for football. I'm seriously looking forward to seeing how they perform. We must now see that the Canadian league will start pushing and may be able to compete with the MLS."
With sports betting now live across Ontario, it's a great time to check out world cup odds on bet365 Ontario.
You mentioned Alphonso Davies. He is currently out with heart issues, but he was a valuable member of that World Cup qualifying squad. What do you think of him?
"I really do like him. Watching him play is just everything that everyone's been saying about him. He plays as a full back, but he also plays as a winger. He is a winger who still wants to defend and can push forward and go back as well. He added energy to a Bayern Munich side that missed this energy so I hope that he will get back."
Louis Van Gaal claims that Manchester United is a commercial club, not a football club. You've hinted at that with the signing of Cristiano Ronaldo. Is a change in leadership/ownership needed more than anything for them to progress?
"[Manchester United] needs somebody to run it who actually wants it to become a football club. On the commercial side of things, they are strong due to their history. In today's world, people want to push history over, so in four, five years from now it all might fall apart. On the commercial side of things, it's all gonna fall apart and there will be nothing to sell. United's strength is its history, but in order to keep the commercial side strong, they need to keep winning trophies."
"The strength of a football club lies in what happens on the pitch. Its buying power is getting weaker as well and fans are associating buying power with clubs like Chelsea, Man City, and Liverpool. United's history from the 40s and onwards is not complete because of short-term memory. Their status is dwindling due to recent results."
What do you think has changed? The Glazers have owned the club since 2005 and they were competitive till 2013, basically until Sir Alex left.
"Sir Alex was always building towards taking the club further and it was proven because that's what he had done. He built teams as he went along. He built this great team that got old and he went on to build it again. That might work once but it's never going to work two or three times. Within a team, you need to build a team and that's what he has always done. Now, it is slowly being taken away from him and 2013 was the last Premier League title that he and the club won. "
"United hasn't been anywhere near since because you look at that team and it might not have been the strongest or the best team to win the Premier League title. That title was won by Sir Alex and [Robin] van Persie. He knew back then that they were struggling and for Sir Alex to go on and bring a player like van Persie, says that he knew that there were going to be problems up ahead. It was a great signing for United in that season. But it wasn't a sort of a signing that Sir Alex would have done if he was building a team."
Paul Pogba and Luke Shaw made some interesting statements about their role at the club during this international break. Is this good for the locker room atmosphere? How does it reflect on the coach, and the club in general?
"The Luke Shaw comment is the one that I've seen. I should be surprised and more disappointed that he's gone and said something like that, and it sums up how immature he actually is. To say something like that is going to ruffle some feathers and is disrespectful to the club and to his teammates as well."
"He is unopposed in a certain way at left-back because of (Ben) Chilwell being out injured. I think he has to be careful for Tyrick Mitchell of Crystal Palace. But his answer should have been shrugging a shoulder and saying: 'Everything is fine. I'm a little bit disappointed that I haven't been playing regularly for my club's team.' But he wants to make a statement that he thinks will make things better for him."
"He's let Manchester United down, his employers. He has to remember that he is employed by them and he is letting them down with statements like this."
"Paul Pogba's situation is one of those situations that happens a lot. I think that fans are switched off of him right now and are not fusse. Luke Shaw is the one really, especially when you think about what the club has done for him."
"[Manchester United fans] stood by him while he was going through a psychologically not a good time. A lot of fans supported him after he had to come back after that serious leg injury. They were there when he was looking for sympathy rather than somebody that will undermine him all the time. I think that he has forgotten that. It's a bit of a problem, as he has forgotten about all those people that were helping him and supported him through his bad times."
Take a look at the best mobile apps to bet on Premier league matches!
Do you think this is a case of just a couple of out-of-form players complaining or a sign of a bigger issue?
"I would just say that, at this moment, it is just those two players. One of them, his contract has run out, so I think he has a little bit more freedom to say whatever he wants. And we have another player who is bitter because he is not playing. He maybe believes that he should be playing. He is trying to prove a point with the reasons why he should be playing but feels he can say something like that."
"[Shaw] believes he is making his case stronger, but it weakens him at the club, with his teammates, and with footballers in general. You can think things but you shouldn't come out and say them as you are weakened by those things you say. It doesn't make him a better person, he is not going to be trusted. Even though it may be true, you don't want somebody tarnishing your football club publicly.. you have to have respect for your fellow workers and he hasn't shown them that."
Shaw is reportedly negotiating a new contact. Would that be a good idea with his recent remarks and form?
"I would put that aside and say that no player should get a contract until the club has [publicly] confirmed a manager. No player should be getting a new contract because the new person might not want Luke Shaw, to be perfectly honest."
"So I think this could be an agent talking just to get things going. He may have two years to go on his present contract, I don't know, I'm taking a guess. So there is no problem letting him sit it out, he is being paid very well. Why make the job of the incoming manager harder by giving him players that he might not want in that position?"
As per reports, Luis Enrique is a strong contender for the Manchester United head coach position. Do you think he could be a good option?
"He's got what he achieved with Barcelona going for him. But asking someone to come to the Premier League at a club that is not in a good place. Enrique is also Spain's national manager and he is not going to walk away from that and take on that job at the start of the season at Manchester United. "
"Spain did this before the start of another tournament (Julen Lopetegui to Real Madrid) and it was a problem then. It was an embarrassment for their football federation. I don't think that they would allow that to happen again. I think that Luis Enrique will respect that and will not like the way he will be seen if he were to walk away, given the way they qualified."
"Maybe they can say that he can come on after the World Cup and take the team in December, when they have played nearly 50% of their games. Manchester United is a team that needs the presence of someone that may be able to discipline the players and what they are gonna do on and off the pitch. So that doesn't work."
Do you think we'll see coaches of the national teams leave for clubs with the WC being scheduled in November?
"I think if you are a manager of a national team, you are going to want to go to Qatar. You have to have that bit about you as a player, who wants to go and play international tournaments. So to walk away from it means for people to question your ambition. If you are putting money in front of that, it means that people will question you as well. So for a manager to walk away, I think it would be the wrong thing in the long term. In the end, given how football is, how long is that job going to last?"
"I want to come out and say that the timing of the World Cup is poor. It should have never been in this situation. It doesn't fit with 99.9% of football tournaments. So what are we doing here? All we have is these people earning fortunes and we are going to be moving off from the World Cup with these people earning fortunes again. It doesn't make any sense for FIFA to allow this tournament, because it is going to have ramifications for at least one season after. It is going to take time to unravel."
Tammy Abraham to Manchester United is a rumour doing the rounds. What do you have to say about that?
"Be careful, think about [Romelu] Lukaku. They brought him and he struggled to score goals for United. Tammy Abraham has also struggled to score goals for Chelsea. He could never be a regular, and there are reasons why, I imagine. He's done no different than Lukaku, scoring goals and getting all the headlines. But we have to say that Italian defending isn't in any way near to what it was yesteryear"
"Again, it's the press that's trying to sell a player who is already contracted to another club. Why do they keep doing it and naming him with Manchester United? They may only want to up the price. Nobody is being fooled.