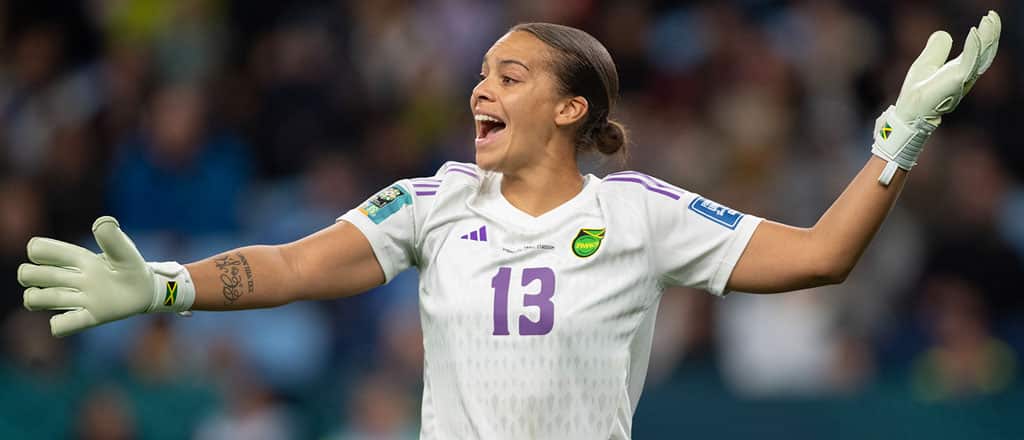 The 2023 Women's World Cup is underway! Hosted in Australia and New Zealand, the tournament features 32 of the best footballing nations in the world seeking glory. For every match day, Canada Sports Betting will break down the matches ahead, providing the key odds and storylines you need to make a play, courtesy of our friends at bet365.
Due to the unique schedule of the tournament, we'll be looking one day forward at a time. Today we'll be covering August 8th's fixtures. These include:
Colombia vs. Jamaica, 4:00 a.m. ET
France vs. Morocco, 7:00 a.m. ET
While you wait for the next match day, also consider checking out our main Women's World Cup page, with all of the latest full-tournament odds, our favourite picks, guides on how to make bets for the tournament, and more!
4:00 a.m. Match: Colombia vs. Jamaica
Colombia Win in Full Time
+110
Jamaica Win in Full Time
+280
Draw After Full Time
+225
Over/Under
2.5 goals (over +170, under -225)
Time/Date
Tuesday, August 8, 4:00 a.m. ET
TV
Broadcast: TSN
Stream: TSN GO App
Odds courtesy of bet365. Games that go to Extra Time count as draws.
The Reggae Girlz shocked the world once more on Wednesday, capping off their odds-defying clean sheet streak in group stages by drawing Brazil in a game that was fate deciding for both nations. On that night, just like their opening game against France, the world rankings didn't matter – 8th versus 43rd? Historical powerhouse versus a team that literally had to crowdfund their way to the tournament? No problem. It was the definition of bus parking, with Brazil attempting 18 shots to Jamaica's three with an 8-0 margin on target, but Jamaica did a fantastic job staving things off, particularly netminder Rebecca Spencer, who has been sublime in this tournament.
They'll have a tough challenge in Colombia, who were expected to advance out of Group H, but certainly were not expected to win it – that was supposed to be Germany's job, but they've met an early exit despite one of the group stage's highest goal differentials. The Colombians got here despite being the upset rather than the upsetters on Wednesday, dropping a 1-0 result to Morocco, but breaking through thanks to 2-0 and 2-1 wins over South Korea and the Germans, respectively.
Colombia have the decided edge in this one, with more firepower than Jamaica while still having some ability to withstand pressure of their own. Eighteen-year-old Linda Caicedo's two goals outnumber Jamaica's output as a group, and she's been given the second-shortest odds to score (+550 first or last goal, +220 anytime goal) in the match. Catalina Usme has the shortest odds at +375 first/last, +150 anytime, despite her goal in the first game of group stages being her only shot on target. For Jamaica, the 26-year-old Khadija "Bunny" Shaw has the shortest odds at +600 first/last, +240 anytime – she has typically been the one the squad relies upon offensively. Midfielder Drew Spence could be an interesting longshot for Jamaica at +1400 first/last and +600 anytime, as she's created much of their buildup on their counter-attacks.
A couple of boosted bets are interesting. If you like Colombia to win, an exact score of 2-0 sits at +800, up from +750. If you want a Same Game Parlay and feel that their result will carry a little more juice than that, a match result of Colombia winning, Linda Caicedo putting up over 0.5 shots on target, and more than two goals in the game sits at +500, up from +450.
7:00 a.m. Match: France vs. Morocco
France Win in Full Time
-600
Morocco Win in Full Time
+1200
Draw After Full Time
+700
Over/Under
2.5 goals (over -211, under +160)
Time/Date
Tuesday, August 8, 7:00 a.m. ET
TV
Broadcast: TSN
Stream: TSN GO App
Odds courtesy of bet365. Games that go to Extra Time count as draws.
Two nations just a year removed from meeting each other on the men's World Cup semi-final stage will trade blows once again in the women's tournament, and in a lot of ways, the circumstances feel similar.
France, like the men's side, come in with a team good enough to be in the contender's tier, a win of their group stage table, and a hiccup along the way that left people a little confused. In the case of this year's women's team, it was the 0-0 draw with Jamaica on July 23, but we've since seen the French defeat Brazil and decidedly beat Panama to shake off the first game jitters (and, as mentioned in the previous game, seen Jamaica prove that wasn't a fluke).
Morocco come in as outsiders, not expected to drum up enough points to stay out of the bottom, let alone advance, but successful with stingy defence and a good enough counter attack, sending home a shocked black, red, and yellow team earlier than expected in the process (for the men it was Belgium, for the women, Germany). Morocco have the only negative goal difference in the Round of 16, having been blown out by the Germans to start only to beat South Korea and Colombia over the past week. Interestingly, they did have the expected goal edge in both of their wins, suggesting that this isn't just a case of a team parking the bus, but staying stingy after a tough initial blow.
As fun as the story is, the books just don't see it as very likely to continue, giving France the heavy edge in this game. Scores of 2-0 and 3-0 France are seen as the most probable full-time results, at +550 apiece, while the most probable exact score for Morocco is 1-0 at +2800. For individual scorers, this list is dominated by France, with Eugenie Le Sommer having the shortest odds at a boosted +275 (from +260) for the first or last goal and -175 for an anytime goal. Viki Becho (+333 first/last, -125 anytime) and Kadidiatou Diani (+400 first/last, -105) also stand tall.
For Morocco, Anissa Lahmari and Ibtissam Jraidi have the shortest odds at +2000 first/last, +600 anytime. Veteran Salma Amani has extreme longshot odds at +5000 first/last and +1400 anytime, but leads Morocco in expected goals generated, so if she draws in, she might be a name to consider, though she only played 112 minutes in the group stages.
An interesting Same Game Parlay available for this match gives you some flexibility to not pick the winning team. More than three total goals, and shots on target from Anissa Lahmari and Kenza Dali combine for a +600 line, up from +550.