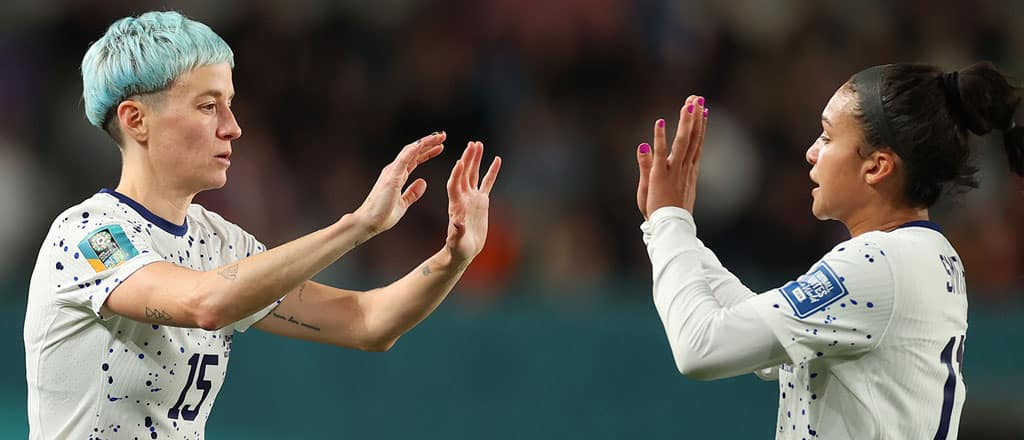 The 2023 Women's World Cup is under way! Hosted in Australia and New Zealand, the tournament features 32 of the best footballing nations in the world seeking glory. For every match day, Canada Sports Betting will break down the matches ahead, providing the key odds and story lines you need to make a play, courtesy of our friends at bet365.
Due to the unique schedule of the tournament, we'll be looking one day forward at a time. Today we'll be covering August 6th's lone fixture:
Sweden vs. United States, 5:00 a.m. ET
While you wait for the next match day, also consider checking out our main Women's World Cup page, with all of the latest full-tournament odds, our favourite picks, guides on how to make bets for the tournament, and more!
5:00 a.m. Headliner: Sweden vs. United States
Sweden Win In Full Time
+240
United States Win in Full Time
+130
Draw After Full Time
+210
Over/Under
2.5 goals (over +140, under -188)
Time/Date
Sunday, August 6, 5:00 a.m. ET
TV
Broadcast: TSN
Stream: TSN GO App
Odds courtesy of bet365. Games that go to Extra Time count as draws.
Our lone game features the most historically successful country in the tournament, against one of one of the three yet to concede points. For the United States, this tournament was a goalpost away from being a disaster, as Ana Capeta of Portugal almost turned a draw into a win in the 90th minute in their game against the Americans – had it gone in the net, it would've sent them through and ended the three-peat dream very early.
Some would say the United States are lucky to be alive with that in mind, advancing with just one win against Vietnam and draws against Portugal and the Netherlands. Others might say that the goalpost was just doing them an earned favour, as the team is greatly underperforming their shot quality so far this tournament. Their attack has generated 7.8 expected goals (third amongst all teams) and conceded just 0.7 (first), giving them the third-best differential on quality behind Japan and Spain. One can argue that padded a lot of this in the Vietnam game (3-0 actual score, 4.7-0.0 expected), but that can also be said of other teams in the race, including Sweden, who earned much of their goal difference in a 5-0 (3.4-0.6 expected) win over Italy. No matter how you slice it, there's about a three goal gap here between control and results so far, so if you're bullish on the US' ability to bounce back, there's cause for optimism there.
On the Swedish side, they'll be coming in having a pretty easy ride through group stage, facing South Africa, Italy, and Costa Rica. All three were easy wins for them, but none are Top-15 teams in the FIFA World Rankings. The United States, of course, rank first to Sweden's third, meaning a pretty marked jump in competition. They do have a history of playing well against the USA on their side, upsetting them in the 2011 World Cup, the 2016 Olympics, and 2021 Olympics, so it wouldn't be shocking if they did so again.
The top bets for goal scorers in this game are both on the US side – Alex Morgan is snakebit but still generating chances, and as such has +450 first or last goal odds and +175 odds for an anytime goal. Sophia Smith sits behind her, and the 22-year-old is having a great tournament to earn that spot, scoring two and adding an assist thus far. She sits at +500 first/last, +187 anytime to convert, and she's also the focus of a boosted Same Game Parlay – a goal from her, more than two total goals, and a USA win are available at +600, up from +550.
For the Swedish side, Stina Blackstenius has the best goal scoring odds at +650 first/last, and +250 anytime. She also has a boosted Same Game Parlay, which features her scoring, Sweden winning or forcing extra time, and both teams scoring, at the same +500 boost to +550.
Ultimately either side winning this one wouldn't be shocking, but the US are likely to break through and keep their dream alive, at least for now. The most likely full-time score is a 1-1 draw sending the game to extras (+500), followed by 1-0 USA (+550, boosted to +600), and 0-0 (+600) shortly behind. Whatever the case, this has the makings of a potential classic, so it should be worth waking up for!