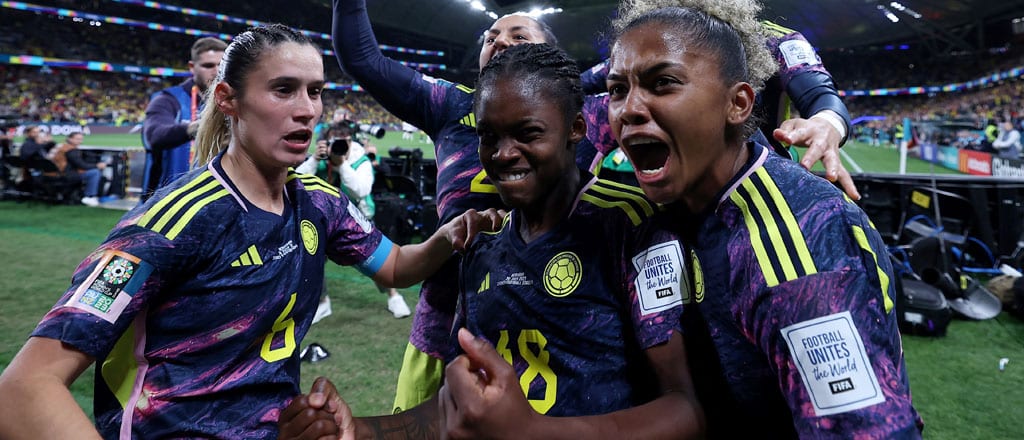 The 2023 Women's World Cup is underway! Hosted in Australia and New Zealand, the tournament features 32 of the best footballing nations in the world seeking glory. For every match day, Canada Sports Betting will break down the matches ahead, providing the key odds and storylines you need to make a play, courtesy of our friends at bet365.
Due to the unique schedule of the tournament, we'll be looking one day forward at a time. Today we'll be covering August 3rd's fixtures. These include:
Morocco vs. Colombia, 6:00 a.m. ET
South Korea vs. Germany, 6:00 a.m. ET
While you wait for the next match day, also consider checking out our main Women's World Cup page, with all of the latest full-tournament odds, our favourite picks, guides on how to make bets for the tournament, and more!
6:00 a.m. Headliner: Morocco vs. Colombia
Morocco Win in Full Time
+450
Colombia Win in Full Time
-182
Draw After Full Time
+300
Over/Under
2.5 goals (over +125, under +163)
Time/Date
Thursday, August 3, 6:00 a.m. ET
TV
Broadcast: TSN2
Stream: TSN GO App
Odds courtesy of bet365.
Both of these countries have an opportunity to finish something really special on Thursday morning.
For the Colombians, it's beating the odds and winning Group H, bouncing back from non-qualification in 2019 and building upon never winning more than a single game in previous appearances at the World Cup. Not many people had them to be here – their odds were set at +1200 going into the tournament and even qualification seemed like a coin-toss, with them and South Korea battling for the second spot. Instead, a key 2-0 win over the Koreans off the hop and a massive 2-1 victory over Germany on Sunday, pushed forward with a 97th-minute goal from Manuela Vanegas, has the team in the drivers seat of destiny. A win or a draw would give them what they seek.
For Morocco, it's a shot at qualification. Unfortunately, this one seems like a long shot, as their 6-0 loss to the Germans to start the tournament likely did too much damage to win any tiebreakers against them, and to win through eliminating Colombia will require a four-goal margin of victory. But if they can win and Germany draws or loses in their match, or they draw and Germany loses, it'll be one of the more shocking advancements in recent history. Morocco had an all-time gutsy win on Sunday over South Korea, where they were able to break through just six minutes into full time and hold the fort in formidable fashion, facing a slew of shot attempts but never letting any get on target. Morocco entered the tournament with +4000 odds of going to the knockout stages. To be here is accomplishment enough. If they can nail the math and advance, though, it would be seismic.
Unfortunately, the most realistic result is a game where Colombia strikes to lock in their ticket and then plays methodical the rest of the way, with 1-0 (+400) and 2-0 (+500) Colombia being the scores with the shortest odds. If you think they'll add a little salt in the wound, 3-0 is going for a boosted +1000 on bet365. Colombia – Colombia for the Half/Full Time outcome at +137 is alluring with that in mind.
As far as individual goalscorers, Colombia's Catalina Usme (+300 for either the first or last goal, +105 as an anytime goalscorer) and Linda Caicedo (+450 first/last, +162 anytime) are your most likely finishers. If Morocco scores, it's expected to come from the boots of either Rosella Ayane (+900 first/last, +350 anytime) or Ibtissam Jraidi (+1200 first/last, +450 anytime).
6:00 a.m. Match: South Korea vs. Germany
South Korea Win in Full Time
+1200
Germany Win in Full Time
-450
Draw After Full Time
+550
Over/Under
2.5 goals (over -150, under +115)
Time/Date
Thursday, August 3, 6:00 a.m. ET
TV
Broadcast: TSN
Stream: TSN GO App
Odds courtesy of bet365.
On the other side of Group H, Germany hopes to avoid joining the likes of Canada and Brazil, who were considered among the favourites to go deep in this tournament and instead saw themselves knocked out at the group stage. At -5000 to qualify going into tomorrow it doesn't appear that bet365 is all that worried about it happening, but as explained above, there is a pathway to a Germany elimination.
To stave that off, the easiest thing for Germany to do would be to win this game against the South Koreans, who have thoroughly disappointed with no goals and three against in two losses thus far in this tournament. A draw almost definitely gets them across the line as well, though it would leave room open for Morocco to pull off another upset in the other match and get ahead. To win the group would be more challenging – they'd need both a win and a Colombia loss, after which they'd have the goal-differential tiebreaker.
For South Korea, there's no reasonable way out of the hole they've dug. To even have a chance here, they'd have to win this game by four and then hope that Colombia maintains the win over Morocco. The odds on this are so astronomical that bet365 isn't even taking bets on it without a request, offering +20000 odds on a 3-0 win for the Koreans but not allowing you to pick a four-goal margin. It's hard to blame them, as this would be one of the more shocking results in the history of women's soccer even if South Korea had played up to expectation in the prior games against Colombia and Morocco, which they most definitely haven't.
Now, if you want a 4-0 margin of victory for the Germans, that's not only available, but boosted – you can get it at +1000 up from +900. Also boosted is a first goal coming from Alexandra Popp, who has already picked up three of Germany's five goals that's at +300 boosted from +275, and she's -138 to factor in again. If you want something a little bit more creative, a combination of a Germany clean sheet, more than two goals for them, and a Klara Buhl goal is available for a boosted +600 over the typical +550.