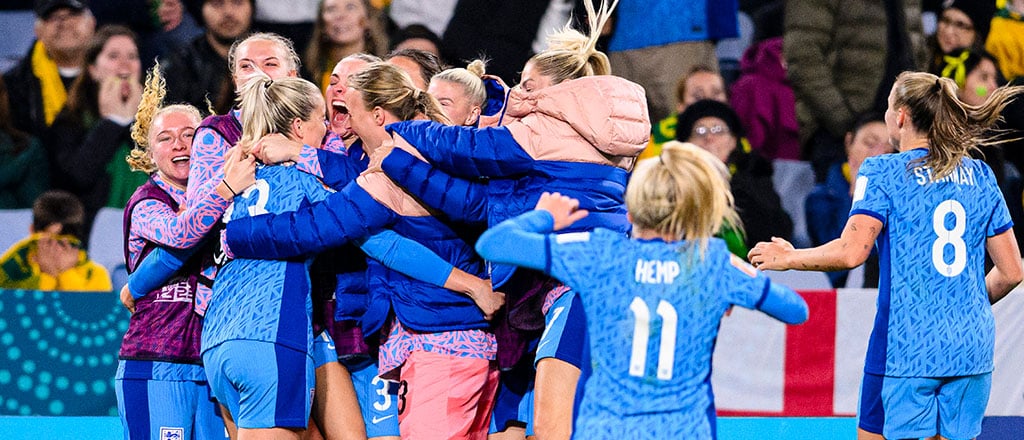 The 2023 Women's World Cup is underway! Hosted in Australia and New Zealand, the tournament features 32 of the best footballing nations in the world seeking glory. For every match day, Canada Sports Betting will break down the matches ahead, providing the key odds and storylines you need to make a play, courtesy of our friends at bet365.
Due to the unique schedule of the tournament, we'll be looking one day forward at a time. Today, we focus on the August 20th World Cup Final between Spain and England. The game kicks off at 6:00 a.m. ET.
While you wait for the next match day, also consider checking out our main Women's World Cup page, with all of the latest full-tournament odds, our favourite picks, guides on how to make bets for the tournament, and more!
2023 World Cup Final: Spain vs. England
Spain Win in Full Time
+175
England Win in Full Time
+180
Draw After Full Time
+200
Over/Under
2.5 goals (over +150, under -200)
Time/Date
Sunday, August 20, 6:00 a.m. ET
TV
Broadcast: TSN
Stream: TSN GO App
Odds courtesy of bet365. Games that go to Extra Time count as draws.
It has been a sensational month of soccer at the 2023 FIFA Women's World Cup.
Alas, all good things must come to an end, but what an end it will be with Spain and England set to meet on Sunday at Stadium Australia in Sydney.
It has been clear since Sweden knocked out Japan in the quarter-finals that a new champion would etch their names into the record books. Will it be La Roja, who have taken the tournament by storm and when that fury met resistance in the knockout stages still found ways to make sure they were the team left standing? Or the Lionesses who have exuded a quiet confidence, regardless of the curveballs thrown their way?
For both sides this year's World Cup has set a new high.
Spain, appearing in just their third edition, had previously never been further than the Round of 16 which they reached in 2019, losing 2-1 to eventual champions USA. England finished third in 2015 – defeating Germany 1-0 on an extra time penalty kick in the play-off for third place – and fourth in 2019 – losing 2-1 to Sweden in that play-off. The Swedes have a knack for collecting those bronze finishes, defeating Australia 2-0 on Saturday to seal a podium finish.
Neither will be happy to settle for a best-ever finish; both will be eager to take that trophy back home.
And there will be an element of familiarity in this one as the same two sides met on July 20, 2022 in the quarter-finals of the 2022 UEFA Women's Euro last summer.
Spain's Esther González opened the scoring at the start of the second half only for Ella Toone to equalize in the 84th minute, setting the table for Georgia Stanway to score the game-winner in the 96th minute. The English would go on to win that competition on home soil; the Spanish nearly put that fairytale to a premature end.
England have dominated the all-time series with two wins and three draws, but aside from the aforementioned quarter-final none of those matches has been played since 2010 and Spain are now a serious threat.
Both teams welcome back players suspended for the semi-finals. England's Lauren James also missed the quarter-final for her red card against Nigeria in the Round of 16, while Oihane Hernández was forced to sit out Spain's win over Sweden after two yellows.
A quick look at how these teams got to this point illustrates why this will be such a fascinating clash.
Spain began the tournament with a bang, outscoring their first two opponents 8-0 before stumbling against fellow contenders Japan. That 4-0 defeat was a warning, a lesson that while it is all well and good to attack with abandon, against better sides one has to make sure to keep the backdoor locked.
It was one the Spanish took on board, after returning to their offensive ways in a 5-1 win over Switzerland in the Round of 16. Spain conceded as many goals to Japan in 40 minutes as they have through three knockout rounds, dispatching both the Netherlands and Sweden by 2-1 scores.
That safety comes at a cost. The Spanish have needed late drama to advance through the quarter-finals and semi-finals, but that is what good teams do: wrestle some control in the match, rest assured that quality will shine through in the end, and perhaps pray that the soccer gods' favour will shine.
England's start was the exact opposite. 1-0 wins over Haiti and Denmark and the injury scare to midfield talisman Keira Walsh had some back home doubting the heroics of the home Euros could be repeated. The English would come to life in their final group stage match with a big win over China before surviving both a red card and a penalty shootout, a two-headed nightmare of English footballing past, in the Round of 16 after a scoreless draw against Nigeria.
Colombia provided some concern in the opening half of their quarter-final match up, but their first half lead lasted just eight minutes and England found the game-winner early in the second half then saw out the match. In the semi-final England oozed confidence and control, comfortable in the knowledge that if they stifled Australia their chances would come. Come they did and even when Sam Kerr's thunderbolt stirred the passions of the home crowd, the English calmly poured water with another goal eight minutes later.
This will be a battle of wills. Spain will be the best attacking team the English have faced at the World Cup – will that absorb and redirect withstand the pressure or crack under it? A disciplined England squad will not be threatened by Spain's desire to boss possession and can the Spanish rely on a third moment of magic to be decisive?
The line for this one is so tight as to make calling either favourite a misnomer. Spanish odds are slightly shorter, but only by the slimmest of margins.
The featured bet boosts lean in England's direction with First Goalscorer – Alessia Russo upped to +900 and a Correct Score of England 2-1 upped to +1100. As do the boosted Same Game Parlays, though with two of them relying on an individual goalscorer, the other of England to Lift the Trophy, Over 2 Goals, and Over 7 Corners at +600 seems the least unclear – five of the six knockout matches featuring these teams have seen at least three goals and seven corners, with the line set at nine, is very doable.
With each side shut out just once through six matches at the World Cup and only one clean-sheet combined in the knockout stages Both Teams to Score – Yes at +100 looks to be in play. Combine that with a winner in Result/Both Teams to Score to up the payout: Spain/Yes (+550), England/Yes (+600).
In the Goalscorer category Spain's Esther González (First +550, Last +550, Anytime +210) has the shortest odds and scored Spain's goal against England at the Euros last summer. She hasn't scored since the opening game, but with an xG of 2.6 the striker is getting in good positions and finding chances.
Alessia Russo (+850, +850, +333) is England's most likely scorer. With three goals already, Russo, who scored the game-winner against Colombia and the insurance goal against Australia, is tied with two of her teammates and three Spanish players at that mark.
Lauren Hemp (+1000, +1000, +400) is one of them. She has had a knack for capitalizing on mistakes: her goals in the last two matches have come from the determination to sniff out openings and pounce. Every game will have mistakes, but they can often be decisive in these types of games. And Lauren James (+1000, +1000, +400) who scored three in the group stage, is available again, but whether she returns to the lineup and how she reacts to being back involved remains to be seen.
For Spain the trio on three goals is Aitana Bonmatí (+1200, +1200, +500), star of the Round of 16, Jennifer Hermoso (+600, +600, +210), and Alba Redondo (+700, +700, +275) – the latter two each netted once against Switzerland but had braces in the 5-0 win over Zambia in the group stage.
With those stars held at bay in the last two 19-year-old Salma Paralluelo (+900, +900, +350) has emerged with clutch goals, scoring the 111th minute game-winner over the Netherlands and the 81st-minute opener against Sweden.
Two more worth mentioning: Georgia Stanway (+1100, +1100, +450) and Chloe Kelly (+1200, +1200, +500), each have one goal so far at the World Cup for England, but Stanway scored the game-winner over Spain at last summer's Euros and it was Kelly who provided the late drama in the subsequent final over Germany.
Spain have had a knack for late drama with all six goals in their last two scored after the 81st minute, so Late Goal – Goal after 69:59 at -120 is alive.
As mentioned in the parlays the line for Corners is set at 9. Over the six combined matches in the knockout stages Spain and England have averaged 9.3 corner kicks per game and one can be sure that there will be plenty of attacking and plenty of last ditch defending in this one. Over 9 is at +110 and Exactly 9 at +650.
Both Teams to Receive a Card – Yes at +110 looks highly likely as well – it's a final, there will be some desperate tackling. Referees have generally been reserved when it comes to flashing yellows, but there have been a fair number of penalty kicks: A Penalty in the Match – Yes +175. And for those curious: a Red Card in The Match – Yes is at +600 and an Own Goal – Yes at +1200, finals can be funny like that.
Speaking of, Game Decided After Penalties – Yes is at +400. Both the Round of 16 and quarter-finals saw one in four matches decided by kicks from the spot. In the three games since there has not been one. Method of Victory – Penalties for either side, individually, is at +800.
One last thing: Sweden's Amanda Ilestedt was unable to find a fifth goal in her final match of the World Cup, leaving Japan's Hinata Miyazawa atop the Golden Boot standings, but a brace from any of the six players on three between Spain and England would draw them level.
Multi Scorers – 2 or More: Hermoso (+1600), Redondo (+2000), Russo (+2800), Hemp and James (+3300), and Bonmatí (+5000).
3 or More would see any one of them win the Golden Boot outright and pay out handsomely: Hermoso, Redondo, and Russo (+10000), Hemp and James (+12500), and Bonmatí (+15000).