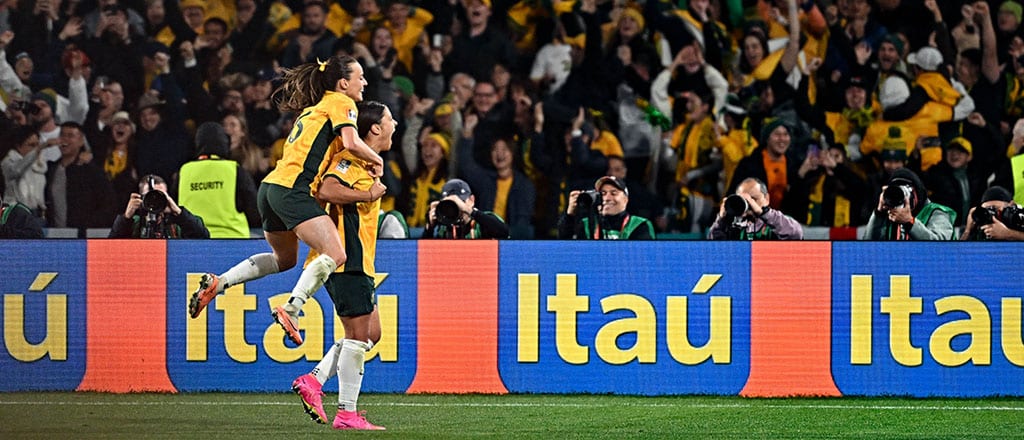 The 2023 Women's World Cup is underway! Hosted in Australia and New Zealand, the tournament features 32 of the best footballing nations in the world seeking glory. For every match day, Canada Sports Betting will break down the matches ahead, providing the key odds and storylines you need to make a play, courtesy of our friends at bet365.
Due to the unique schedule of the tournament, we'll be looking one day forward at a time. Today, we focus on the August 19th third place game matchup between Sweden and Australia. The game kicks off at 4:00 a.m. ET.
While you wait for the next match day, also consider checking out our main Women's World Cup page, with all of the latest full-tournament odds, our favourite picks, guides on how to make bets for the tournament, and more!
World Cup Third Place Game: Sweden vs. Australia
Sweden Win in Full Time
+150
Australia Win in Full Time
+175
Draw After Full Time
+240
Over/Under
2.5 goals (over +105, under -134)
Time/Date
Saturday, August 19, 4:00 a.m. ET
TV
Broadcast: TSN
Stream: TSN GO App
Odds courtesy of bet365. Games that go to Extra Time count as draws.
This is not the game that either team wanted to be playing in this weekend.
The 2023 FIFA Women's World Cup will come to a conclusion when Spain and England meet in the Final. After a month of thrilling action, twists and turns, upsets galore, veteran stars exiting stage left and new ones just warming up it all comes down to two last matches: the big one on Sunday and this one between Sweden and Australia at Brisbane Stadium in Brisbane, Australia.
The playoff for third place is a strange beast.
Nobody enters a tournament aiming for a place in the consolation match. Nobody dreams of scoring the big goal that sees their team finish third. Yet it is still an opportunity to close out a wonderful and memorable World Cup with a victory, as well as a nice bump in the share of the prize money.
This will be co-host Australia's first appearance at this stage of a World Cup. Win or lose, this will be the Matildas best ever finish. Sweden, on the other hand, have been here before with three third-place finishes to go with their 2003 runners-up high. The Blågult (Blue and Yellow) defeated England 2-1 at the 2019 Women's World Cup in France, beat France by that same scoreline at the 2011 edition in Germany, and defeated Germany 4-0 in the first Women's World Cup in 1991 in China.
The big question heading in is who can shake off the disappointment of the midweek semi-final defeat to go again come the starting whistle?
It is never easy to be so close to the finish line and fall short. That it was a familiar sting for the Swedes does not matter. Having fallen behind in the 81st minute from a Salma Paralluelo strike, Sweden found an equalizer two minutes from the end of regulation via Rebecka Blomqvist, only for Spain to go right back up the other end to score in the 89th minute courtesy of Olga Carmona's shot from the top of the box to give the Spanish a 2-1 victory.
Australia too, thanks to a glorious strike from Sam Kerr, clawed their way back into the game after Ella Toone's first half opener only for England to respond eight minutes later and add another late, mere moments after Kerr had a pair of chances to equalize, in a 3-1 defeat. Though the Aussies would love nothing more than one last celebration with the nation, they have lit a fire under one wonders how much more can be left in the tank.
One of the wrinkles of this World Cup has been how few previous encounters there have been between teams from which to draw conclusions. That is not the case for Sweden and Australia, who have met five times, three of which have come in the last few years.
Sweden dominated the earliest meetings, winning twice and drawing two more, including a pair of victories at the 2020 Tokyo Olympics played in 2021. The two met in the semi-finals of that competition with Sweden winning 1-0 on a goal from Fridolina Rolfö at the start of the second half. They also played against each other in the group stage with Sweden rolling out 4-2 winners with both Rolfö and Kerr scoring braces.
But a November 2022 friendly match played in Melbourne, Australia saw the Matildas win 4-0 with Caitlin Foord scoring twice, while Mary Fowler and Kerr added singles.
Even without taking into account all the intangibles of a month spent in the emotional crucible of a World Cup this one could go either way and the line is suitably tight with Sweden's odds shorter by the slightest of margins.
A couple of bet boosted numbers to start straddle that line. Australia's Sam Kerr as First Goalscorer is upped to +500, while a Correct Score of Sweden 2-1 is elevated to +1000.
There are interesting Same Game Parlays going each way as well. For the Aussies a trio of Sam Kerr to Score Anytime, Match result Australia, and Over 3 Goals sits at +1000. For the Swedes it is Match Result Sweden, Both Teams to Score – Yes, and Stina Blackstenius to Score Anytime at +700. Both entirely possible manners for this game to play out.
Both teams have been excellent defensively at the World Cup. Sweden has allowed just four goals in six matches, half of which came in the semi-final defeat to Spain. Australia has allowed six throughout and again half of those came in the defeat to England. But both teams have also scored regularly, each shut out only once through six matches, both of those shutouts coming in knockout round outings that they went on to win in a shootout: Sweden over the USA in the Round of 16 and Australia against France in the quarter-finals.
With third-place matches having the potential to be free-flowing games, absent some of the pressure of a knockout or final, there should be some goals in this one. Both Teams to Score – Yes at -150 looks lively, while if combined with a winner in Result/Both Teams to Score the pay out increases (Sweden/Yes +375, Australia/Yes +400).
Sam Kerr (First +450, Last +450, Anytime +137) opened her account in spectacular fashion with a stunning effort from range against England and tops the goalscorers odds once more. The Chelsea forward's tournament has been hampered by a calf issue, but she returned to the starting lineup for the semi-final and nearly added a second equalizer when a late corner kick sat up nicely for her, only to touch it over the bar. For Sweden Blackstenius (+550, +550, +175) has the shortest odds, but with one goal at the World Cup she is under performing her xG (2.0 through 432 minutes).
Those headliners are not the top scorers for their respective teams with Amanda Ilestedt (+1600, +1600, +550) scoring four goals for Sweden, one shy of Hinata Miyazawa's five to lead the race for the Golden Boot, and Hayley Raso (+1200, +1200, +400) netting three times for Australia. Raso and another Swede, Rebecka Blomqvist (+850, +850, +275), are level with three players from both Spain and England as the only candidates remaining with a game left to reconfigure the Golden Boot standings. A big game here from any of them could take over that top spot and the award.
With the margins being as thin as they are, though neither team will want to play the additional minutes, this one could well not be decided after the 90 minutes are up. Game Decided in Extra Time – Yes is at +550 and After Penalties is at +500.
It will be interesting to see what form this game takes. Australia, whether content to or forced, let England have the majority of possession in their semi-final, looking instead to strike quickly in transition whenever the opportunity arose. Sweden lost the possession battle against Spain, but have otherwise been comfortable on both sides of that ball and looked to set-pieces to prove the difference.
Both teams have been incredibly disciplined with just one card through the three knockout stages. That should continue, though perhaps the diminished intensity without a final on the line means even that standard is too high. The Number of Cards in Match line is set at 1.5 with the Under at -125. Both Teams to Receive a Card – No is at -275 and individually the Team Cards line is at 0.5 with each Under at +100.
Corner kicks in particular have been a dangerous weapon for the Swedes, something of which the Aussies will be well aware. After Sweden scored four of their first seven goals from corners, opponents have smartened up: they had just nine corner kick opportunities in the knockout rounds and have not scored directly from a corner since the group stage, though crosses from wide areas have proven an equally useful tool.
The Corners line is set at 9 with Under at +120. Total Corners 6-8 is at +187. There were only six corners total in the Spain-Sweden semi-final and in a cruel twist of fate the Spanish game-winner came from one of them. Australia themselves have averaged six per game in the knockout rounds, but there were only six total in the Australia-Denmark Round of 16 meeting, a match which may serve as a model for this one.
And one more for fun: Multi Scorers Sam Kerr 2 or More is at +700 – she has three goals in their last three meetings including a brace at the Olympics; Blackstenius of Sweden is at +1000. Rolfö also scored a brace at the Olympics as well as the game-winner in their semi-final meeting in Japan and Foord scored twice in that friendly last winter – both have their Multi Scorers 2 or More at +1400.