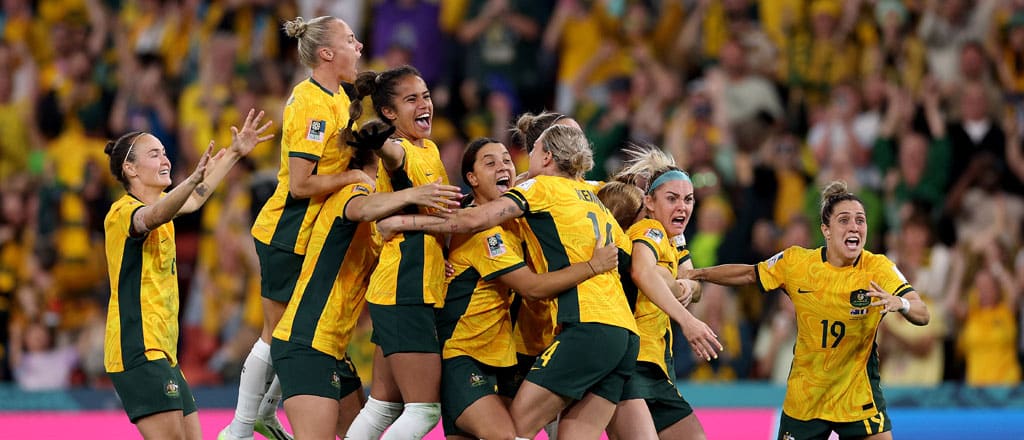 The 2023 Women's World Cup is underway! Hosted in Australia and New Zealand, the tournament features 32 of the best footballing nations in the world seeking glory. For every match day, Canada Sports Betting will break down the matches ahead, providing the key odds and storylines you need to make a play, courtesy of our friends at bet365.
Due to the unique schedule of the tournament, we'll be looking one day forward at a time. Today, we focus on the August 16th semi-final matchup between Australia and England. The game kicks off at 6:00 a.m. ET.
While you wait for the next match day, also consider checking out our main Women's World Cup page, with all of the latest full-tournament odds, our favourite picks, guides on how to make bets for the tournament, and more!
World Cup Semi Final: Australia vs. England
Australia Win in Full Time
+250
England Win in Full Time
+130
Draw After Full Time
+200
Over/Under
2.5 goals (over +170, under -225)
Time/Date
Wednesday, August 16, 6:00 a.m. ET
TV
Broadcast: TSN
Stream: TSN GO App
Odds courtesy of bet365. Games that go to Extra Time count as draws.
With Spain defeating Sweden 2-1 in the first semi-final, one finalist of the 2023 FIFA Women's World Cup has been decided. Who will join them will be determined in the other when co-hosts Australia square off against England at Stadium Australia in Sydney.
Waltz or roar, this one could go either way.
The Matildas reached the semi-final via a 7-6 penalty shootout win over France in an instant classic of a match. Despite chances at both ends, the teams were scoreless after 120 minutes of action and rarely does a penalty shootout offer quite as many twists and turns as this one did. Through 20 attempts, Australia only separated themselves at the third time of asking when Cortnee Vine slotted her kick past the France goalkeeper to send the home crowd off celebrating.
The Lionesses saw off the challenge of Colombia in their quarter-final with a 2-1 win. The South Americans took the lead just before half-time, but Lauren Hemp capitalized on a spilled ball from the goalkeeper to level in stoppage-time and Alessia Russo nabbed the goal to secure progression in the second half.
This one will be fascinating.
Australia needed a big win over Canada in the final group stage match to secure their spot in the knockout round, but since then they haven't looked back, navigating wins over Denmark and France with that same irrepressible energy. That effervescence has drawn in a sporting mad country and with a new champion set to etch their names onto the World Cup with all previous winners eliminated, Australia is thinking this may well be their year.
England have not hit the dramatic highs that Australia has thus far, but despite the constant setbacks – injuries coming into the tournament, the scare of losing Keira Walsh in the second match (she has since returned), and the suspension of top scorer Lauren James (James has three goals and three assists; she will miss this match serving the second of two games for a red card against Nigeria) – they have found a way to be one of the last four teams standing, even shrugging off the old national bane by defeating Nigeria in a penalty shootout.
Both teams have an element of destiny at their backs – Australia as the hosts, England as defending European champions.
The line is incredibly tight with England slight favourites. Australia won a friendly meeting in April by a 2-0 score. The match in Brentford, England saw Sam Kerr score the game-winner.
Despite the narrow margins there is a lot of interesting action to be had on this match.
A couple of bet boosts to kick it off.
The first has Alessia Russo, the focal point of the English attack in James' absence, as the First Goalscorer upped to +800, from +750. Russo has two goals at the World Cup and leads the side in shots and shots on target, 17 and 11, respectively. She opened the scoring in England's 6-1 win over China at the end of the group stage and scored the game-winner against Colombia.
The other has Method of Victory – Australia after Penalties raised to +800, from +750. Each side needed a shootout to decide a winner in one of their two knockout rounds. England after Penalties sits at +800, while the more general Game Decided After Penalties – Yes is at +350.
A couple of interesting tidbits: while only three of 13 knockout matches have ended scoreless, these teams were involved in two of them – a Correct Score 0-0 is paying out at +500. And none of the five matches since the conclusion of the Round of 16 has been decided by more than a single goal: a Winning Margin of 1 either way looks likely, with both sides being given +275.
All four highlighted Same Game Parlays have merit, though the thin margins and the fact that both sides have been shut out already in the knockout stage which makes Both Teams to Score – Yes tough to swallow.
In 10 combined matches only once has there been fewer than seven corner kicks – Australia's Round of 16 win over Denmark saw just six, so the other two parlays look lively.
The more neutral pick of Over 7 Corners, Alessia Russo and Mary Fowler Over 1.5 Shots on Target is on offer at +1400, from +1200. England's Russo has averaged 2.54 shots on target per 90 minutes; Australia's Fowler has averaged just 0.7, but had two on target against France in the quarter-final.
Over 7 Corners, Fowler to Score Anytime, and Australia to Qualify at +900 (from +800) covers a lot of the same bases, but relies on Fowler scoring and the Aussies moving on to the Final.
Sam Kerr (First +550, Last +550, Anytime +220), who has made appearances off the bench in Australia's last two matches on return from injury, is yet to open her account, but tops the goalscorers chart once more. Fowler (+900, +900,+375) has just one goal, but has looked really dangerous of late and is under performing her xG (2.0). Hayley Raso (+1200, +1200, +500), who leads the side with three goals at the World Cup, on the other hand, is over performing her xG (1.4).
For England, Russo (+750, +750, +300) is matched by teammate Rachel Daly; Russo is slightly over performing her xG with two goals from 1.9 xG. Daly is under performing with one goal on an xG of 1.4. Lauren Hemp (+850, +850, +350) has also scored twice for England at the World Cup.
Part of what makes this match so intriguing is that both teams have given up chances in each of their knockout matches and both teams have given up more shooting opportunities than they've taken.
Australia have yet to concede in the knockout rounds, but France and Denmark had a combined xG of 2.7 in those two matches on 33 shots. England conceded just the one against Colombia, but they and Nigeria had a combined xG of 1.7 on 32 shots.
This one will have chances at both ends.
In line with that, a few Player Shots on Target Over/Under and Player Shots Over/Under look intriguing.
In shots per 90, England's Russo (Over 2.5 -138) is averaging 3.92 per 90 and Daly (Over 1.5 -175) is averaging 2.44. For the Aussies, Caitlin Foord (Over 2.5 +137) has averaged 2.82 per 90 minutes and Fowler (Over 1.5 -188) 2.56.