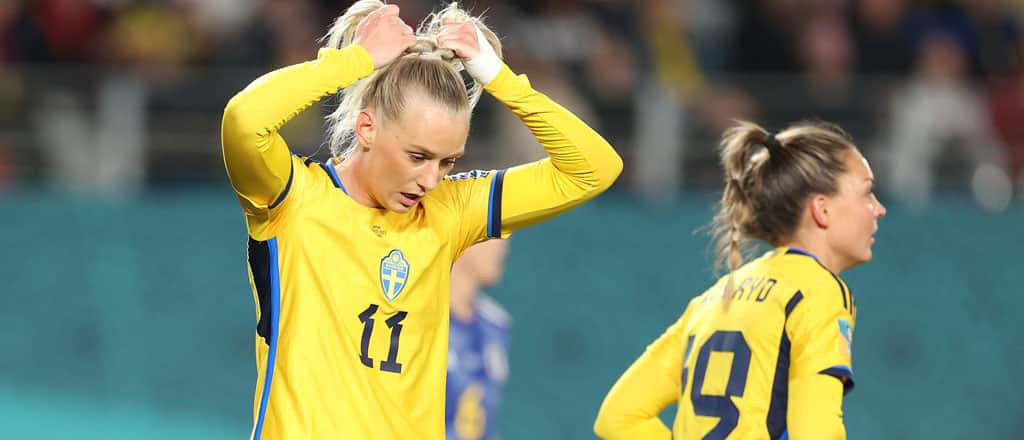 The 2023 Women's World Cup is underway! Hosted in Australia and New Zealand, the tournament features 32 of the best footballing nations in the world seeking glory. For every match day, Canada Sports Betting will break down the matches ahead, providing the key odds and storylines you need to make a play, courtesy of our friends at bet365.
Due to the unique schedule of the tournament, we'll be looking one day forward at a time. Today, we focus on the August 15th semi-final matchup between Spain and Sweden. The game kicks off at 4:00 a.m. ET.
While you wait for the next match day, also consider checking out our main Women's World Cup page, with all of the latest full-tournament odds, our favourite picks, guides on how to make bets for the tournament, and more!
World Cup Semi Final: Spain vs. Sweden
Spain Win in Full Time
+105
Sweden Win in Full Time
+260
Draw After Full Time
+230
Over/Under
2.5 goals (over +150, under -200)
Time/Date
Tuesday, August 15, 4:00 a.m. ET
TV
Broadcast: TSN
Stream: TSN GO App
Odds courtesy of bet365. Games that go to Extra Time count as draws.
Today's semi-final matchup includes the third and sixth-ranked nations in the FIFA World Rankings, so in some respect, it's not shocking to see them both here.
In other respects, it's a massive shock.
Take Spain, for example. They've had a lot of great games in this tournament – their top three results have come at a combined score of 13-1, including a 5-1 win against Switzerland in the Round of 16. But their run also includes an absolute thrashing by Japan in the final game of the group stage, a 4-0 performance where Spain dominated possession but looked unable to compete with Japan's counters. It also required that they defeated the Netherlands, who went to the finals against the United States in 2019, but despite a last-minute scare from Stefanie van der Gragt, they did just that, escaping with a 2-1 win on Thursday.
The game was once again a possession masterclass for Spain, seeing them hold 62% of the ball and create 28 shot attempts, which is part of the reason the books have been hot on them. Those who control the game are more likely to control the result, after all, and Spain have yet to have a game where they've controlled less than 60% of the ball. But still, none of this felt like a given at the start of the tournament.
Just like it didn't feel like a given that Sweden would be undefeated this close to glory. Winning their group felt very likely, their early-tournament odds of +2000 to win it all were respectable, and some of the data-driven folks were high on their odds coming in, but a perfect 5-0 record coming into the semis, especially with their Round of 16 game coming against the juggernaut United States, though? Not so much.
Sweden's quarter-final game came on Thursday, against Japan, and unlike Spain they were able to hold onto control of the game. Amanda Illestedt cleaned up a scramble in the box a little over half an hour in, and a handball gave Filippa Angeldahl an opportunity to add insurance early in the second half. Honoka Hayashi brought Japan closer in the final minutes, but Sweden carried the game home from there.
One might try to extrapolate what happens in the game through how the two teams fared with Japan. Sweden beat the team that Spain couldn't, but Spain had much more significant control of the game. At the same time, Spain were down for for 78 minutes, meaning there was a bigger chunk of the game for Japan to go into a shell for, while Sweden was up against them for 58, shifting the dynamic. You can look to the two teams' last game against each other instead, but that October 2022 friendly was a 1-1 draw, not giving much for an answer.
What could be gleaned off of that is that Spain greatly controlled the possession (66% to 34%) and the attempted shots (26 to 16), but once again – Sweden went up at the 14-minute mark, and responsibilities shifted accordingly. Overall, the books like a Spain win, with the most likely score being 1-0 (+500). A 1-1 draw that goes to extras isn't out of the question either, though, at +550, with 0-0 at +600 not far behind. Sweden pulling out a 1-0 win has higher odds than any other Spain victory margin, so the confidence here isn't one-sided.
As far as goalscorers go, Esther Gonzalez and Jennifer Hermoso lead the way for Spain, both with +500 odds for the first or last goal, and +187 odds to score an anytime goal. Gonzalez is has been a mainstay on the top of these lists, though she's only generated one goal on 2.6 expected goals in 233 minutes throughout this tournament. Hermoso has played twice as much, but has produced in according fashion, scoring three goals on 3.8 xG. For Sweden, Stina Blackstenius is the clear favourite to tally, with +700 first/last odds and +275 anytime odds. She is trailed by Fridolina Rolfo and Olivia Schough with +850 first/last and +333 anytime odds. Blackstenius has had a quiet tournament, with just one goal on 1.5 xG, though the expectation for the Arsenal forward remains.
As far as boosted bets go, this one feels a little thin on the Same Game Parlay front, though the more straight-up boosts are interesting. One has Sweden winning 2-1, an identical score to their quarter-final victory. That one sits at +1400, up from +1200. If you think it'll be Spanish dominance instead, you can get more than the standard line by taking them to be up at the end of half-time and full-time, which has been boosted from +260 to +275.
It'll be interesting to see where this game goes. Both teams have shown great quality and deserve a shot at getting rewarded with their nation's first ever Women's World Cup trophy, and each has given us reasons to believe in them – which one will grasp the moment?