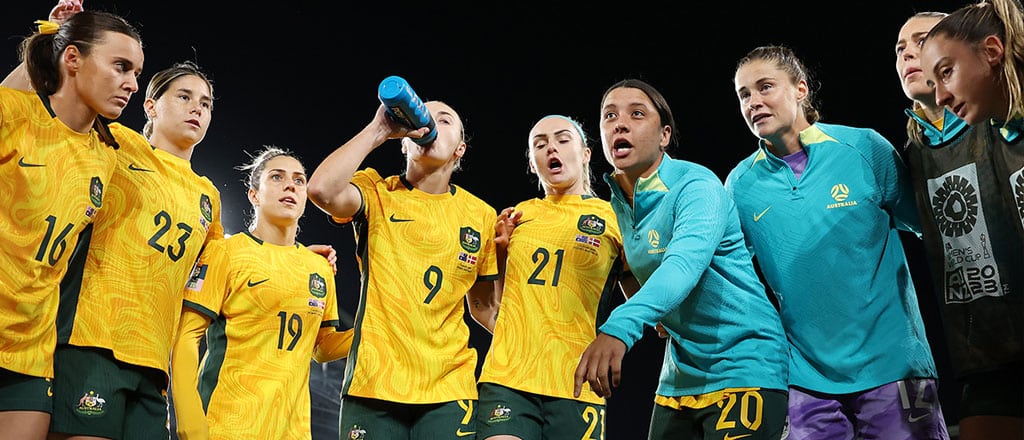 The 2023 Women's World Cup is underway! Hosted in Australia and New Zealand, the tournament features 32 of the best footballing nations in the world seeking glory. For every match day, Canada Sports Betting will break down the matches ahead, providing the key odds and storylines you need to make a play, courtesy of our friends at bet365.
Due to the unique schedule of the tournament, we'll be looking one day forward at a time. Today we'll be covering August 12th's fixtures. These include:
Australia vs. France, 3:00 a.m. ET
England vs. Colombia, 6:30 a.m. ET
While you wait for the next match day, also consider checking out our main Women's World Cup page, with all of the latest full-tournament odds, our favourite picks, guides on how to make bets for the tournament, and more!
3:00 a.m. Headliner: Australia vs. France
Australia Win in Full Time
+260
France Win in Full Time
+120
Draw After Full Time
+210
Over/Under
2.5 goals (over +125, under -163)
Time/Date
Saturday, August 12, 3:00 a.m. ET
TV
Broadcast: TSN
Stream: TSN GO App
Odds courtesy of bet365. Games that go to Extra Time count as draws.
Two absolutely fascinating matches, each for different reasons, will close out the quarter-final stage of the 2023 FIFA Women's World Cup.
In the early match, at Brisbane Stadium in Brisbane, Australia, co-host Australia squares off against European heavyweights France.
Having both topped their groups, neither was particularly troubled in their Round of 16 ties. The Matildas brushed aside the challenge of Denmark, needing just 29 minutes to take the lead through Caitlin Foord and found an insurance goal midway through the second half to advance via a 2-0 score.
Les Bleues took just 15 minutes to go in front against Morocco through Kadidiatou Diani, added two more before the 23rd minute, and another in the second half to roll out 4-0 winners.
Therein lies the rub.
Both teams had scares in the group stage – Australia losing to Nigeria, a result that put their getting out of the group at risk, and France drawing with Jamaica in the opener. Those early warnings can be advantageous in a tournament. It is a reminder of the stakes, of expectations mattering little once the whistle blows. It can spur a side on – both sides used that motivation: the Aussies to steamroll Canada and the French to overturn Brazil, but it can also become a paralyzing factor when the tides turn against.
France are slight favourites, but Australia will have the home support at their back. An added wrinkle is that the two met in Melbourne this July for a friendly ahead of the World Cup where Australia won 1-0. This is not a match to miss.
France's Eugénie Le Sommer as the First Goalscorer is bet boosted to +500 – the 34-year-old has been excellent all tournament and opened the scoring in that crucial victory over Brazil. And despite the odds, without talisman Sam Kerr playing a major role – she made her tournament debut coming on in the 80th minute of the Round of 16 win, Australia have found a way. A Correct Score of Australia 2-1 boosted to +1400 is a long shot, but it cannot be ruled out at a World Cup this unpredictable.
Two boosted Same Game Parlays catch the eye: the first is Over 7 Corners, Diani to Score Anytime, and France to Qualify at +550. Both teams have averaged over seven corners per match individually, and after a slow start to the competition Diani has scored in France's last two matches, and the French are favourites after all.
The other is Over 2 Goals, Le Sommer and Hayley Raso Over 0.5 Shots on Target at +550 – both teams have not been shy of finding the back of the net, Le Sommer has averaged 2.69 shots on target per 90 minutes and Raso 1.10.
Le Sommer with three goals already tops the goalscorers chart (First +450, Last +450, Anytime +160), Diani (+650, +650, +240) leads France with four goals, thanks in part to a hat-trick against Panama
Kerr (+550, +550, +200), despite not starting yet, has the shortest odds amongst the Aussies. Raso (+1400, +1400, +550) with three goals has led the way in her absence, while Mary Fowler (+900, +900, +333) has one so far. It was Fowler who scored the only goal in the pre-tournament friendly between the two sides.
With this one finely balanced, it could come down to a set-piece – Wendie Renard (+1000, +1000, +375) scored the late game-winner against Brazil for France with a header – or a penalty kick – Steph Catley (+1600, +1600, +600) has converted twice from the spot for Australia.
In Player Assists, Diani (Over 0.5 at +225) has three so far for France and Foord (Over 0.5 at +250) has two for Australia.
With the first two quarter-final matches in the books, it is clear that however the odds are shaped heading in, these games are going to be tight.
Free-flowing Spain took 81 minutes to go ahead against the Netherlands and even then the Dutch responded to send it to extra time. Sweden needed just 32 minutes to open the scoring against Japan and despite adding a second before half-time Japan made it interesting at the end in a furious finish.
There is no ruling out a similarly tight affair. Game Decided in Extra Time Yes at +550 and Game Decided After Penalties at +400 are both in play.
Both teams have seen goals scored late in half of their matches at the World Cup, so Late Goal, Goal after 72:59 at -120 could be worth keeping an eye on. And both teams have had a propensity for running up the score. Given the nature of this one, should one take the lead, the other will have to open up in search of a response. A Winning Margin of 2 either way – Australia (+1100), France (+550) – would pay out nicely.
6:30 a.m. Match: England vs. Colombia
England Win in Full Time
-200
Colombia Win in Full Time
+700
Draw After Full Time
+260
Over/Under
2.5 goals (over +150, under -200)
Time/Date
Saturday, August 12, 6:30 a.m. ET
TV
Broadcast: TSN
Stream: TSN GO App
Odds courtesy of bet365. Games that go to Extra Time count as draws.
The second match on the docket sees two sides with very different vibes go head-to-head at Stadium Australia in Sydney, Australia.
It has been a frustrating tournament for England despite topping their group, defeating Nigeria in the Round of 16, and reaching this stage of the competition. Injuries ruled over several key players from the side that won the 2022 UEFA Women's EURO last summer, narrow wins over Haiti and Denmark were cause for concern, the scare of losing Keira Walsh – she has since returned, the old foes of a red cards and penalty kicks reared their heads in the Round of 16, and the news that top scorer Lauren James will serve the first game of a two-match suspension against Colombia.
The Lionesses path has been anything but smooth.
Colombia, on the other hand, are enjoying themselves in Australia/New Zealand. Wins over South Korea and the stunning upset of Germany were enough to see them out of the group stage. Linda Caicedo has been one of the stories of the competition and veteran striker Catalina Usme's second-half goal saw them past Jamaica in the Round of 16. Just reaching the quarter-finals is already their best ever result at the World Cup.
Las Chicas Superpoderosas are having fun.
It's amazing the difference that perspective can make. That is what makes this contest so intriguing: soccer is about both. It is enduring the struggle, it is enjoying those moments.
England are heavy favourites heading into the match and won the previous meeting between the two at the group stage of the 2015 Women's World Cup, 2-1, not that those facts will bring much comfort.
With James, who has been England's main threat, suspended, Alessia Russo will be asked to step into that role. She is bet boosted as First Goalscorer to +600 on the night. Russo has one goal so far, having opened the scoring in the rout of China, but with an xG of 1.5 through four appearances she is finding chances.
While all four of the featured Same Game Parlays have their merits, two most catch the eye.
The first is Over 7 Corners, Usme to Score Anytime, and Both Teams to Score – Yes at +800. England averages over six corners per match themselves, Colombia five per match, and in matches featuring either side there has never been less than seven. Usme is joint leader for Colombia with two goals and both sides have scored in three of their four matches.
The other is Russo Over 1.5 Shots on Target, Over 4.5 Shots on Target for England, and England to Win in 90 Minutes at +300. England are the favourites after all, Russo has managed 2.35 shots on target per 90 minutes and England 5.77 per 90.
Russo and her teammate Rachel Daly, each with one goal so far, top the goalscorers odds (First +550, Last +550, Anytime +220) Beth England (+750, +750, +300) is yet to get off the mark, but looked lively against Nigeria and could be in line to start with James out.
For Colombia Usme (+900, +900, +375) leads the way, both of her goals have been game-winners. Caicedo (+1400, +1400, +600) has matched her output, on an xG of 0.2, and it was Manuela Vanegas (+3300, +3300, +1400) who scored that epic game-winner against Germany.
One long shot to consider: a Correct Score of 1-0 Colombia at +1200.